The sole purpose of customizing a motorcycle is to offer to assure you more comfortable in just about every area, yes the bike's look is definitely improvise in custom motorcycle, but a serious motorcyclist would pay for their enthusiasm with biker butt. The bike we have today is clearly an interpretation of such a effectual customized ride, the bike we are speaking about was initially a Royal Enfield Continental GT 535. The owner approached Nomad Motorcycle, one of the reputed custom motorcycle workshop based in Pune, with the intentions of making the bike more comfortable and wanted to spice things up a little bit.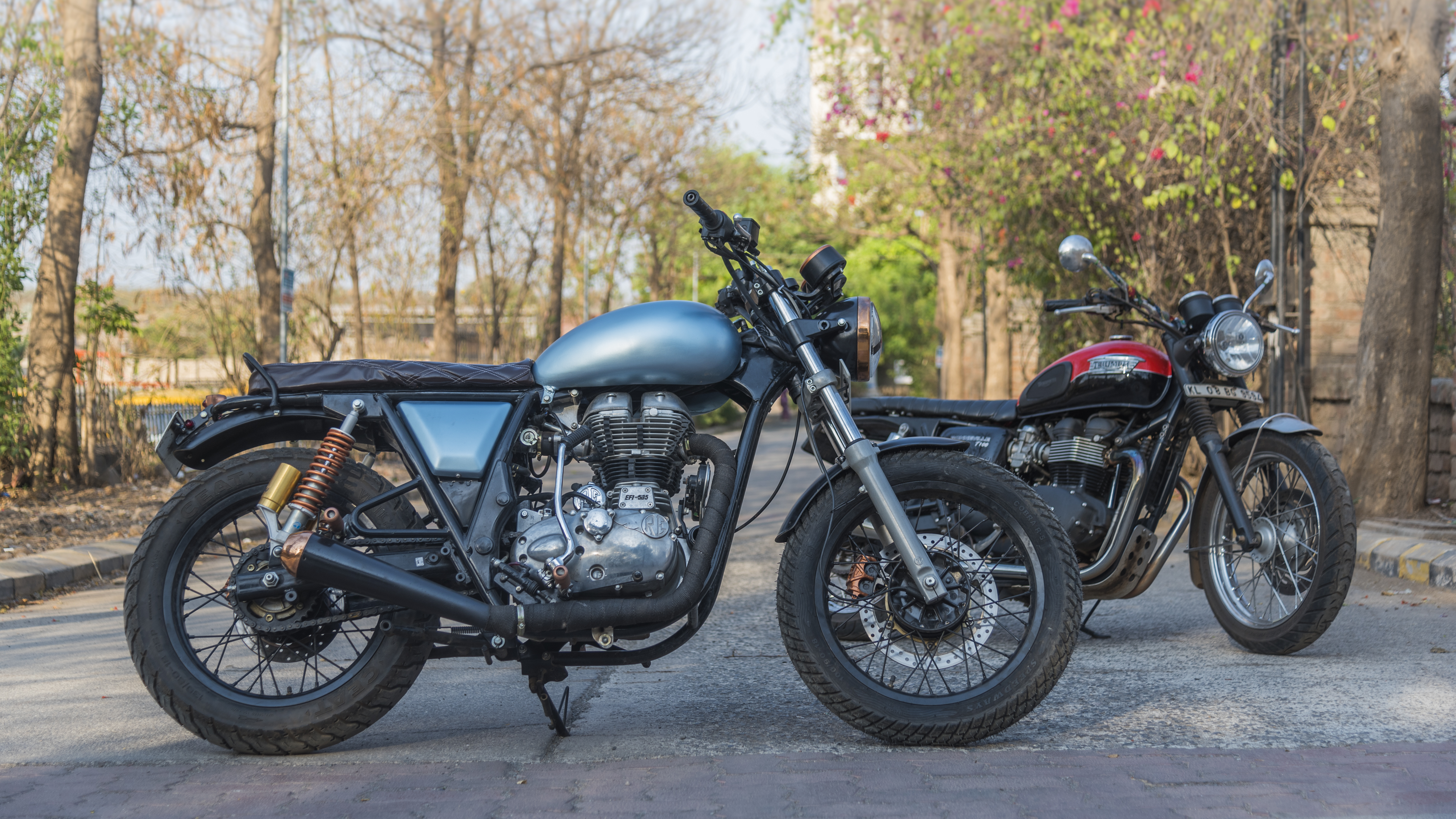 Siddharth D'Souza, the key peerson of the workshop have shared his building experience with us, "Rudra as in the name has taken inspiration from Krishna for the build and also the Bonnie. To make things comfortable, We have replaced the standard clip ons with a scrambler handle bar machined onto its original T- plate. To rectify the seating position further forward set foot pegs were machined to pull the break and gear shifter forward.
The idea with the design was to keep things simple and utilitarian. The continental tank was replaced with the Standard Royal Enfield tank mated to the GT's frame. The Motorcycle was then Finished in Matte Powder blue, Gloss Cross Stitch leather Seat and hints of copper.
Accessories such as a bar-end indicators, copper tail lamp, copper foot pegs, simplistic grab rail apart from others we made in-house and were incorporated to bring this build together. All of this had to be done on the stock frame to avoid complications as this is meant to be an everyday ride. After riding the motorcycle we were surprised to see how well the GT handles with a raised handlebar and an upright seating position. The bike has taken a turn for the best in terms of comfort and practicality.
We really enjoyed the build and the final product."
Contact
Nomad Motorcycles
Siddharth Dsouza ( Project Manager & Sole-Proprietor)
Nomad Motorcycles Pune
Email : Lightning535@hotmail.com
Facebook Page
Phone : +918087543795
Photo and Info : Nomad Motorcycles
Note : Please mention us (350CC.com) when you contact Nomad Motorcycles.
Facebook Comments