Scrambler are becoming more and more of a mainstream trend throughout the universe. They have already been somewhat mainstream in the few western country , but now the trend is spreading across the globe. Bike builders are focusing on building immaculate Scrambler, eminent bike manufacturer like Royal Enfild are working on Himalayan and probably bringing in market in this mid-year..eventually the term "Scrambler" no more a unfamiliar object in country … Today we have in bucket a Converted Yamaha RX 100 Scrambler by Nomad Motorcycle Chop Shop from Pune.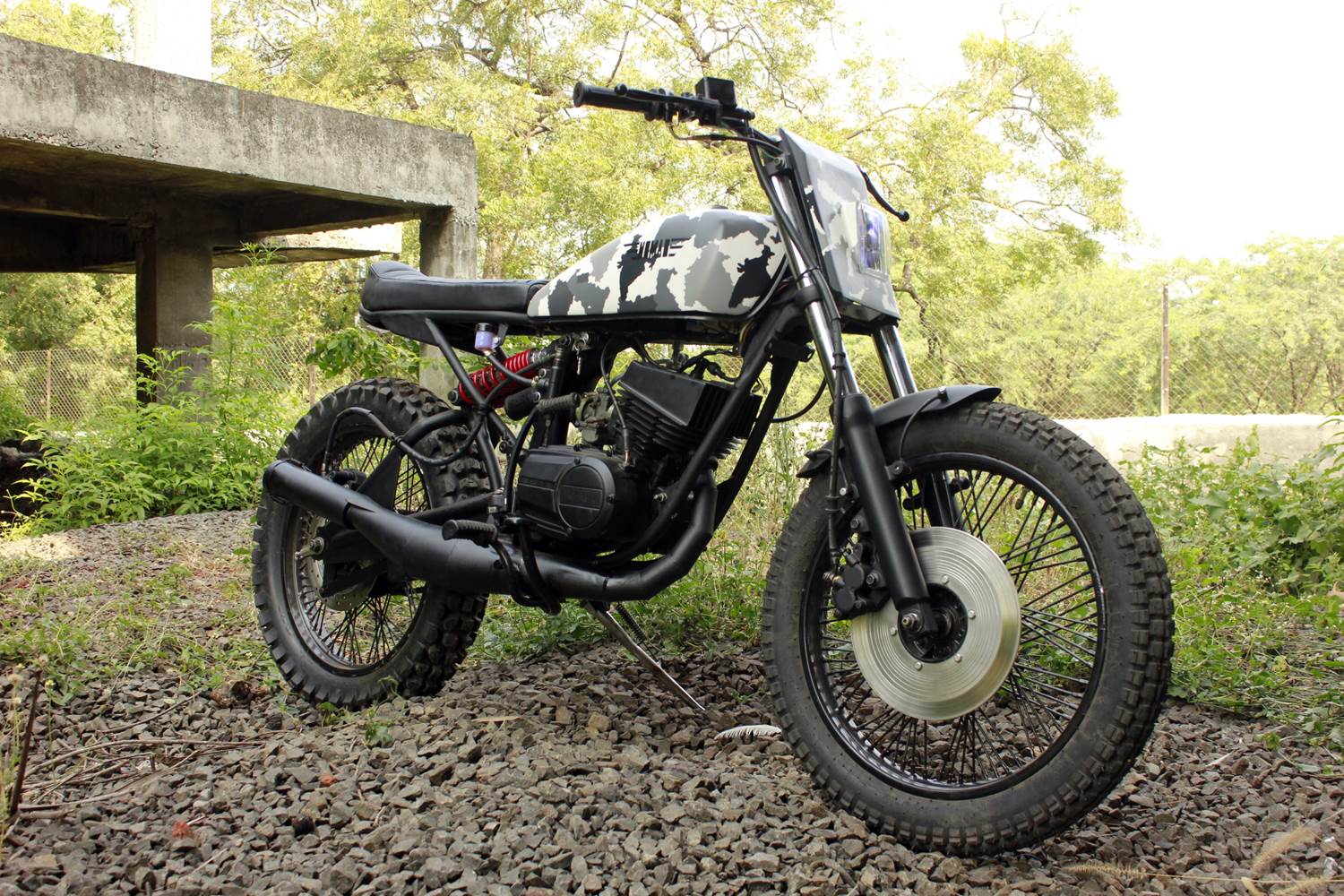 "Another scrambler from us at NMCS (Nomad Motorcycle Chop Shop), hope you like the bike! The client had something in mind to ride around his village. The vehicle came to us in very bad shape so there was a good amount on wear and tear to deal with at the start of the build. The engine was rebuilt before being sent out for powder coating with all the rest of the black parts. The tank and face plate were painted in an alpine camouflage theme using the maps of India, Maharashtra and Pune.
The bike has a dual mono assembly completely fabricated in the shop for the required height specs and to achieve a soft ride on bad road. Front fork has also been upgraded along with the swing arm to take the strain of the rear disk. The front non perforated disk breaks machined. Buttons on the back on front to suite the terrain and multi spoke black wheels to give it an old school feel! A simple expansion chamber to give some extra Kmph! The tank was pulled down and fabricated a brat seat! Yambam rides well and does some damage off-road and packs a punch."
Contact Nomad Motorcycles #
Siddharth Dsouza ( Sole-Proprietor)
Nomad Motorcycles Pune
Email- Lightning535@hotmail.com
Facebook Page : Nomad Motorcycle Chop Shop
+918087543795
Photo and Info : Nomad Motorcycles
Note : Please mention us (350CC.com) when you contact Nomad Motorcycles.
Facebook Comments