Yamaha FZ scrambler by The Hustler Moto : "Yamaha FZ, so called youth icon, is the bike which brings a new generation of pure muscle naked bike in to the india. So, we got this opportunity to work on this bike and we brings you here the "Scrambler". Firstly, the bike was fully stripped down to ready some sketches and design before moving forward. We increased the height of front suspensions for scrambler stance. And then all the unnecessary parts was chopped out of frame. We sourced the fuel tank from HERO bike and put it on the bike and then designed the whole bike around it. Because we consider the fuel tank is the heart of the bike in terms of design and stance. Then two piece Side panels were all hand made and it took a few days to finally decide to go with this design because we did not wanted to mess with design and wanted to keep it simple yet modern.
In front there is this small and elegant fender and in rear the stylish and fully practical fender which also holds reflector in the end. Both of the fender are custom hand made. The aftermarket brake lights sits right above the rear fender perfectally with pair of indicators. In front we used a aftermarket small and classis headlamp which totally goes with our design and scrambler look. The seat was also custom made with the sexy ribbed pattern. We used thicker dual purpose tyres at both ends which makes it exclusive and also helped increase the ride height for the bike.
In performance wise we replaced the stock filter box with K&N style air filter with little tuning in the carburettor. We also modified the stock exhaust and turned it in to rocket style with sweet exhaust sound. And Finally the whole bike was painted in the black and main components were painted with high quality metallic race blue color with race stripes on the fuel tank. It totally took us 6 weeks to finally complete the bike and ship off to the owner.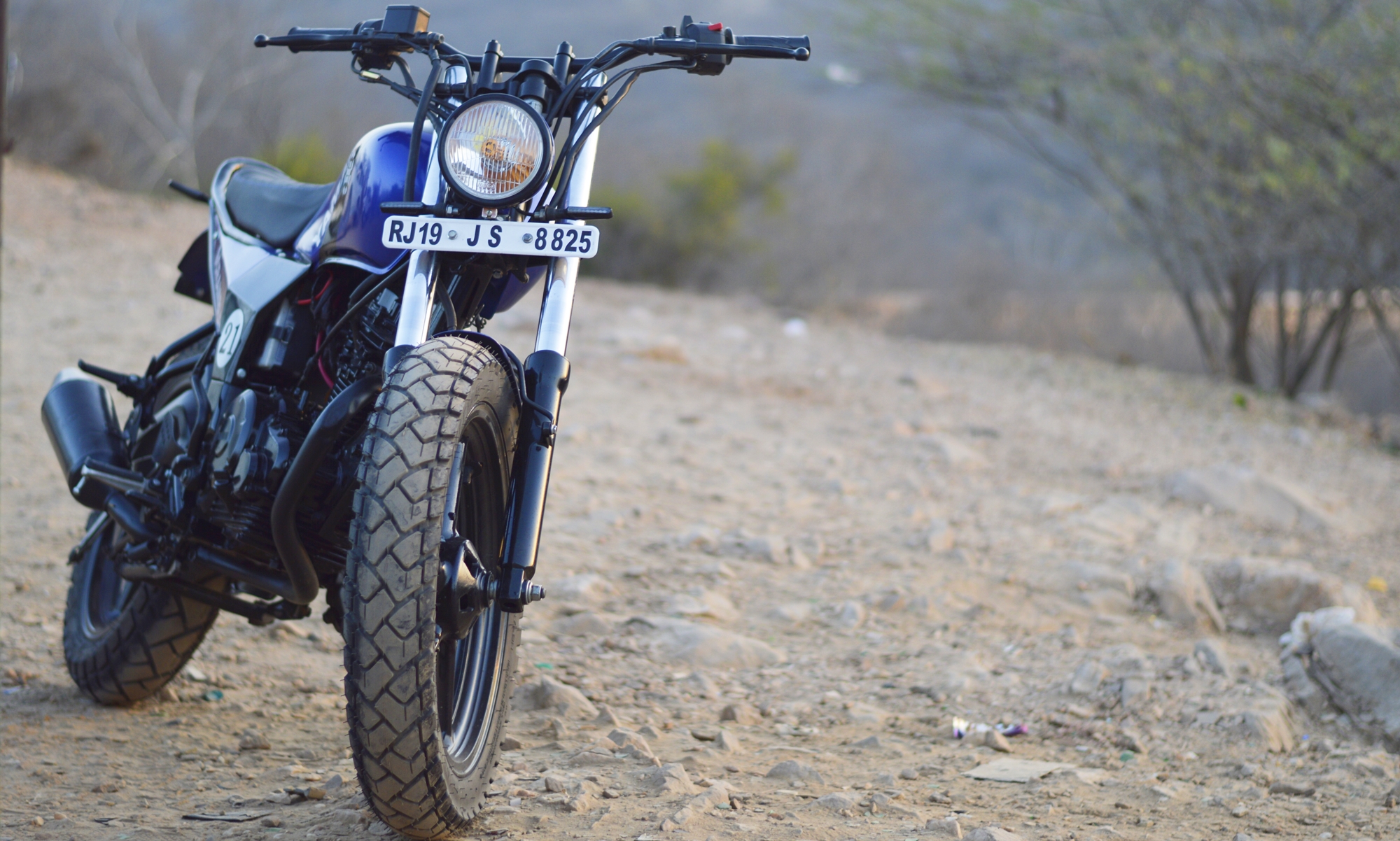 Main highlights of the bike.
Sourced Fuel Tank from hero bike
Increased height of front suspension
Custom hand made two piece Side Panels.
Custom hand made front and rear fender
Custom Made Ribbed Pattern Seat
Custom made exhaust
Aftermarket headlamp and brakelight
Aftermarket indicators
Custom Metallic Racing Blue Paint Job
Thicker dual purpose tyres at both ends
Contact
The Hustler Moto
Owner: Pankaj Sattawat
Address: P.NO.-7, Tanwar Colony, Rawal Ji Ka Bandha, Khatipura Road
Jaipur-302006, RAJ
Contact: 7737456466
eMail: thehustlermoto@gmail.com
Facebook | Instagram
Photo and Info : The Hustler Moto
Note : Please mention us (350CC.com) when you contact The Hustler Moto.
Facebook Comments