Harley Davidson Dyna series have turned the industry on its head, with a complete revamp of many of their models. The Fat Bob from the Dyna family is definitely one of those motorcycles raising a ruckus just rolling around town, and one upgraded version from the family is found from the house of Radical Customs workshop. Radical Custom's came together almost 2 decades ago from a passion shared by 2 friends, a passion for anything on wheels. A good part of teenage weekends was spent with a pencil and paper chalking up car designs which unfortunately remained on paper. Time flew and the 2 friends moved on into real world careers while the passion got side lined into a corner of their hearts. As with all true passions, you can't hold them down for too long so was the case here as well. It was now or never. "We are Radical Customs – Abraham Varghis and Roldao Socorro Fernandes. Currently based in Qatar, we are 2 hardcore motor heads with a desire to create unique machines that speak to the mind, heart and soul."
Radical Custom's proudly presents its first project – Vakhtra. Vakhtra means "the beginning" in Sanskrit and since this was the beginning to a lifelong dream no other name seemed apt.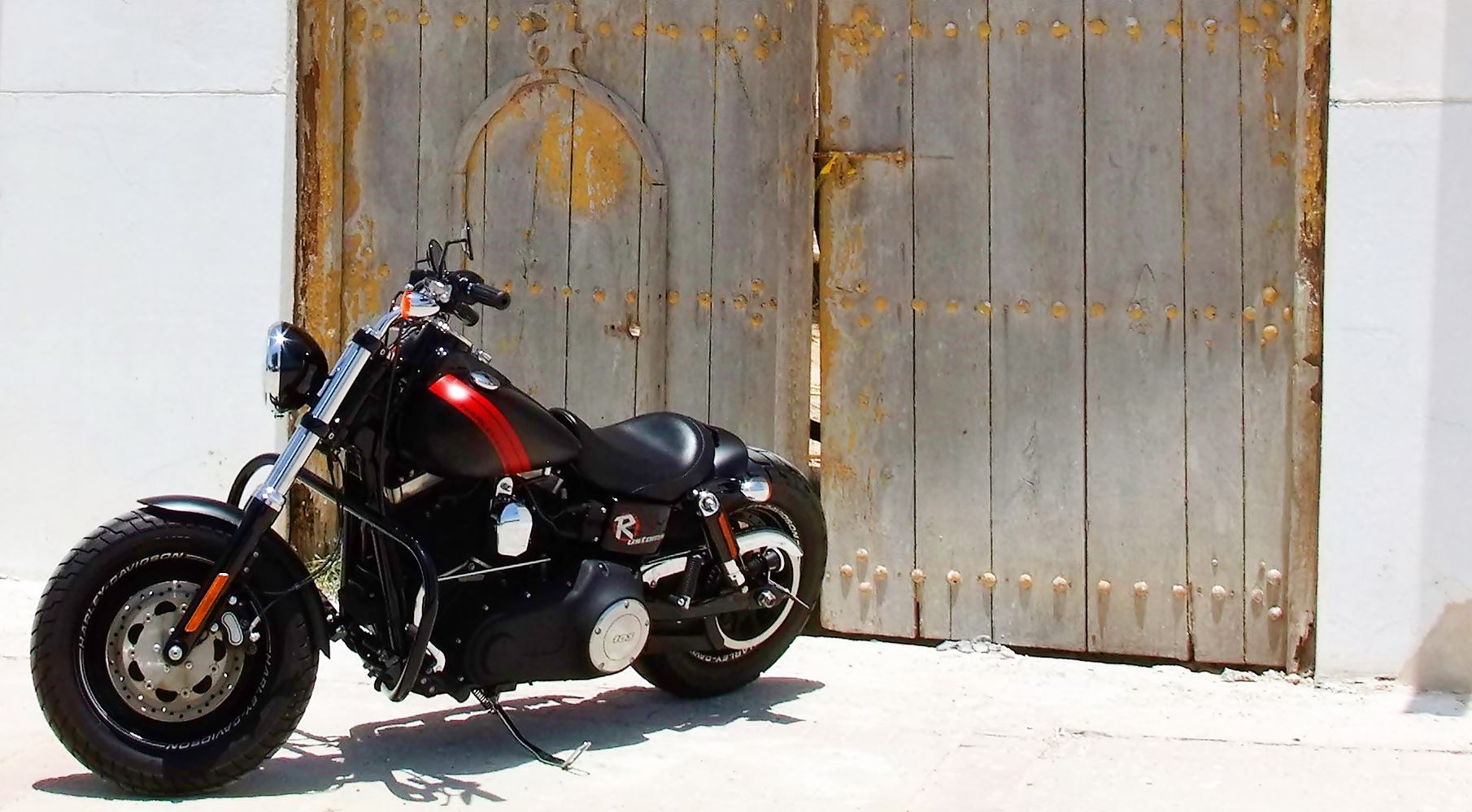 "Starting out as a stock 2014 Harley Davidson Dyna Fat Bob, the vision of this build was to create an urban street brawler with classic minimalist elements while retaining the core strengths of the stock motorcycle. The Fat Bob is a top seller for HD within their Dyna range but one model which has rarely been customized. This made the build that much more difficult because of the lack of online reference points or custom parts that could be used for the build. This meant to complete the build we would need to fabricate all the parts ourselves. We were obviously amateurs at this so we had to visualize our design and then used the expertise of a friend who was also a mechanic/fabricator to bring the build to life. Many patient hours were spent at the garage floor going through all the practicalities/challenges this build and its untrained visionaries brought with it. We wanted the build to be one that did not burn a hole in one's pocket so to keep the build cost down we even used stock parts where we could.
Once the build was completed we had chopped the rear fender/strut, relocated the rear indicators and brake light/license plate holder, moved from a 2up seat to a single saddle seat, put in low rise handlebars with lowered risers, replaced the dual headlights and installed a classic fat boy style single headlight, added classic engine bars (cos this is a real-world bike) and had lowered the front fender. Performance upgrades were restricted to a stage 1 with a Screaming Eagle heavy breather, V&H staggered shortshot exhaust and engine tuning to match.
Where are we headed: We are looking at this as the start to bigger things yet to come. We have already started work on our next project with a 1992 RD350 LT as the donor bike. While all of this is part time right now we hope to eventually move into customisation full time, till then we are quietly working away and building up our portfolio."
Contact
Radical Custom
Abraham Varghis
Roldao Socorro Fernandes
radezine@gmail.com
Photo and Info : Radical Custom
Please mention us (350CC.com) when you contact Radical Custom.
Facebook Comments