When it comes to building motorcycles, the beginning could be a little tough for majority of the builders if you do not have a clear visibility on what you want – a bobber, a cafe racer or may be a tracker? If you ended up with choosing the third option, holla! you are landed to the right page now – a brutally beautiful tracker is today what we have here. Trackers motorcycles have always caught the eye of motorcycle enthusiasts and builders who love those iconic, yet short-lived racers for their extreme simplicity, clean lines and aggressive performance. Today's masterpiece is a beach tracker using a 500cc Royal Enfield, built by Inline3 Custom Motorcycles, for Royal Enfield Rider Mania 2016 in Goa. Here's we go :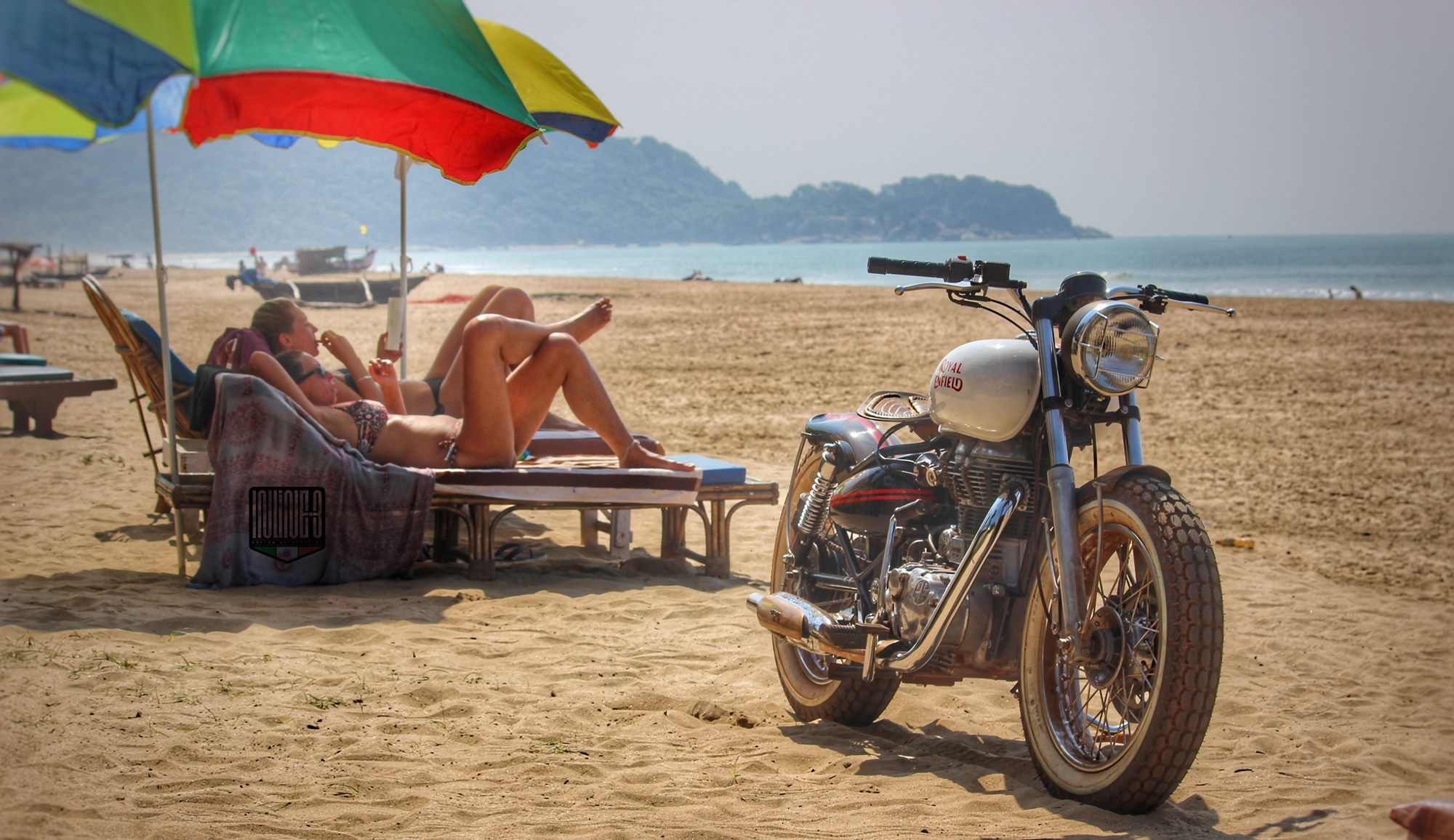 Aseem Singh Pawar, the Key person behind Inline3 Custom Motorcycles shared his building experience with us, " Most custom bike builders start building bikes as a hobby. Well I ain't any different. It soon becomes an addiction and then you are trapped forever. After making 3 personal custom bikes I had no intention of carrying on. But one fine day I got a call from Aditya, a fellow biking enthusiast. He works for Royal Enfield. He wanted me to build the official Royal Enfield bike for the Royal Enfield Rider Mania 2016. And hence the adventure begins. This time I wanted to streamline the things and improve upon my previous builds. Luckily I knew just the right man for the job. Gursourabh Singh, a ghost fabricator who has made some real high end stuff for international bike builders. This was a massive upgrade, all my previous builds have been made on the roadside but now I had a full fledged workshop at my discretion. 3 highly talented guys were at my disposal.
The design brief given to me was not to play with the chassis or the tank of the bike in order to reatian the basic identify of the bike. I went back to the drawing board and came with the idea of playing with the materials. This would spice up the bike and yet reatian it's basic identify. The iconic tiger head was removed and a more retro triple tree clamp was installed along with a wooden headlight. Wood working has always been my strength and this was a perfect opportunity. The stock tyres were replaced with the cocker Beck whitewalls, which costed me a bomb. But they were totally Worth it cause it improves the stance give the bike a original gangster look. All the panel work is done in aluminum cause it's light and won't rust. The most eye catching detail on the bike is copper seat pan and copper exhaust shield. The seat is just 5mm thick and when viewed from the side it looks as if the rider is floating in the air.
Enfield."
Contact
Inline3 Custom Motorcycles
Aseem Singh Pawar
Call : 09888860556
Chandigarah/Delh
Email : aseempawar@gmail.com
Facebook | Instagram
Photo and Info : Inline3 Custom Motorcycles
Note : Please mention us (350CC.com) when you contact Inline3 Custom Motorcycles.
Facebook Comments