The two-stroke era offered some memorable bikes, among them one name has left an enduring portrayed in our minds is the Jawa, which later transformed in the name of Yezdi. The manufacturer shut down the production in 1996 due to labor trouble and increasing levels of pollution control norms against two stroke bikes, though there were numerous bikes was market in running mint condition with passionate owners. But sadly, most of those awesome bikes ended their last stage in backyard of the garage, ignored by next generation. However, what did not disappear was the love for those motorcycles by the fans, more than a handful of them continue to own, restore and repair these motorcycles that form a significant chapter in Indian motorcycling culture. The brand was never eloped and you will find those who love the machines stand by their tagline 'Forever Bike, Forever Value'. Restoring such rich historical bike are appraised the most, when the outturn bike keeps its originality – just like what Eimor Customs did with their creative touch on this restored Jawa 250 of 1964.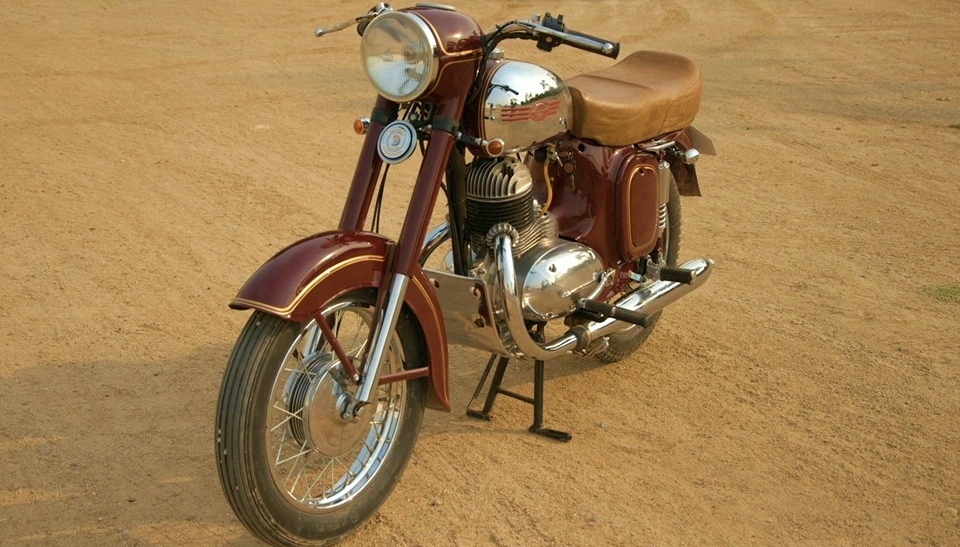 Here is what Eimor Customs shared on this restoration : There are many works which stay with us for long time, this is one of them. It has taken 4 months to get this bike to this shape. These bikes have solid body, yet some known issues with the engine, like gear slips, electrical issues etc.
We have tried to keep it Original, with advanced electrical with Battery system and full fledged engine work for smooth gear shifts. A great quality painting and a 100% genuine leather seat was must for this beauty! Thanks to our good friend Tarun from OBLUM creations. Guys You must check out his work as well. We are happy to part away from this bike, for the good."
Contact :
Saikat Basu/Mrutyunjaya Dash
Plot 76, Survey of India Colony, Chanda Naik Nagar, Madhapur
Landmark – Vijaya Lakshmi Super Market, near YSR statue, 100 feet Road,
Hitech City, Hyderabad,
Telangana, PIN – 500081
Phone – Joy : 0970 320 4525, MJ: 0996 641 0318
Email : contact.eimor@gmail.com
Facebook page | Official website
Photo Courtesy : Eimor Customs
Please mention us (350CC.com) when you contact Eimor Customs.
Facebook Comments