The Rajdoot 175, you have witnessed many in your childhood, was an extremely robust motorcycle and won much favour in seventies India. In mid 80′ Escorts, the automotive company behind the brand, teamed up with Japanese Yamaha and launched a totally different machine named Rajdoot 350, which was quickly changed to 'Yamaha 350'/ RD350. Post 90's, the Rajdoot, couldn't survive much. being a fan of early age's motorcycles I always feel cozy watching any of them passing by. Simplicity, the new restoration from Art on Vehicles Customs, therefore excited me!
Thanking Vinod for sharing his journey, also for the appreciating 350CC.com ~ you owe me two beer!
"It was a pleasure to have my first bike build "Freedom" story published on your website, as always you guys continue to keep inspiring motorcycle enthusiasts and are doing a great job in shaping India's future custom motorcycle industry. Here is my story of second custom bike build named "SIMPLICITY" using Rajdoot 175.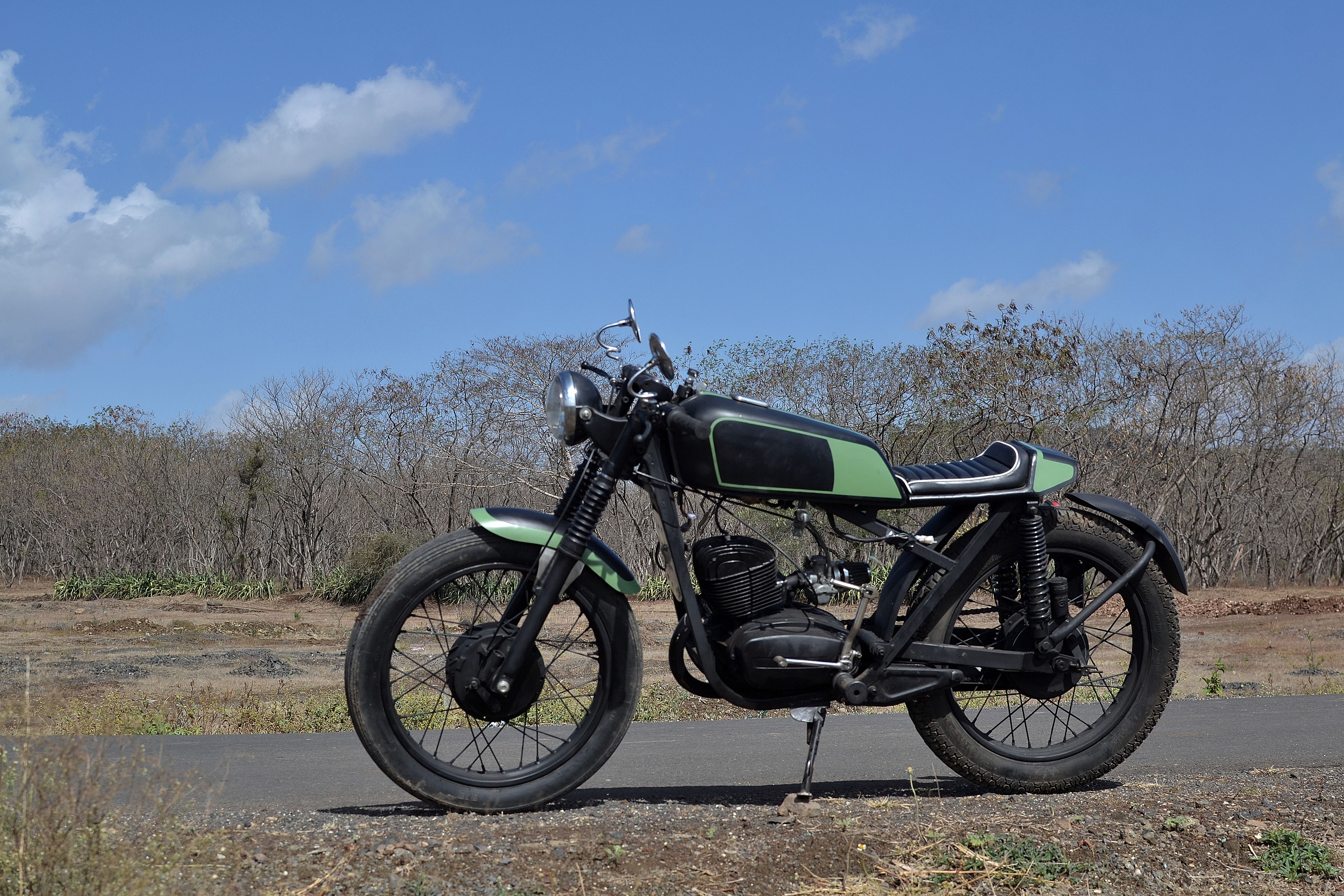 A fan of cafe racer and its feel of riding, I had not quenched my thirst with my first Royal Enfield Cafe racer build, Freedom, so decided to build another. This time around wanted to try new challenges and sharpen my skills building a different bike, started looking up on OLX for a donor bike and instinctively freezed upon an old school Rajdoot 175.
Though the bike with its vintage looks didn't seem so right for a Cafe racer build, as i Started stripping the bike naked it started kicking off the creative side in me. The first thing to get rid off was the front swing-arm shockers, got a used front shocks assembly of an Enticer, altered the "T" and managed to fit to the chassis. Next fabricated clip-on handle bars on my own as there were none available in market to fit to the bike as i wanted and go with the design. Initially created a knee dent on the stock Rajdoot fuel tank however later seeing a KB100 tank lying in my garage decided on going for it as it gave a long, slim and racer look. Fabricated small front mud guard to go with the racer look.
Next came the crucial part of the build, whether to go for a dual / single seat with a cafe racer hump. First got a slim cushioning work done on the existing dual seat base but since it looked too long and didn't really go well with the rest of the bike build, decided to go for a solo seat with a hump. Fabricated the seat base and Kept the rear hump small with sharp edges to match the KB100 fuel tank. Lastly started accessorizing the build with RX 100 headlamp, mirrors, open air filter, side no plate, a rear tire hugging mud guard to make it ridable during rainy seasons. Decided to go with a dual tone matte black and green paint job to give it a fresh feel.
The bike upon completion looked way too different than the original Rajdoot and became an eye candy for the on lookers who kept asking what bike it is. Though the bikes engine is not power packed with horse power the riding was SIMPLE with its 3 speed transmission and was fun riding on CITY roads. That's how "SIMPLICITY" was born."
Contact#
Mob / WhatsApp : 09823675803
Sus Road, Pune
Maharashtra
https://www.facebook.com/artonvehiclescustoms
E-mail: avcustoms@yahoo.com
Photo Courtesy : Art on Vehicles Customs
Note : Please mention us (350CC.com) when you contact Art on Vehicles Customs.
Facebook Comments