They say Punjab is one of the top states in terms of use for our beloved Royal Enfield. Considering the stastic, which says, Punjab accounts 15 percent of total sale of Royal Enfield in India, we easily can frame the picture of love towards the Bullets there. And what we believe is if you love something you would want them to be more beautiful. And this is how it begin, lets hear from the maker of Prous – a modified STD 350cc Royal Enfield bobber.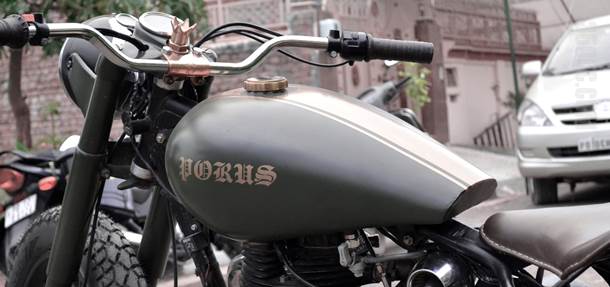 People tend to talk about things that interest them & we were no different. We, 4 guys, all of us motorcycle enthusiast. Whenever we would gather up for a "GEDI" or someplace, most of our topic of discussion were based on motorcycling. And one fine day we were discussing about the custom motorcycle scene in india & we all stumbled upon one same thought. We should start customizing motorcycle. We all were a bit skeptical about it at first till one of us acually bought a second hand Bullet.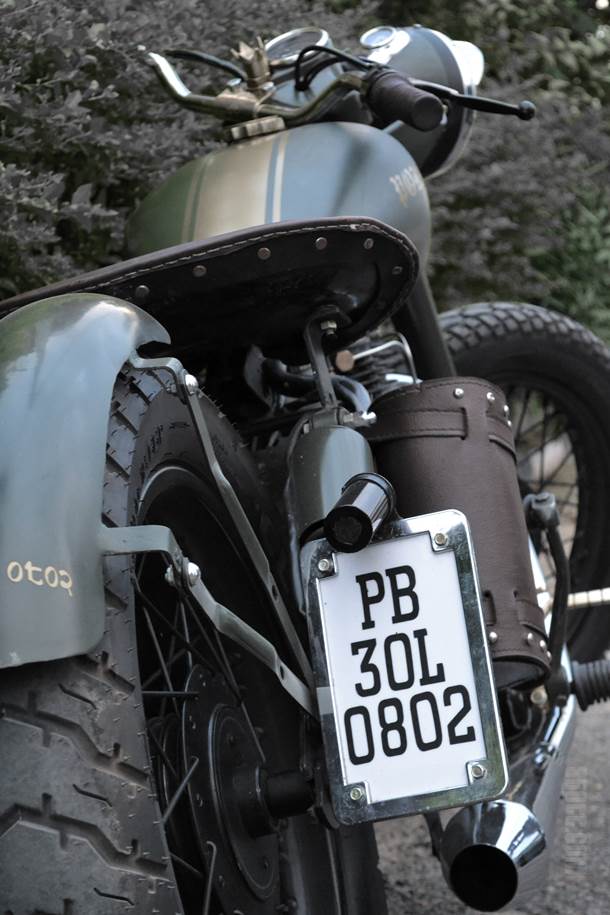 That time we knew there's no stepping back now. We rented a good small workshop out from city area. While we are hustling in about the workshop we still haven't came up with a name for the it. Many different names popped out from our head, but one stood out "BAMBUKAAT", an unofficial name from the old days in Punjab that was given to motorcycles because of the simplicity of the machine itself. We wanted to bring that simplicity back in trend. We all started working on the design, we all were contributing ideas in designing and at last we came at a design which was absolutely perfect for start.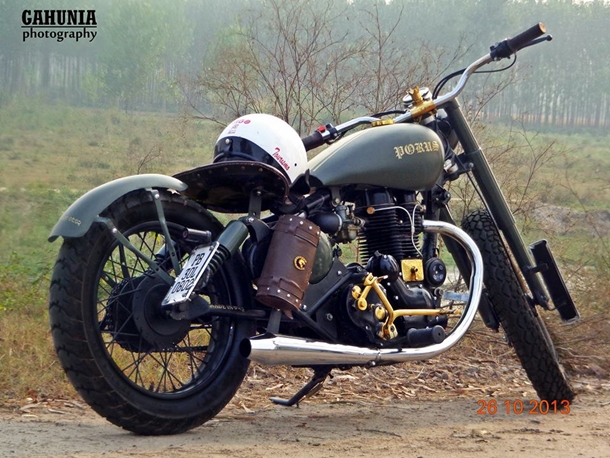 We named our first bike "PORUS". King Porus was the ruler of Paurava region in ancient India which now happens to be Punjab. "What a great name for our first bike" we all must have thought. We were sure of what we want to make. Bringing back old thing is what we wanted to do with a touch of class in it.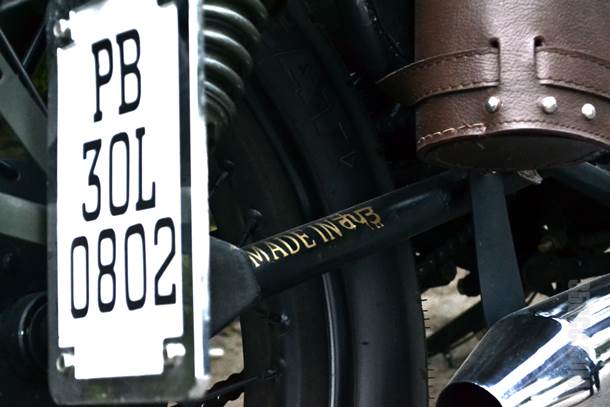 In Porus we've removed the stock wheels of 350cc standard, complete head-light assembly has been changed, extended swingarm, external air filter, wider rear tyre, no electricals on handle except horn, wider handle-bar, custom made handle grips, megaphone exhaust, and the brass accessories for the touch of class.
Contact Rohit Bansal +91-9646800442 for more details on the bike.
Facebook link
Please mention us (350CC.com) when you contact Bambukaat Customs.
Photo : Bambukaat
Facebook Comments