It always feels good being appreciated, with the beautifully transformed bobber, J&D Custom poured few texts for us too into our inbox "First of all would like to appreciate work you guys are doing. Its helping Custom Motorcycle builders like me to reach more & more people around the India. Thanking you for your kind & supportive work."
Phantom by Jay D. Patel (J&D Custom Co)
"This time we got a Bajaj pulsar 180 dtsi as a donor bike. I stripped down it totally and started working on a new design to turning it into softail bobber. In the beginning I kept on visualizing the shape of tank & finally I opted a peanut bobber tank. After fabricating tank & front portion of the frame I started working on rear suspension & swing arm for the desire bobber design.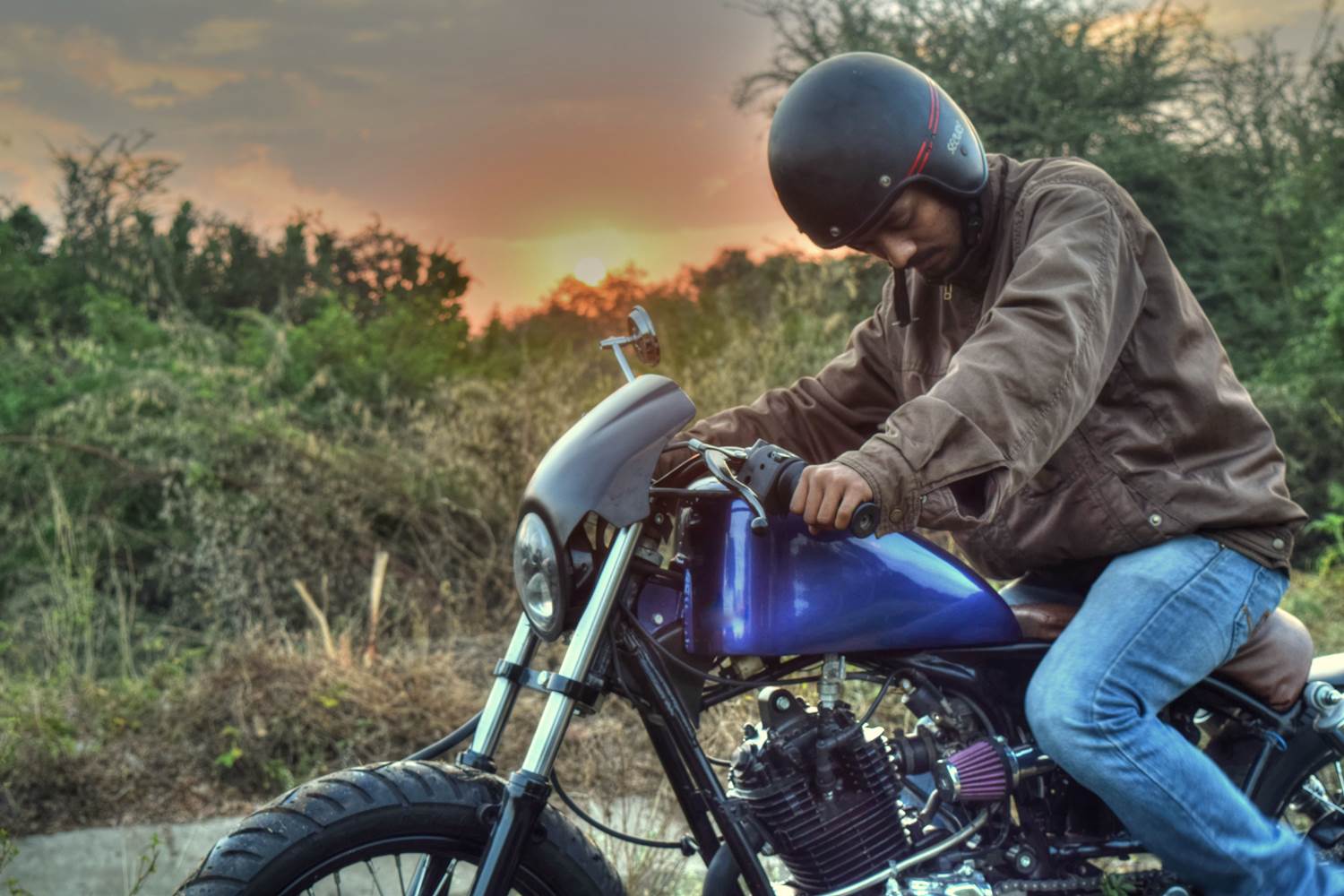 I made few models of swing arm from cardboard to visualize the overall look of the bike. Then fabricated final swing arm which is good in strength and which will suit the overall look. Being a sheet metal fabricator I decided to give some attractive sheet metal touches to the bike which tends me to make a front headlight cowl. I handcrafted the front cowl from flat sheet of metal. It holds 5inches DRL headlight which looks pretty with the cowl. The wiring of bike is quite hidden below the tank. CDI unit & Rectifier unit of bike are well organized in metal boxes. Battery is also placed in metal box in the centre of frame. Seat is comfortable cushioned and covered with light brown leather material with some line stitched on it.
This time I didn't fit K&N high performance air filter direct to the carburetor, instead of that I made a bend pipe holding the air filter which is made from 6 different metal pieces & got a chrome treatment which shines & work perfect. While Exhaust is handmade using glass wool packed mufflers, which sounds & performs well. The Clutch cover and magnet cover got a buffing treatment while other part of engine got black paint treatment. The clutch cover also engraved with J&D Custom's logo on it. Handlebar is made from metal pipe to get best comfortable position. Handlebar also have tiny chrome rear view mirror, which is very appealing.
Now the story comes to last stage of paintwork. As my client wants to name it "The Phantom" which is based on his favorite comic character "The Phantom". We decided to paint related to "The Phantom" character and as he wear dark blue costume, we finalize the blue & black combination of colors with some shiny chrome & buffed parts. The upper portion of the tank covers the name of the bike "The Phantom""
Contact
J&D Custom Co.
Builder & Founder – Jay D. Patel
Near loksatta press, Nagarwada, Vadodara 390001
Gujarat, India.
Contact Number – +91 8758737707
Email – janddcustomco@gmail.com, info@jdcustomco.com
Facebook | Instagram | Official Website
Pictures Courtesy: J& D Custom Co
Note : Please mention us (350CC.com) when you contact J& D Custom Co.
Facebook Comments
---