Riding a Royal Enfield, one of the most revered bike of the nation, isn't just a matter of pleasure of riding a motorcycle, for most it is a symbol of attaining manhood. With reliability, performance and an excellent blend of the classic and modern, we every time keep adding something more appealing which deliver a unique personality as well as suitable for leisure and practical riding with a strong emotional appeal…The first modification many of fans do is changing the Exhaust!!! Truly the roaring appeal is missing in the new exhausts, so you are one like me and you search in Google and find plenty of XYZ sellers and dozzons of eBay links along with hundred of Facebook Enfield pages discussing thousand guys over buying Royal Enfield exhausts– let me say it very straight -choosing any of them could be dangerous ….so which one is right for your Bullet! Choosing any random exhaust could lead you towards a disaster result…trust me there's a lot you should consider before you put a 2000 bucks exhaust on your 1.5 Lakh Bullet's heart!! A huge technology runs inside the pipe to deliver a decent performance and upmost longevity. So let me share my own experience:
Well, it's always advisable to change the Exhaust at least after 3000 KM from the buying day, I did it at about 3200KM in my Classic 350. I first tried the one is easily available in any Bullet shop, long bottle/punjab dholki, well at preliminary stage the sound might impress you if you like creviced (at above 60KM/h) bass, but harms a lot your Engine, you probably wouldn't want that. However I ended up with the exhaust in about 2 months as it had a terrible crack and rusty body! I then chosed glasswool equipped Goldstar , Glass wool is a thermal insulation that consists of intertwined and flexible glass fibers, which causes it to "package" air, resulting in a low density that can be varied through compression and binder content, well that too might not satisfy you much, as you may find very poor quality of glasswool in most exhaust in the market. I, then happened to use one from Khalidaro house, Cannon it is, it was heavy..full of stainless steel..looks premium…produce powerful thumph at 100km/h and a noticeable change in performance – the acceleration is smooth as you never experienced in your Bullet. Satisfied me enough and grab attention of my fellow rider friends!!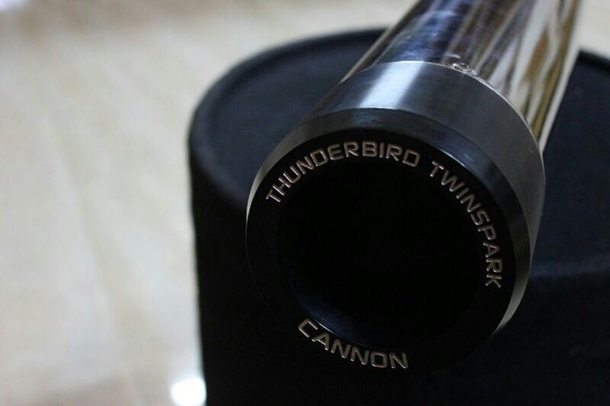 So I had a talk with Khalidaro Design of Mumbai and was interested knowing the tech-spec. Stainless steel body with high grade aluminium nozzle which creates a high bass sound. The exhaust has 1250 degree Celsius heat bearing capacity and the nozzle is turned to match with a cone shaped muffler which creates a good amount of back pressure due to which mileage is not affected. This is what exactly the USP of our product is. At present they are offering 4 types of Exhausts – 1. Cannon Performance Exhaust, 2. Cobra Performance Exhaust, 3. Barrel Performance Exhaust and 4. Mental Performance Exhaust.
Cannon Performance Exhaust Exhaust type: Straight Metal- Stainless Steel 304, Nozzle-Aluminium endures high grade temperature, Exhaust end- Clamp less lathe turned, Heat sink- Alloy, Rivets- Aluminium and Stainless steel, Muffler-Cone Shaped with Zinc coated, high quality Imported Glasswool, Heat bearing capacity-1250 degrees, Exhaust Finish- Outer body – high gloss buff, Nozzle- Powder Coated Heat Sink- Powder Coated. Cannon is available from Khalidaro at 12,500/- including shipping all over India.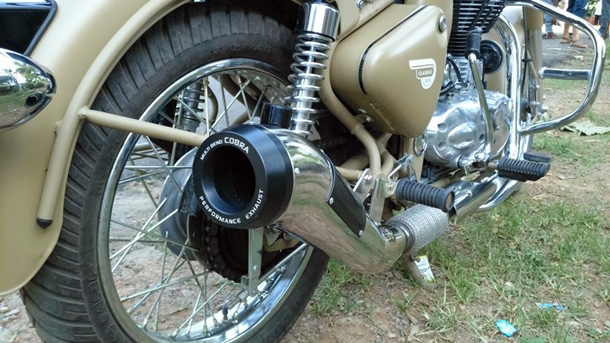 Cobra Performance Exhaust has everything same apart from the bended look, which surely accords an appealing attitude. Flexible joint used in Cobra is been imported from Argentina which is stainless steel 304 rust free. The price for Multi bend Cobra Performance Exhaust is 16650/- including the shipping. However, Khalidao offers to buy back Khalidaro manufactured exhaust systems in exchange of their new one with an additional exchange price of 60% of the current cost.
Both Cannon and Cobra is been tuned especially for Royal Enfield to give a specialized grooved bass sound, the cone shaped muffler increases the performance as this turns the nozzle to create the circular airflow which enhances the back pressure.
Mileage : Even they say "Never Ask, Woman's Age, Man's Wage & Bullet's Mileage", but on a serious note, for an Indian biker, achieving the highest possible fuel efficiency for any bike is a constant endeavor. So does those performance exhaust affect bullet mileage? My experience says Yes, it's improved! Initially I was bit unhappy cause I felt there was a slight mileage drop, however after changing the air-filter and some routine check up it was indeed improved (I'm getting about 36kmpl now).
Assuming you don't want to compromise your Royal engine for few thousand bucks, this is always recommendable to avoid cheap silencers pipe and use something salubrious, damaging few extra money is always been a better decision than damaging the engine. I can strongly recommend Khalidaro Performance Exhaust after few months of riding my Classic 350!
You may contact them for any query : Khalid shaikh or Jyoti Shukla (CEO – Khalidaro and Manager)
Phone :9769662080/9833892080
Office Address:

A-301 pink Appts , near 7 bungalows garden ,
J.P Road, Andheri (west),
Mumbai-400061, Maharashtra

Workshop/ factory Address:

Khalidaro design Shop No.7, shafee compound,
Raghvendra Mandir Road, Near Amit glass signal
Off S.V Road, jogeshwari (west)
Mumbai, Maharashtra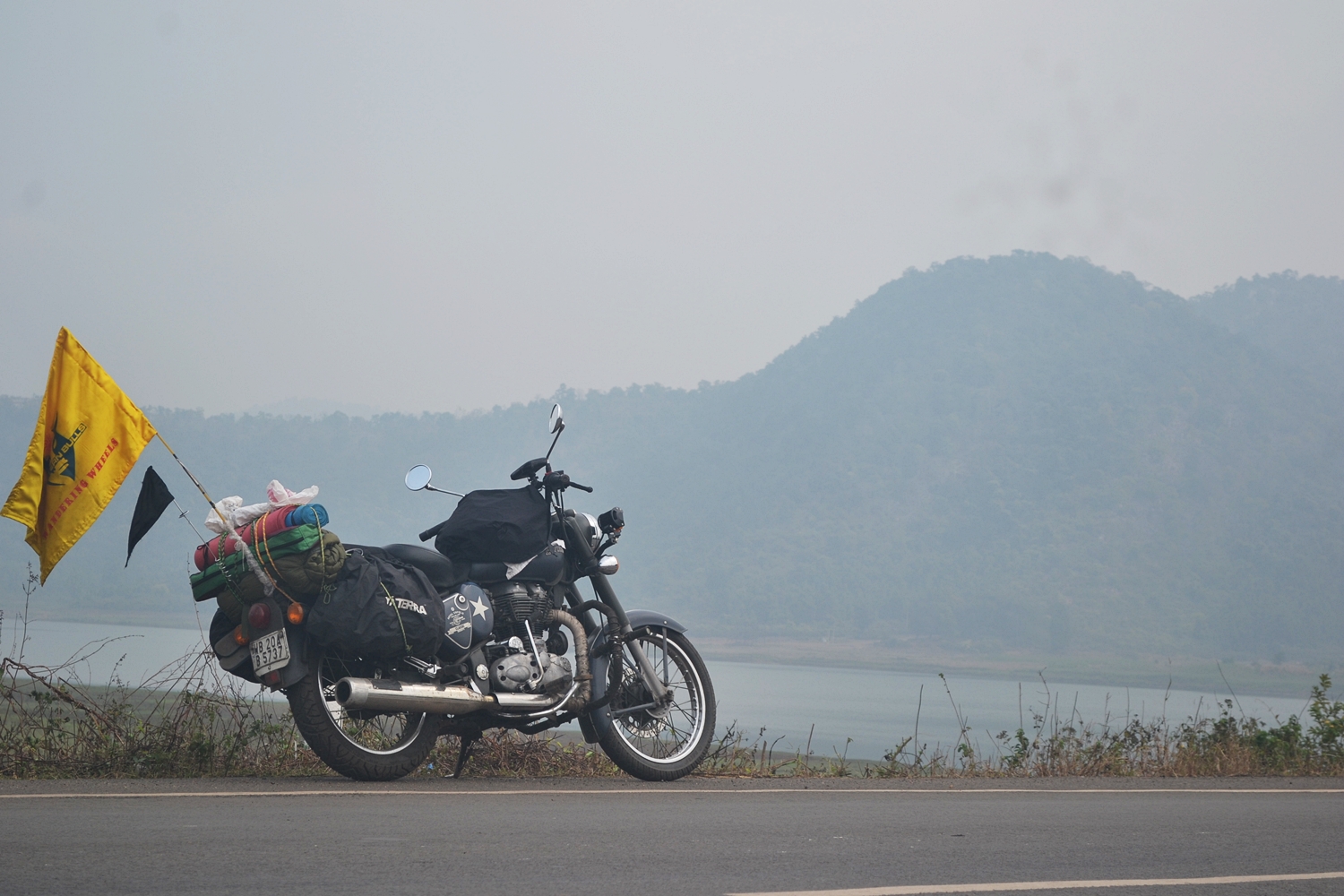 Facebook Comments