Whether you want your bike to look new or you want to your bike look better, custom paint job is one of the easy way to make your ride desirable with appealing presence. Anyone can paint a motorcycle, but it takes more than just adding fluorescent flames or random character decals on your bike, a good custom paint should express yourself! It is kind of like going to a tattoo shop. There are pages of flash, and then there are some truly custom stuff, and you are the one to chose. Hah! Kind of so much of resemblance in the bike airbrushing and tattoo artistry worlds right!. Check out this new built bike of today, you'll find much similarity! A custom made Royal Enfield Thunderbird by Puranam Design of Visakhapatnam and Delhi .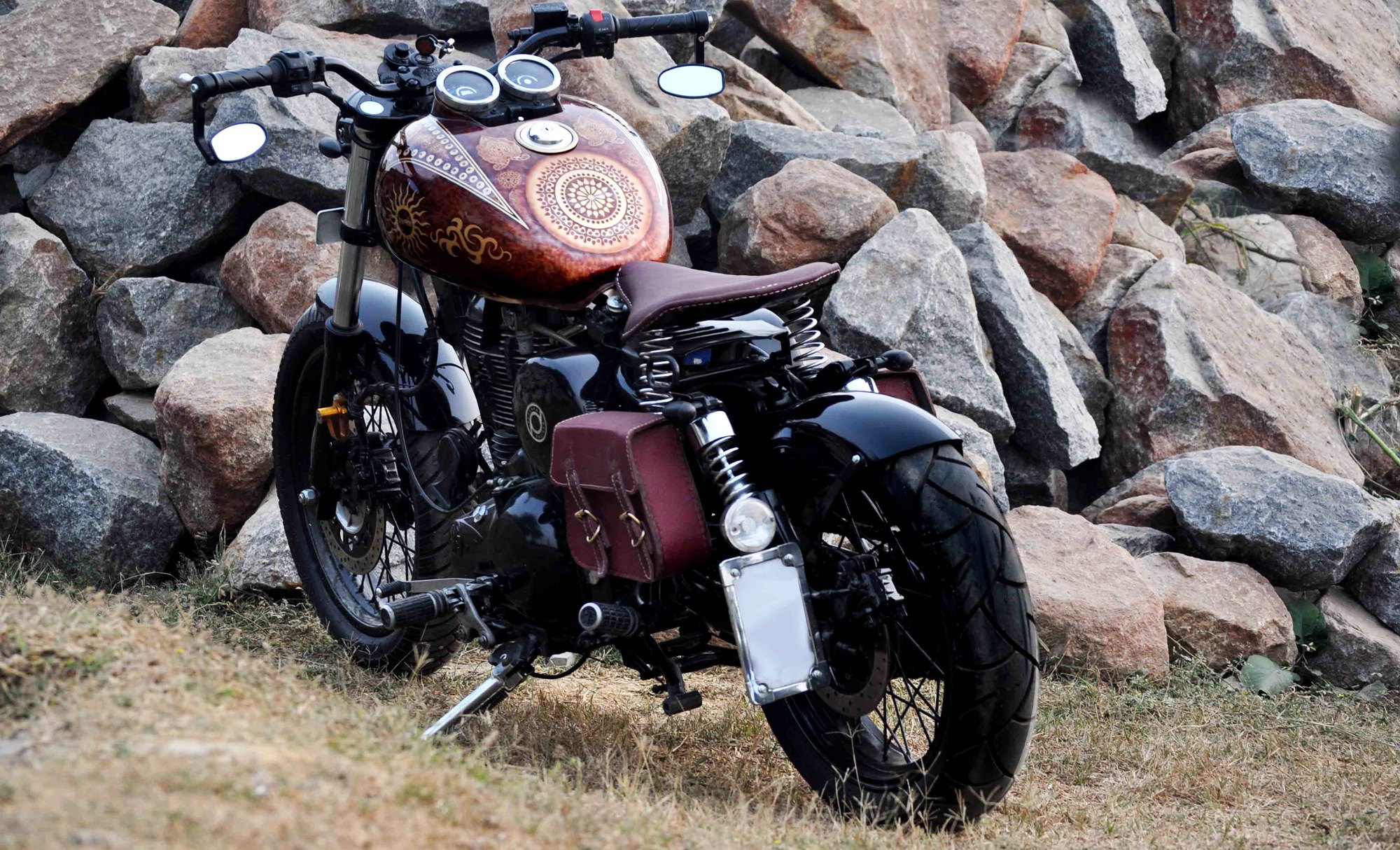 We had a talk with P Santosh Kumar, the former of Puranam Design on the bike and had few details on the modifications – "Handle bar, petrol tank, short rear and front fenders, Rear rubber completed on 17 inch spoke wheel rim with a 140 size michelin tyres.The front tyre is on 18 inch with 120 size tyre. On the tool box we have again sticked to around profile keeping the fitment on the same base.The number plate is left side mounted with an innovative tail light. An all metal indicator with smoked glass, a unique headlight developed from an SUV projector. A fantastic airbrush paint on the tank to bring the theme of traditional culture.
pictures."
Contact
Puranam Design
P Santosh Kumar – 08790176059
Rupanand Pradhan – 09999619004
Official Website | Facebook Page
Email : puranam.designs@gmail.com
Panchsheel, Malviya Nagar,
New Delhi, India
However they are operational from both Delhi and Vizag as well.
Photo and Info : Puranam Designs
Please mention us (350CC.com) when you contact Puranam Designs.
"
Facebook Comments