Since we have decided to enlist all Indian Customizers into our website, while we started we weren't very sure of how many of them we will find in India who are not only passionate about Custom machines, also have a real taste of building a Motorcycle. No we don't consider them, the one adds an extra useless dumb silencer to their bikes, or puts some fancy lights or sticker and horrible fancy horns (thank God they don't import chines horns yet lol). Anyway comes to the the business, we have found another Customizers of Goa, Evolution Choppers, they build, design custom motorcycles (choppers).
Evolution Choppers build bikes from the ground up according to customer needs, so that one can paint, accessorise, modify as their wish.
Evolution choppers also deal in retail motorcycle accessories some of the parts are exclusively designed and built for them by their linked company TC Custom Bikes and are only available with them. They can build anygas tank and fender according to customer request and design. So less dependency of making a Motorcycle by them.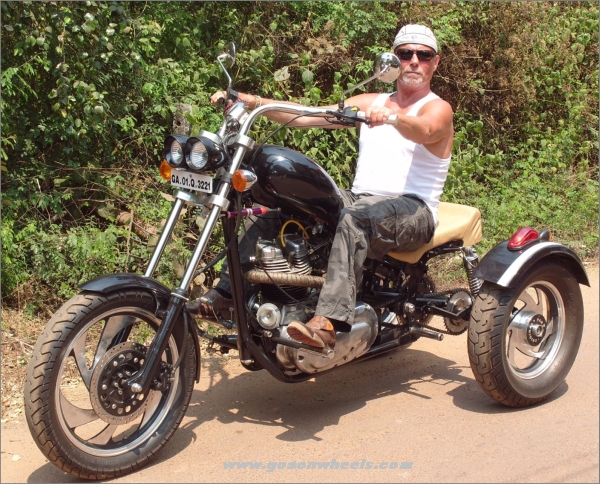 Michael Fernandes, the former of Evolution Choppers, believes
there are a lot of people in Goa who customise bikes but no one does it better than we do, as we totally stand behind our creation with good customer service and aftercare for our bikes and customers.From paint job to fabrication we do it all with an eye for detail from the nuts and bolts to the tyres. We also import custom parts for Harley and other custom bikes.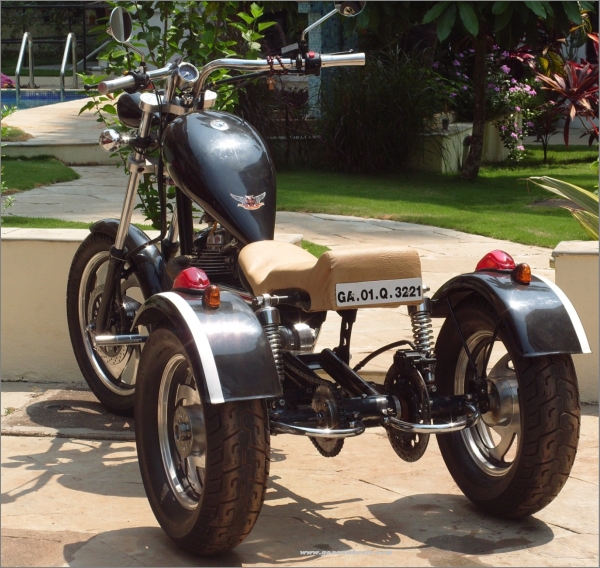 Sounds spicy aah…Now comes to an amazing work by them, well you guys know, we are a bit biased about 350cc engines, so we will highlight this one with a priority. They have built an unique three-wheeler. The customer of this motorcycle met with a tragic accident which took his left leg away. Refusing to give up his passion for riding, he requested Evolution Choppers to build him a special bike so that he could get back on to the saddle.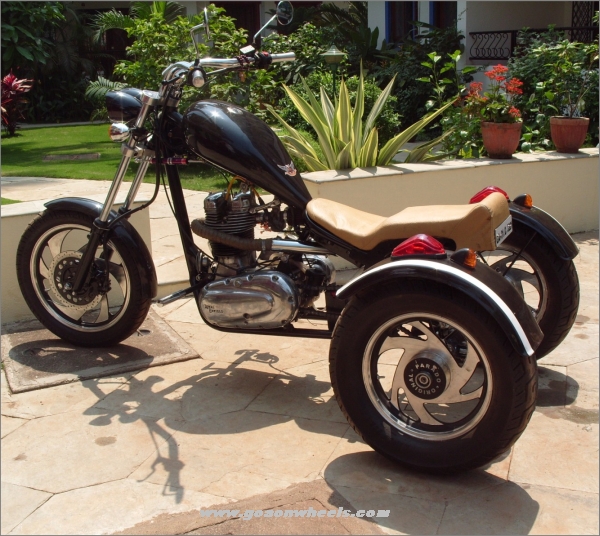 The Trike uses a 350cc Royal Enfield engine with custom made trademark evolution choppers chassis/swing arm, choppers handle bars, handlebar grips, TC bikes tank and fenders and forward controls, Goa On Wheels reports.
Contact them to Custom yours one
Michael Fernandes Shop # 14 & 15, Anandvan building, next to Asilo hospital, Mapusa, Goa Call  9422453570/9158464638   Please mention us (350CC.com) when you contact Evolution Choppers.
Facebook Comments