Motorbike riders on a whole tend to always modify and customize their motorcycles shortly after acquiring them. Some modifications are drastic to the point where a professional mechanic is needed, while others keep it simple enough that they can do the modifications themselves. Motorcycle modification is a touchy subject which needs skillful passion and attentive determination and there XLNC CUSTOMS, a custom motorcycle workshop from Delhi, spectacles there creative ascertain on each custom bike they built. This time they chopped a 2003 Royal Enfield into a celestial chopper – Sniper a Hardtail Custom Build.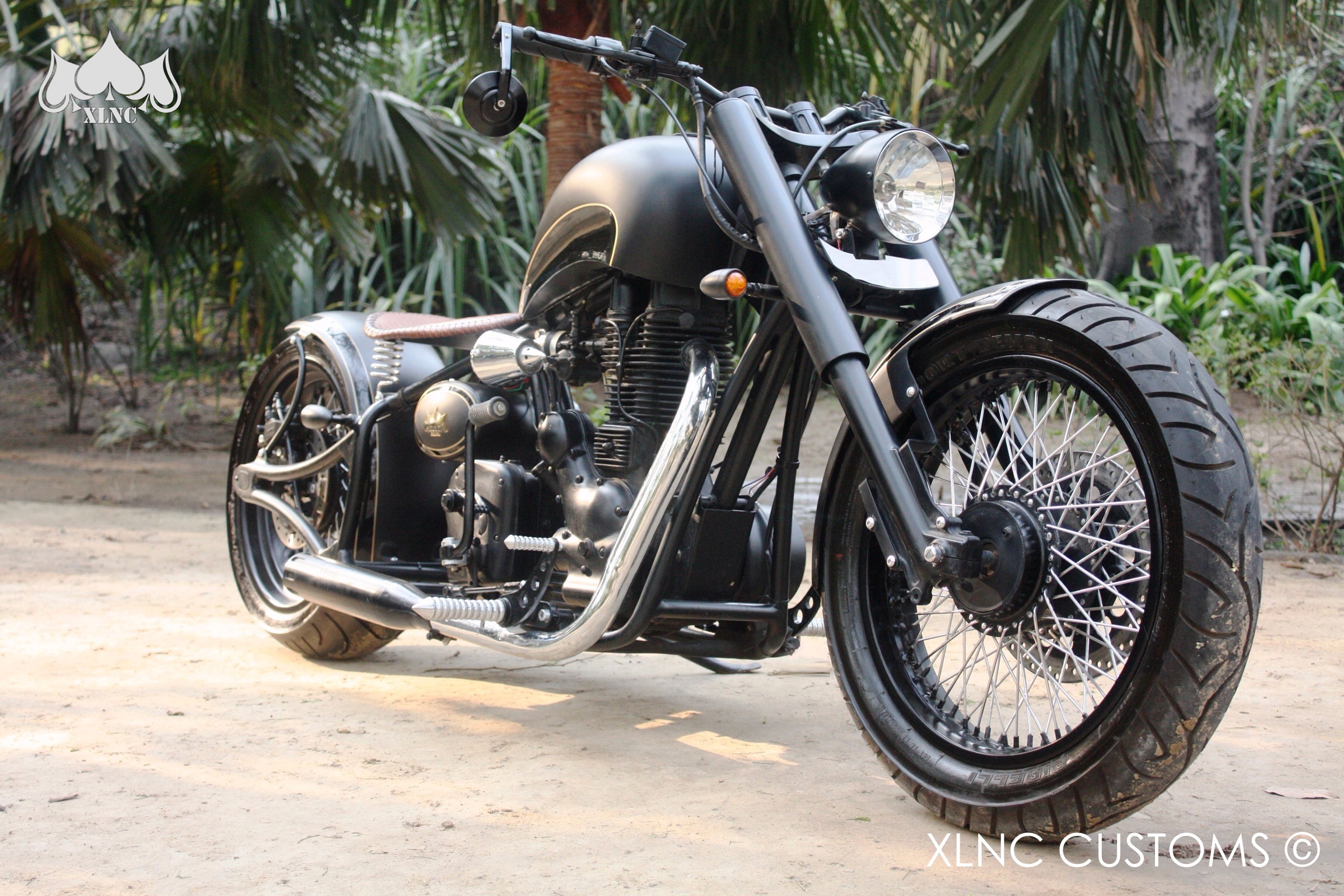 Ikvinder Devgun, the brain and brawn behind XLNC CUSTOMS along with Amrik Devgun, shared us few tech spec "We have build the frame from Scratch to give it a dragster look installing a 200mm wide tire with Multi Spokes Rims in the Bike. Some additional features of the bike include Custom made tank, Custom foot pegs in Chrome, Hand made leather seat, Custom made front folks, Bar End Mirrors, LED Back light with side plate number and K&N Air Filter.
All the work done on the bike is hand made inhouse, there is nothing that has been picked up from the shelf or from the market. The Bike is in Matte Black color with a combination of Glossy Black and Golden lining."
You can find all the XLNC CUSTOMS bullets following the link, stay tuned with their Facebook Page for regular updates. You can call XLNC for any queries by following contact details.
Contact #
XLNC CUSTOMS
981-888-6622
965-015-5990
Delhi
Photo Courtesy : XLNC CUSTOMS
Note : Please mention us (350CC.com) when you contact XLNC CUSTOMS
Facebook Comments