Cafe Racers are to be considered as the most popular motorcycle genre for longest period, they succeed to maintain the glittering popularity since they were born. With unique racy seating posture, Cafe Racers used to to faster racing machines in combination with the best handling frame of its old day and became the stencil for the new generation who wants to ride fast in legacy style. Cafe racers remain pure blue blood among all the motorcycle genre that introduced in all time. Booming the high vogue of Cafe culture, India is no longer behind the race, relishing some world class Custom Motorcycle workshops like Bulleteer Custom and others, the flow is enhancing o its every aspect. Chief, which is the latest version from the popular flagship series Bratrod of Bulleteer Customs, is a sweet conversion of a Royal Enfielf Electra, 350cc. Bulleteer Custom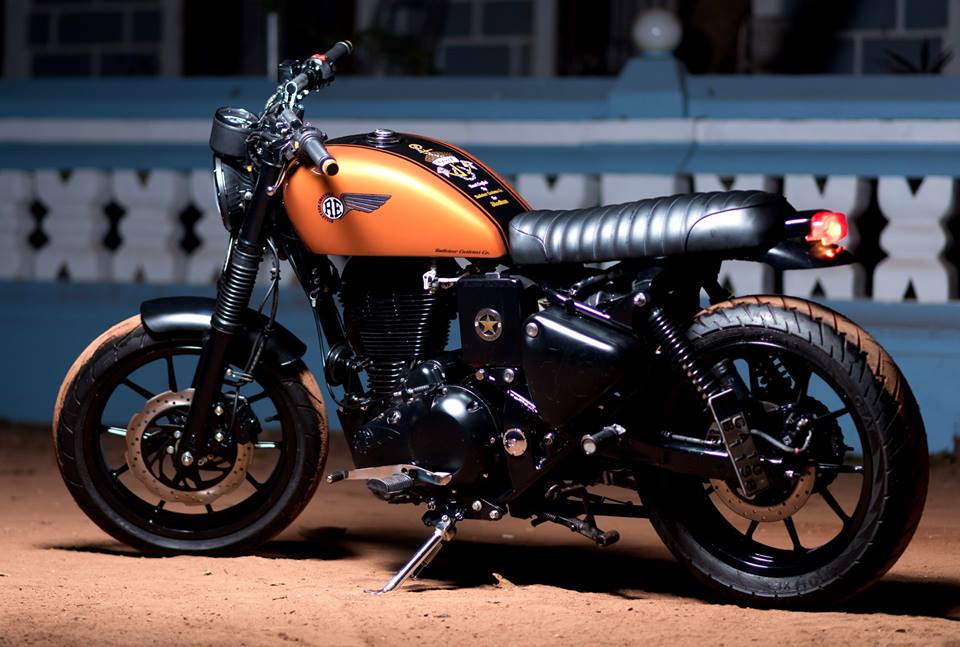 The latest from the Bratrod series, this ones Chief, this motorcycle started life as a 350cc Royal Enfield Electra and belonged to a Sailor in the Merchant Navy who wanted his Electra to be immortalized. His choice of style was pretty clear – he liked the brat styled machines getting popular these days. This one sports a 140mm rear and a 120mm front setup on alloys with rear disc brakes as well. A power mod to the engine gets this 350 to 120kmph with ease and is pretty nimble doing this too. The LED Daymaker headlights and strip tail lights along with handle bar mounted indicators render this a road legal machine, the orange is a Lamborghini Candy orange, yes like the one on the latest Murcielago and the brat seat and all black everything else give this a motorcycle a garage built high quality Bratrod stance. "We rode this naughty machine to Goa for the Royal Enfield Rider Mania, and I must say Chiefis one crazy ride!" – shared Bulleteer Customs.
Contact
Bulleteer Customs
Call : +91-9972862139, +91-9738075289
Bangalore
E-mail : bulleteercustom@gmail.com
Facebook : facebook.com/bulleteer.customs
Photography Courtesy : Bulleteer Customs
Note : Please mention us (350CC.com) when you contact Bulleteer Customs.
Facebook Comments