Since ages, bike enthusiast's flaring passion for building motorcycle has led to a vibrant and successful history of motorcycle customizing, – from dirt bike to classy bobber the passion to build motorcycle and the desire to develop heart-winning machines is a passion that has been ingrained into biker's DNA,and in India we are no beneath than this ongoing rich motorcycle culture. Indian bike building scene is highly elevating with some extreme talented professional builders along with ingenious amateur builders from different part of the country. The one we have today, is among one of finest example of those utmost skill and affluent biking cognition. Amit Sisodia from Porbandar, a coastal city in state of Gujarat, has converted a Royal Enfield Classic 500 to a flawless bobber using very limited resource available nearby!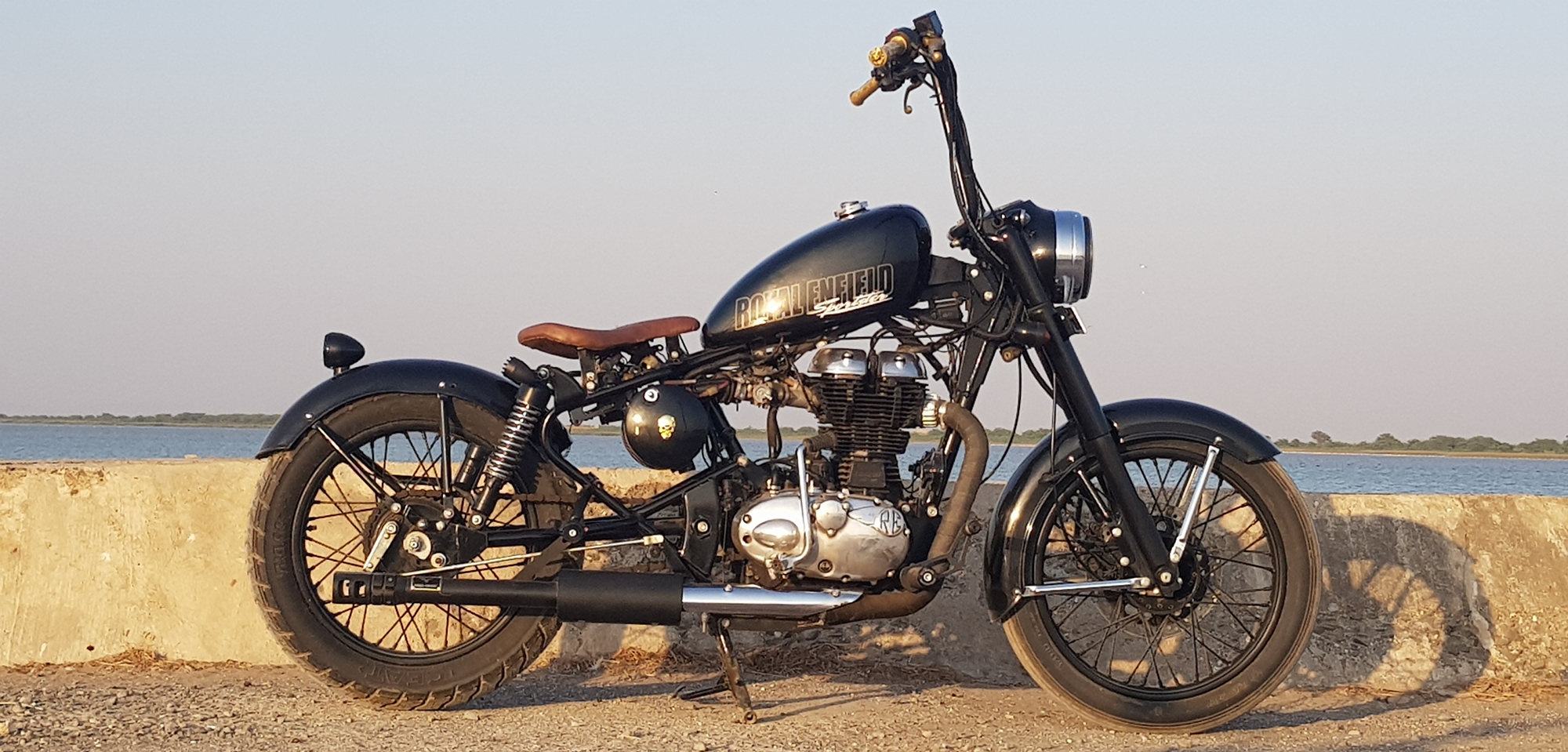 We had this honor to connect with him and we are glad what we hear from him, "Been a regular follower of your website. Actually its very nice platform where people can show their customized Royal Enfield. I had a classic 500 somewhere around 2k11 model. As I live near the coastal area rusting is very common here and my bike was very rusted so I made plan of painting it.But somehow when I was going through the 350CC.com I came across the post about Sameer Siddiqui's bobber project. Been a fan of bobbers from a long time, and after looking at the pictures I thought it might be possible to build something like one around here. Because I live in small town in Gujarat where gathering resources and the material for customizing is very hard. But still I wanted to give it a shot rather than making it look like the regular classic 500. I ordered most of the parts from Delhi. Handlebar and seats were custom made by a dealer in Delhi. Been a fan of Ape hangers from the beginning. As I am 6ft tall and heavy I didn't wanted to bike look tiny when I sit on it. I got reference of Gabriel Motorcycles from this site and contacted them for a forward control kit. And have to say they are good at what they do. Bike looked little short in length so I had to extend the swing-arm by the local fabricator here and had to reposition of rear suspension to maintain the ground clearance. Decals are inspired by Harley Davidson Forty Eight. Exhaust was ordered from Barrel exhaust the latest model bofor. Choosing headlight was fun, now a days almost every Royal Enfield are equipped with projectors and I wanted something different so I decided to put the infamous Bluetooth headlight from the YouTube videos."
Contact
Amit Sisodia
E-Mail : amit.7919@gmail.com
Photography Courtesy : Amit Sisodia
Note : Please mention us (350CC.com) when you contact Amit Sisodia.
Facebook Comments