Apart from a stylish comfort ride, appear masculine, artistic, and eccentric is the key reason behind customizing a motorcycle. On a certain point, every motorcycle enthusiasts consider a modifications of their favorite motorcycle for a unique mark on road and pleasing performance, although a modification may not cost it small always. However, even with minimal funding, the charming and eccentric modified motorcycle can still be built with paint job and altering with few after market accessories. Motorcycle rider has own level of comfort and that reflects on the handlebar they chose, the style of the handlebars on a bike affects how comfortable a rider is on the motorcycle and how well it handles on the road, there are multiple styles of aftermarket handlebars available to meet the personal needs of the rider. Although, we don't quite often see big handlebars in India, considering the roads are not that smoother like we usually see in western movies, however Zed Handlebars's classic chopper style looks great on motorcycle, they are sharply angled handlebars with varying lengths of straight rise sections, quite similar to the Ape Hanger, not the hundred percent though. We have one Bajaj Avenger today, which is assembled a Z handlebar with a spanking paint job on it by Ornithopter Moto Design from Nasik, Maharashtra, resulting a neat and clean custom presence which wouldn't hurt the pocket too much!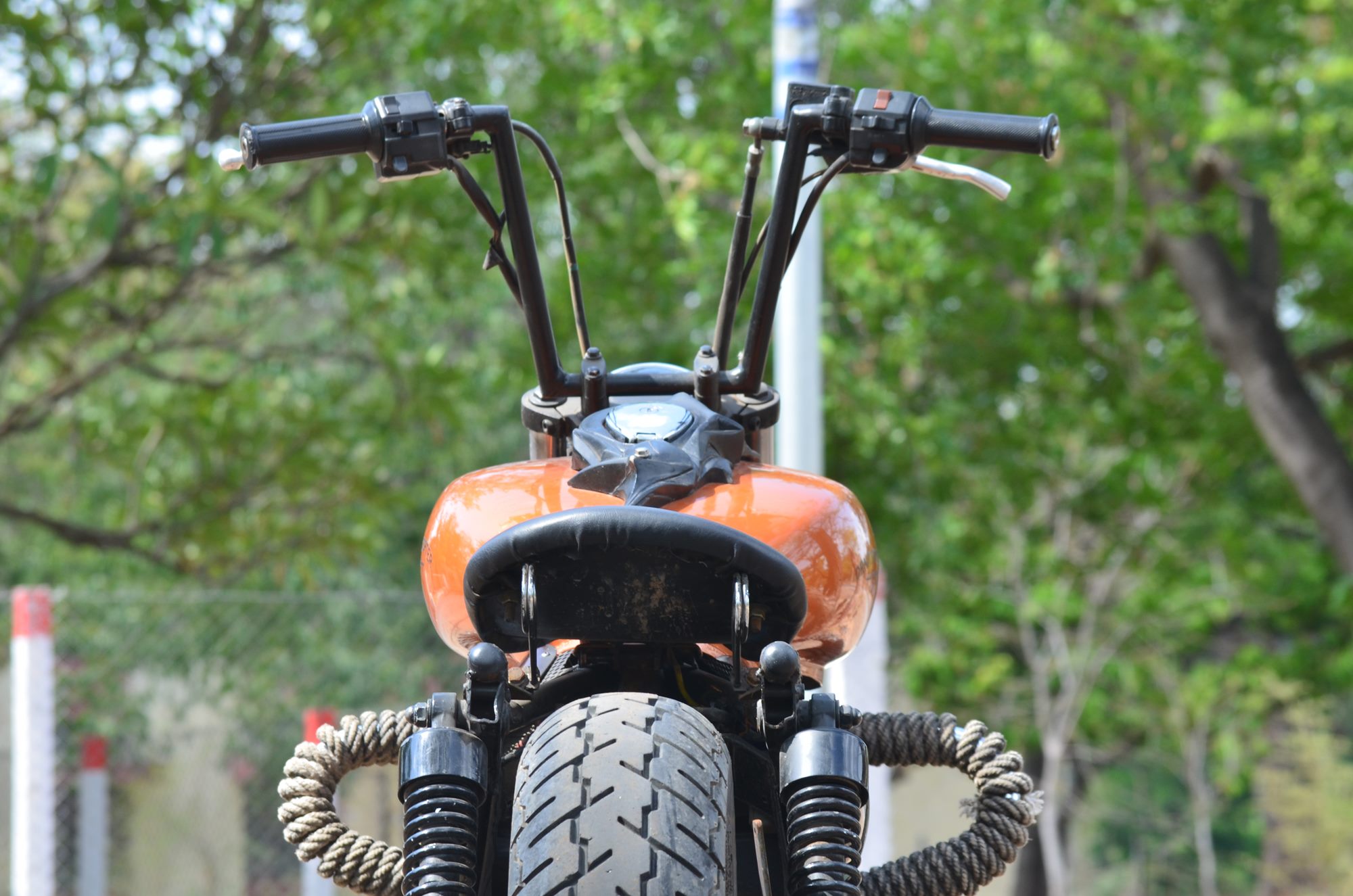 Talking on the modified Bajaj Avenger, the builder shared few works with us, "This was our naked built on avenger 220cc.We didnt make many changes in the original bike.The chassis was chopped at rear end. The rear tyre is Metzeler 150/90 R15 while front is Michelin 120/80 R17. The Zed handle bar is custom made in house as well as exhaust.The tanks gets an unusual scoop which makes the tank more attractive. The head light remains same. The engine and chassis was painted black while tank gets metallic orange. The bike has a very good road presence."
Contact :
Amol khond,
Ornithopter Moto Design,
Nasik, Maharashtra
Call # 09096622535
Facebook
Photography Courtesy : Ornithopter Moto Design
Note : Please mention us (350CC.com) when you contact Ornithopter Moto Design.
Facebook Comments