Let me conface that I'm a total sucker for a good old Jawa Yezdi bikes.  Why? Simply they were exotic – The fork was more pronounced with a higher rake angle and came with adjustable shock absorbers with  16 inches rims. Jawa and Yezdi bikes were ranging from 175, 250 and 350cc that were sold in India from the year 1960 up to 1996. These bikes made a mark in Indian Automotive history as an beautiful piece of machinery and were known for their reliability and low maintenance costs. Both the young and the old loved to own one of these powerful machines and ride across town. So it's always been wonderful to know when some new chap is showing the love towards the old retro buddy! (to add the fact that I more love the stock design of the retro look) We were super happy when Shrikant Vijay, former of R.V.S Designs, shows us his 250 bobbed transformed Yezdi – "Yamdoot", he named the build!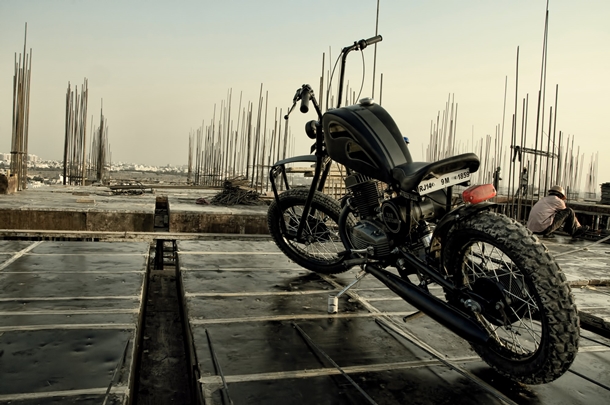 Saying about the bike "…so here are the details of my built. Yamdoot is a 250 cc Yezdi classic which we have converted into a old school bobber. It has leaf spring front suspension and mono suspension in rear. The front tyre is 19inch and 17inch in rear . It has a very unique gas tank with two hollow holes designed in it. Yamdoot have proved that  even a Yezdi  can be chopped into a great bobber .This is my first build hope you like it." Yes, we loved it!
Shrikant shared his sweet notes with us "From my childhood I have this passion and impulse to see things in different way which makes them unique. I don't like things the way they usually are.I want to make it more unique and impressive. My inspiration has come from the army school environment from where I studied. The way the army men used to customize their bikes, jeeps, trucks according to their need and taste. Until the end of my college days customization was my hobby. But after working as a civil engineer for few months I realized that this is not my passion.So I turned my hobby into full time. Because this is what ..I think, I dream of and I work." Adding the fact we loved the photography as well, so you score good in there also!
'' You have your attitude, we make it Impressive'' Things we like, things we buy, thing we wear, things we use. Shows our attitude, Who we are. We love to out stand among others. This makes us feel alive and we love that feeling." – Says RVS Design..
However the biks is for sale at the moment he' had shared his journey, " I am offering it for Rs 90000 INR only (about 1500USD) " says Shrikant.
Contact
Shrikant Vijay
Contact No. 08947006993
R.V.S DESIGNS
29 D.K Nagar Khatipura Road, Jhotwara, Jaipur
https://www.facebook.com/rvsdesignsncustoms
Photo : RVS Design
Please mention us (350CC.com) when you contact RVS Design.
Facebook Comments
---