Everyone dreams of owning winsome, powerful faster motorcycles that are fun to ride and visually attractive . Some wish they could corner like a pro on a sport bike, while others wish to soak in the scenery on a more comfortable cruiser. And then there's those folk who just want just rush their street bikes without redundant parts and altered their bike clinging a stylish history – yes they are cafe racer boys. The café racers are purely for those who have the passion of letting loose and ride with all of their hearts open, yes no luxury with unreal bodyparts. An we are lucky to have some great bike modifier in country who are ready with their intense vibrant skill converting a regular bike to a pure old school cafe racer. The one we have is a custom YahamaRX 135 with brat seating posture from the house of Hindustan Customs from Nagpur.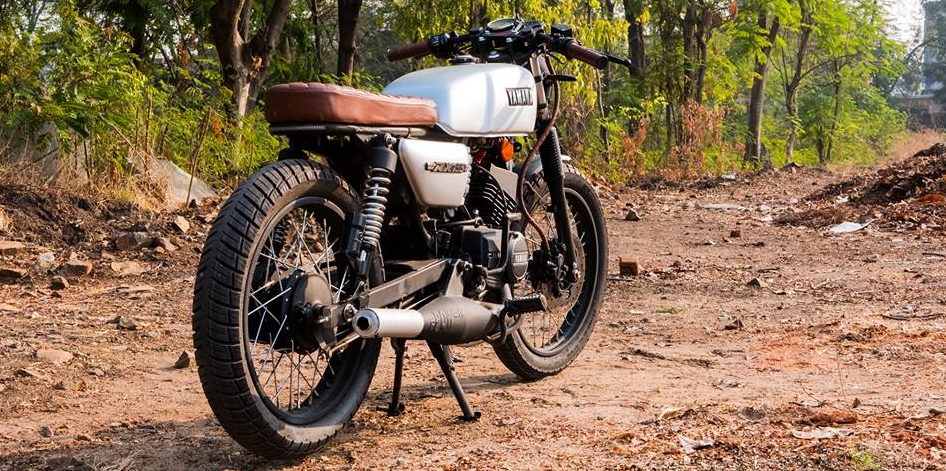 Animesh Sharan, the key person of Hindustan Customs shared his experience behind the building with detailed tech spec, "Some say you need to sacrifice things to move forward. What we at Hindustan Customs believe is always chase your dreams and that will take you forward. Here's another Bratt Racer from Hindustan Customs located at Nagpur, Maharashtra.
We at HC are so crazy about making the motorcycles that as soon as the owner landed in India after 2.5 years, he went and bought a RX-135 within 2 days. We all started working on it and here it is to delight your eyes.
We have named the new bike as "TARAK: the one who takes you across, the star protector".
We tried to get back the retro silver (in silver)colour back which was fading out of the market these days. The bike has been hell lot of modifications like:
Led Headlights with custom made headlight bracket.
Expanded 16L Tank
Led Intigrated tail lamps and indicators,
Performance Chamber for better sound
Custom made led display for warning lights
Clip on handle bars,
Front Disk set up
Bigger swing arms for bigger tyres
Hand-stiched seat with matching grips
Custom made number plate-chain guard.
Custom made front fender/mud-guard.
We are also planning to expand and thus looking for a bigger team. Below are the contact details if you want to get your ride customized. We have different packages for different pockets."
Contact
Animesh Sharan
Email : hindustancustom@gmail.com
Sadar, Mount Road, Nagpur, India 440014
Facebook: https://www.facebook.com/hindustancustoms
Call: +1 817-903-6405 (The builder is currently in US and reachable via Whatsapp)
Pictures Courtesy: Hindustan Customs
Note : Please mention us (350CC.com) when you contact Hindustan Customs.
Facebook Comments