Crossover Kustom in short for CK has come up with their first Cafe Racer concept which is a small customization company based in Nagpur, Central India. They have modified the legendary 2 stroke series of Yamaha RX-135, 4speed into a hot red cafe racer. This concept is pretty new to the market. Here's how the story of the founder goes.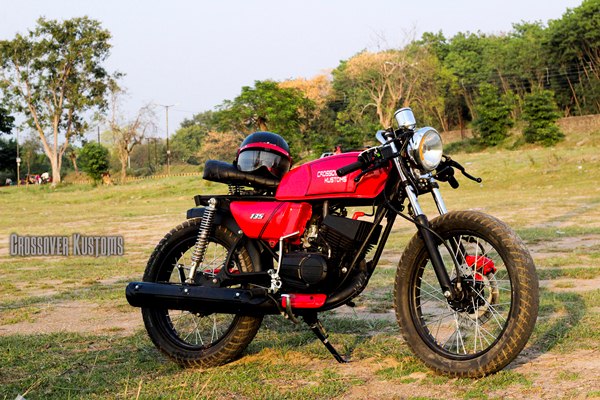 Both the founders were colony friends who never interacted a lot. After they grew up and started college, one of the founder modified his car [Deepesh Deshmukh] and the other modified his bike [Animesh Sharan]. Animesh Sharan has recently finished his Civil Engineering and has a vision and passion for motorcycles, he had a plan of doing MS from US, whereas Deepesh Deshmukh has done his Hotel Management and he is crazy about Royal Enfield Bullets, Cars and Jeeps. So living in the same area both started interacting and discussing ideas about modifications. Later they both planned to customize a motorcycle, but the only thing that was stopping them was the money. Slowly both of them saved their pocket money and after finishing their colleges they planned to follow their dreams, so they started searching for cheap motorcycle. As the budget was restrained so they bought second hand Yamaha RX-135 from a mechanic. They sat together in their mobile office, which is a Jeep modified by Deepesh earlier and discussed the ways to make the bike different.
The name of the bike has been kept as "
the little boy
" because the bike has been made with the saved pocket money of the both and within very tight budget. The engine is original from 2003 model
Yamaha RX-135
, 4speed, whereas the chassis has been shortened to make it into single seater cafe racer look. The tail lights have been invented by CK which is complete LED which also includes indicators and parking. There is also a Heart light which can let you see the clutch rotation in the engine. CK has also used quick throttle and UNI air-filter to increase the pick up and torque of the Little Boy. Detailing is something on what CK never compromises and delivers their best within the budget of the customer.
Contact #
Phone # +91-8793934001 / +91-9595025837 
Email : crossoverkustoms@gmail.com
facebook.com/CROSSOVERKUSTOMS
Photo and Info : Crossover Kustom
Note : Please mention us (350CC.com) when you contact Crossover Kustom.
Facebook Comments