Builders Talk: Annappa, an adventure enthusiast was looking for a bike which would quench his wanderlust. Having ridden the RE Himalayan, he found it lacking sorely in handling and overall refinement. As the next worthy upgrade would shoot the 10 lakh INR price bracket, we at Motorcraft decided to build a be nimble and fun bike without burning a Triumph sized hole in his wallet.
The process began by picking up a used Impulse and stripping it completely. A Honda Hornet 160 powerplant was adapted to fit the stock frame. We revised the final gearing to favour initial grunt which negates the need for frequent gearshifts in trails. A less restricitve double barrel end can was fabricated and powder coated in black. Carburetion and jetting were revised to match the upgraded components.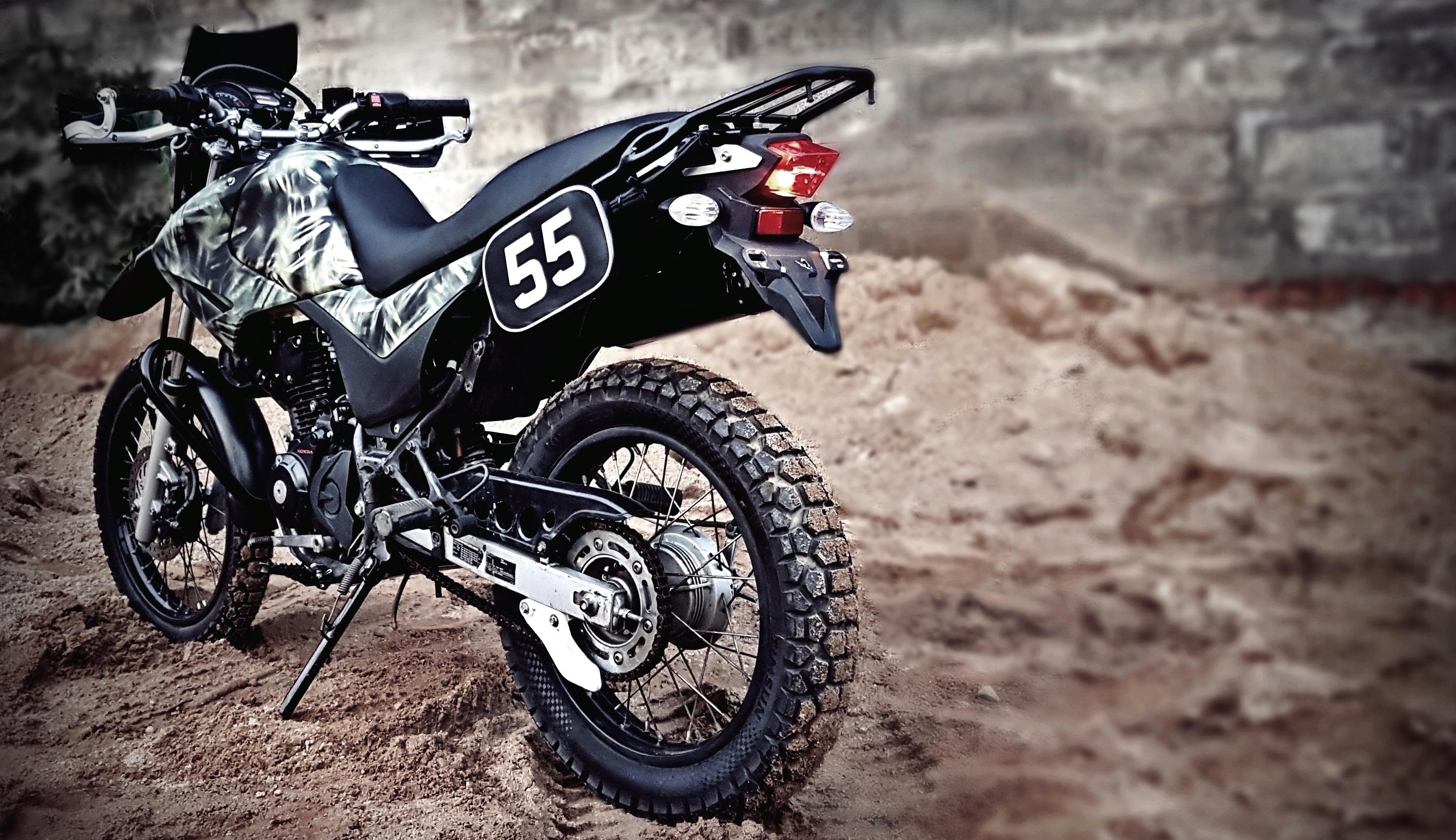 As the stock front suspension bottomed out easily, the internals were customized to suit the rider's weight and riding style. The rear suspension was replaced with a factory original. Timsun tube type dual purpose tyres perform duties front and rear. The plastic headlight assembly was ditched for a handmade sheet metal replacement. A sturdy mounting stay bolted to the triple tree holds the lens protector, number plate and indicators. The rear carrier assembly and the race themed saddle stay was shaped out of 2mm guage steel. The rider's lucky number 55 was slapped on the sides for goodwill. Fabricated bodywork bits include daytime running light, front tyre hugger, bash plate and tailight mounts.
Specifications:
– Honda Hornet 160 powerplant
– Upgraded front brakes
– Stiffer front suspension
– Fabricated headlight assembly, carrier and race plates.
– Double barell exhaust
– Trimmed tail light assembly
– Dual purpose tyres
– Extended footpegs
– Aluminium bash plate
– Camoflague paintjob
– Bolt on Handguards
We gave a stealth camo paint job so that the bike would blend into its surroundings effortlessly.
A month long 2,500km to the northeast was successfully completed and the the next set of upgrades are being discussed as we speak !"
Cotact
Dhruv
Motorcraft
No 861, Kanakapura road
Bangalore, India
Call/WhatsApp : 9620 3938 66
Facebook
Facebook Comments