In the world of custom bike builder, first impression is always pretty hard to ring the bell towards the desired destination, and that too from a new fresh builder, even who is in Motorcyclying business since decades. Achieving the global appreciation is somewhat every builder's focus in their every build now and then. We have in our today's bucket, the best built of the year we have seen so far on the blog. "Troy" an intriguing, hand-crafted rigid tail Royal Enfield 500cc bobber.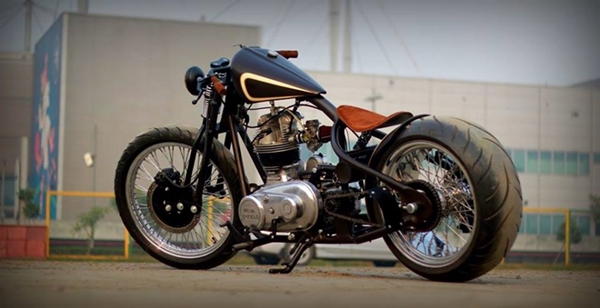 Rohan Nino Puri, the former of Nino Custom Cycles, described his entire journey through the building stage with us : "I am Rohan Nino Puri based in Delhi and I basically started this business as Vintage Auto World restorting vintage and classic motorcycles and proving quality spares for the same. Since these is no much scope in these bikes, we introduced our first custom bike as we had the expertise to build it and names the company Nino Custom Cycles.
We started this build on 29th October, the very next day after my birthday but we never thought we'd make it to the India Bike Week 2014. Luckily, we finished it in time (ofcourse, we have to ditch some of our design inputs due to unavailability of time). We started with almost no tools, no welding, cutting etc. equipment but we slowly gathered all the stuff as the build progressed.
Here are some details on the motorcycle:To start with, we have built a complete new frame / chassis from scratch using a huge 2″ backbone and 1.25 tubing throughout the frame. This has been done by a very few builders in India and I believe we are among the top 10.
Front suspension again is an all new built from scratch classic Harley Davidson style springer fork with design tweaks by us.
We used a chunky 18 inch 250mm wide Avon cobra tyre on the back with a matching 21 inch front tyre to give the bike a bulky look.
This bike is powered by a Royal Enfield 500cc AVL engine and a matching 5 speed gearbox which can very well handle the chunky rear end. Our next build will be probably a Triumph or Harley Davidson.
Body parts are all hand beaten to the desired shape. Fuel tank design is inspired by Cole foster from Salinas Boy Customs based in California, USA. We kept the bike with very few body parts as we hate bikes covered with sheetmetal and hiding the mechanical inside it.
Seat is custom hand stitched pure lather by one of the best seat crafters in Delhi. Handlebar has an internal throttle system. We were also planning to put an internal clutch system but it was proving to be difficult to turn a non-hydraulic clutch with that and we did not have time to convert it into a hydraulic clutch.
We named our first bike "TROY" which is an ancient Greek word." – Rohan Ended with!
To stay tuned with Nino Custom Cycles you can follow their facebook page – Nino Custom Cycles.
Call # 07859852323
Email # ninocustomcycles@yahoo.com
Photographed by Arjun Sharma
Please mention us (350CC.com) when you contact Nino Custom Cycles.
Facebook Comments