No motorcycle is enough turning on than the one enduring that retro fragrance, those handdrilled lines are the true-bred style among all the genre! Now the taste is limited and the availability is rare – you don't see a Ariel or AJS or Norton motorcycle on eBay regularly, so even if you desired to be elated of owning one of those Vintage bikes, it's toilsome. But hey, you can convert a classic modern bike into something similar, especially when we have plenty ingenious deed bike builders around. The bike we have today is one example of such exalted conversion, the donor bike used here is a Royal Enfield Classic 500cc of the year 2010, build by Puranam Designs who successively delivering affluent custom motorcycles in past years.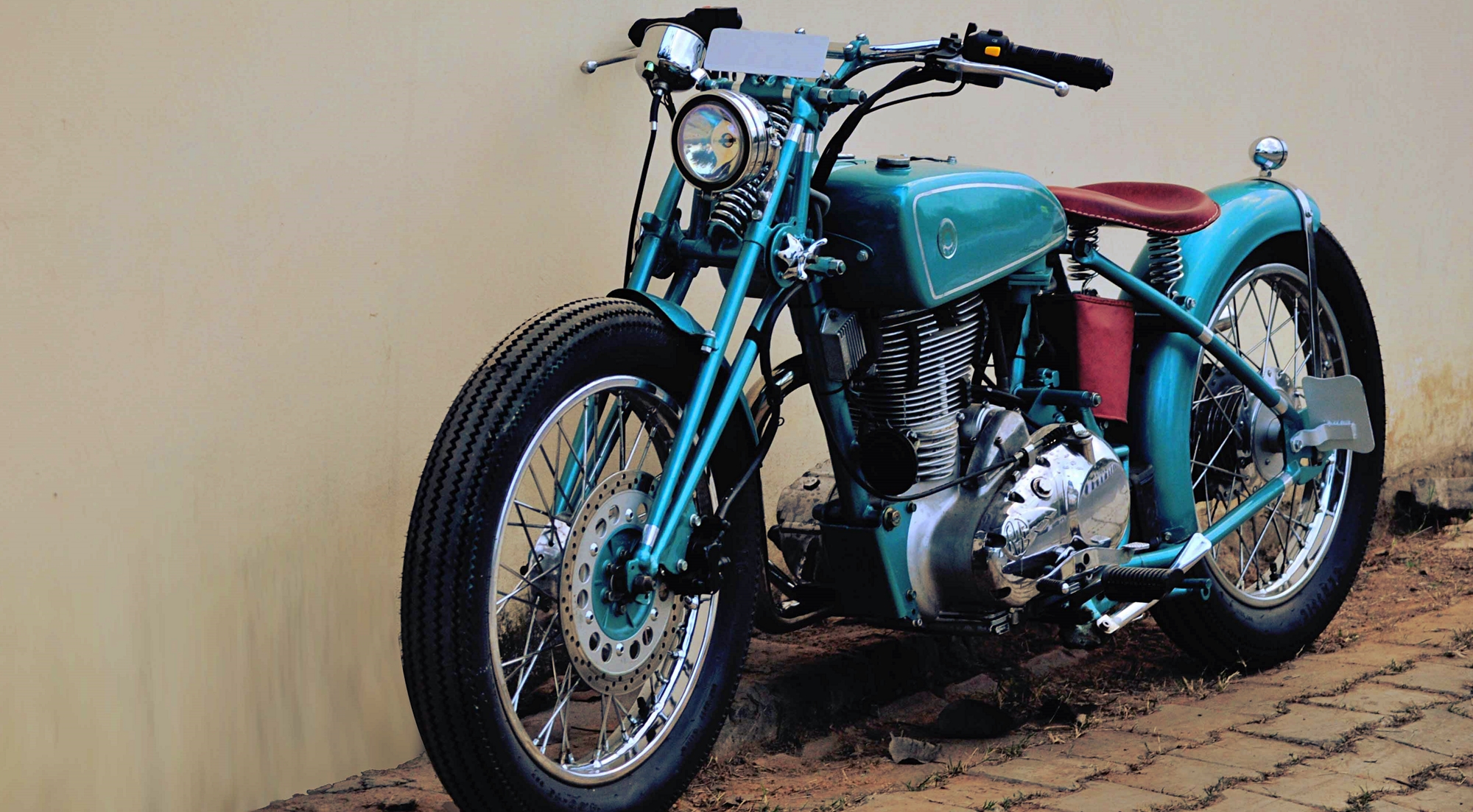 "Modifications – Handle bar, petrol tank, short rear and front fenders, Rear and front rubber completed on 19 inch spoke wheel rim with a Duro tyres. The battery cover and seat is made of maroon leather complimenting the torquise blue color .The number plate is left side mounted with an tiny tail light mounted on the rear fender. The headlight is a small 4 inch glass type placed on the sideways towards the left. To finish, the body treated with a plain jane paint job in torquise blue."
Talking about the build, P Santosh kumar, the key person from Puranam Design shard few words with us, – "Made on the hardtail frame with a Girder forks on the front, the design takes you to the pre-independence era. the frame had been redesigned keeping the original fitments untouched. Every detail from the chrome to the contours shows the primitive motorcycle design. We kept the stock 19inch rims on front and rear to use Duro tyres. As always you still find the RE characteristics, which means we have worked on mixing the vintage design on a 500cc classic. Take a tour of the pictures and travel to those non existent old times."
Contact
Puranam Design
P Santosh Kumar – 08790176059
Rupanand Pradhan – 09999619004
Official Website | Facebook Page
Email : puranam.designs@gmail.com
Panchsheel, Malviya Nagar,
New Delhi, India
However they are operational from both Delhi and Vizag as well.
Photo and Info : Puranam Designs
Please mention us (350CC.com) when you contact Puranam Designs.
Facebook Comments