We've all been well acquainted with various motorcycle genres ~ say it Bobber, Cafe Racer, Scrambler or big fat choppers, and here on 350CC.com house, we've also witnessed many ingenious moto-freaks who build those polished, ravishing , powerful machines. But what really goes into the making of these beauties? Here one from TNT Motorcycles in New Delhi who build probably world's lowest bobber using a Royal Enfield Electra : Shunya!
"Our first Zero Chop Bobber was conceived out of selfchallenge. After being duped by a local builder of our money and donor motorcycle, we decided to give custom bike building a shot of our own styling and taste. So we funded another brand new RE350 cc Electra and started designing the build ground up. We rendered a 3D model of the build which was designed and scaled on RE350 UCE. The design involved a custom built chassis with a Hard tail end coupled with a 1948 HD front end springer suspension on a 45o rake.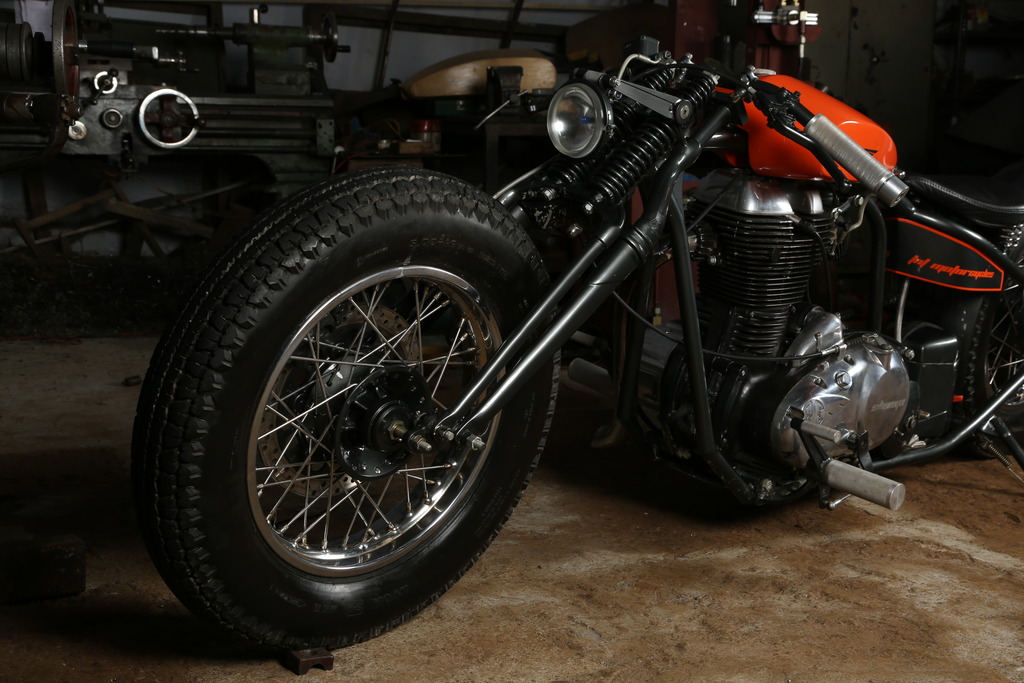 Although it was a crazy rake angle to look at, but we knew that we had to make sure that the front end lines up dead centre and the chassis should be accurate to a millimetre from neck to rear axle brackets. We both are Mechanical Engineers and were both pursuing our carriers in major OEMs which gave us a collective of 11 years experience in design, development and fabrication helping us design and test the chassis before it was actually built. Our software can render breaks and even minor fractures under Stress, Strain and Angular Forces on the designed frame. The chassis/frame is tested under thrice the G forces produced in live conditions hence we attain the proper grade and gauges of raw material required for the build.  A custom contraption was fabricated for building the cassis with high precision and accuracy.
All the fabrication was done in house at our workshop where we were blessed with a lathe and welding set. Build got serious in October 2013 when India Bike Week announced schedule for IBW2014, setting it as a deadline we started working weekends and our regular jobs on weekdays. Building chassis was the hardest part as Metal acts weird under welding and tends to bend due to instant heating at the edge. So after almost 1000 man hours of grinding, cutting, milling, shaping, turning and welding, we finally arrived at our chassis. Sheet metal jobs followed along with the fabrication of all fittings and accessories on the chassis. Test ride day was our moment of truth, it was a success, believe it or not this 45o raked 8 feet bobber goes in a damn straight line once you let go the handle bars, the Springer was working absolutely fine and that first hard tail ride changed it all. It was decided that we launch this build at IBW and if we get a good response we quit our 9 to 5 jobs and peruse bike building. Paint was outsourced and the finally assembly was completed, already a couple of days behind assemblyand only 2 days left for the IBW2014 to open, we disassembled the front end of the build, packed and wrapped everything, loaded the build in a Duster and headed to Goa from Delhi. Alongwith another car we drove 39 hrs straight to reach IBW at the fortnight. Assembled the build and delivered it to the venue at the dead of the night. The response at the event was beyond expectation, people admired our low slung styling and neat detailing, all in all the build was a hit and as promised we both quit our jobs and registered TNT Motorcycles. As often said "God is in the details", we tried to build an absolutely clean and no nonsense bobber with a 7 litres Orange fuel tank which is our trademark design, one off engine fittings, a custom battery box and electrical box painted in orange and grey and so is the chassis. The foot and hand controls are turned out of solid aluminium and knurled in-house. Custom headlight with custom fittings coupled with a chopper style left rear brake light. Avon front and rear 5.00-16 Bobber tyres fitted in a custom made HD Springer adds to the hot rod styling followed on the bobber. The ground clearance is a mere 3.5 inches but due to a limited springer play in the front and a hard tail end it clears all speed bumps and we participate in all major rides. Although the rolling dia/tyre height is 26 inches the seat height is 25 inches which makes the rider sit between the tyres and with that crazy rake the rider gets a view of his Avon rubber rolling in front of him. Highest point on the build being 31 inches one can imagine how low this bobber actually is. We believe Shunya is world's lowest Royal Enfield chop."
Contact TNT Motorcycles
https://www.facebook.com/tntmotorcycles
Dashrath Puri
New Delhi, India
Call : 098738 38370
http://www.tnt-motorcycles.com/
Call Nitin (9971614572) or Naveen (9873838370)
Photo Courtesy : TNT Motorcycles
Note : Please mention us (350CC.com) when you contact TNT Motorcycles.
Facebook Comments