Motorcycling and choice of motorcycle is something very diverse zest of individual, there are various different genre of taste and as an outcome every individual wants the bike congruous his or her taste upon performance and appearance – they opt for cafe racer, or street tracker, scrambler, or any custom motorcycle, for that matter. Fortunately biking scene in country has been improved widely than what it was decades back, we see more purpose-oriented bikes are being built rather than just to own a custom build bike – and it is immense pleasure when yo find workshops are building some clean functional bikes with legitimate roots! The bikes we have today is from Rebellion Custom Works from Mumbai, who did well justice building those Scramblers and Cafe Racers.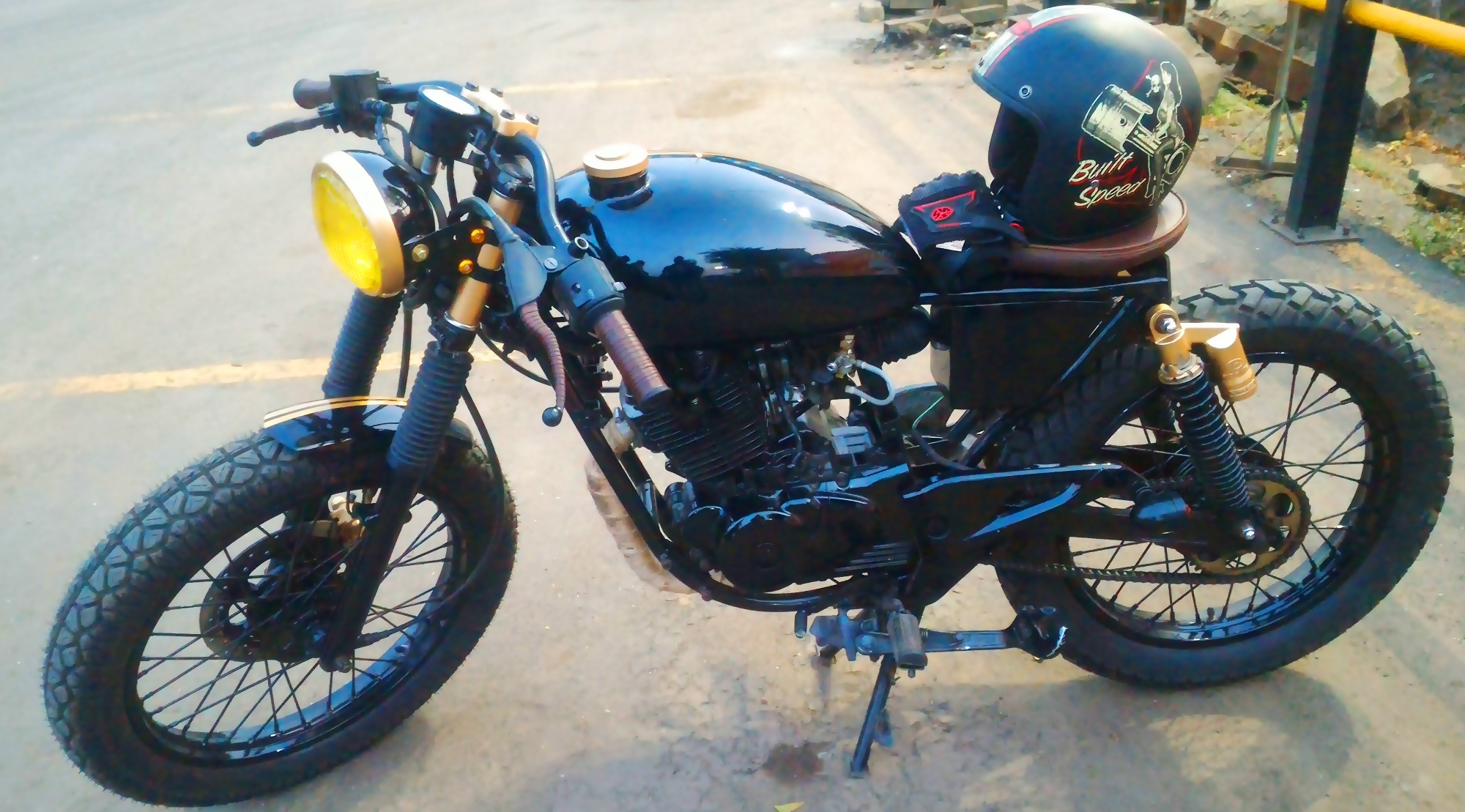 We had a chance to connect to Nazimuddin Shaikh, the key person from the bike building workshop, "Hi I am Nazimuddin Shaikh and I run Rebellion Custom Works,which is situated in Navi Mumbai, I always used to get fascinated whenever I used to see custom choppers on television and always dreamed of having one of my own,but couldn't afford one but as the time passed my passion kept on growing so in the beginning I started with sketching motorcycles and at that time I had an old Hero Honda Karizma and I thought the time has come to do something, and that's when the journey of Rebellion Custom Works started and everything was new for us and it was quite difficult for us because we are situated in such a place where people believe that high class bike customization cannot be done here, but we always had that feeling that we have to do this and we will break the stereotype of the people and achieve class results and after 2 months of hard work our first custom cafe racer was born and we named it Loneranger. After we uploaded the bike pics on social media we got some great response and people appreciated our work and than we came back with an another project which was based on Bajaj Pulsar 150 which we named Dark Racer, it was built keeping in mind the old school style of biking as it can be seen on the bike by the spoke rims, saddle seat, oval tank most of the things on the bike was hand fabricated by us. At Rebellion Custom Works we believe in Kam karo hatke, and that's what we always try to achieve in our work.
Contact
Rebellion Custom Works
Call : 7744850780/ 8097115654
Add : Rasayani, Navi Mumbai
Instagram : /rebellioncustomworks
Picture Courtesy : Rebellion Custom Works
Note : Please mention us (350CC.com) when you contact Rebellion Custom Works.
Facebook Comments