Since the first Motorcycle was born, it was always been a medium to reflect the owner's artistic instincts. Their motorcycles have been associated with style and glamour, a symbol of rebellion, freedom and uniqueness. From the point of performance to comfort and presence, the alternation was never been in comma! Today we have Royal Enield Classic 500cc in our bucket, modified by Maratha Motorcycles in Mumbai, which was modified to serve better comfort, cruising attitude as well as eminent outlook.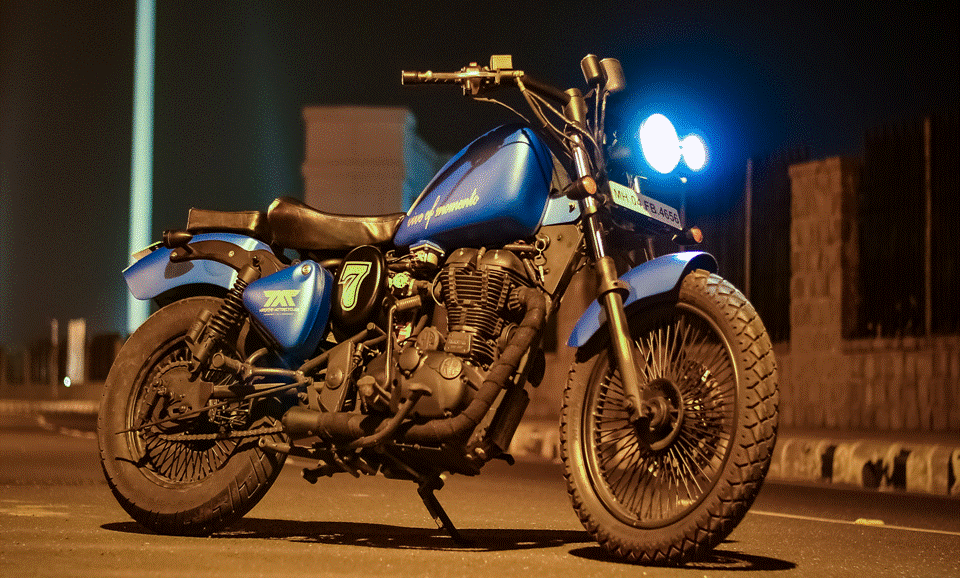 Saphyra: "This custom work is done on Royal Enfield classic 500cc – cruiser bike. As its having broad handle bar, 20 litter fuel tank capacity and rear broad wheel base. Upgraded seats with back comfort for pillion rider creates riding comfort for long rides. Distinctive custom stance multi spoke wheels. Custom swing arm designed to support rear broad wheel base. Custom dual halogen headlight has led and projector fittings.Primary light has led ring & led bulb inside it and the secondary is equipped with projector for the nightlife long rides.
Both the lights has blinker function. Custom tank, both short fenders newly crafted in sheet metal. Core customization done is with color schemes that matte finished blue has dual tone effect. Sparkling sliver stripes graphics on body Speedometer & fuel-meter is placed in the new metal housing. New short exhaust body gives a heavy but pleasant thump while riding, customized the riding crown also with the body color and stripes which add eye catching effect while riding."
Contact
Shrikant N. Dalvi.
Call : 086 5557 4430
marathamotorcycles@gmail.com
Navi Mumbai
Marath Motorcycles Facebook Page
Photo and Info : Maratha Motorcycles
Note : Please mention us (350CC.com) when you contact Maratha Motorcycles.
Facebook Comments