What I feel extremely blessed in back stage of 350CC.com is that I get to meet new bike freak, bike enthusiast and bike builders with their astonishing competence every other day! However Bull City Custom from Delhi wasn't new to anyone here, they did their hands earlier frming exquisite Bobber or Scramblers earlier. An Royal Enfield AVL scrambler, a street bobber using Royal Enfield Electra 350 or another Scrambler, which, Reginald Hilt, the former or Bull City Custom, had built for his wife! Adding another Bobber, today's bike is  stripped down from Royal Enfield 350 cc Twin Spark Thunderbird 5 speed.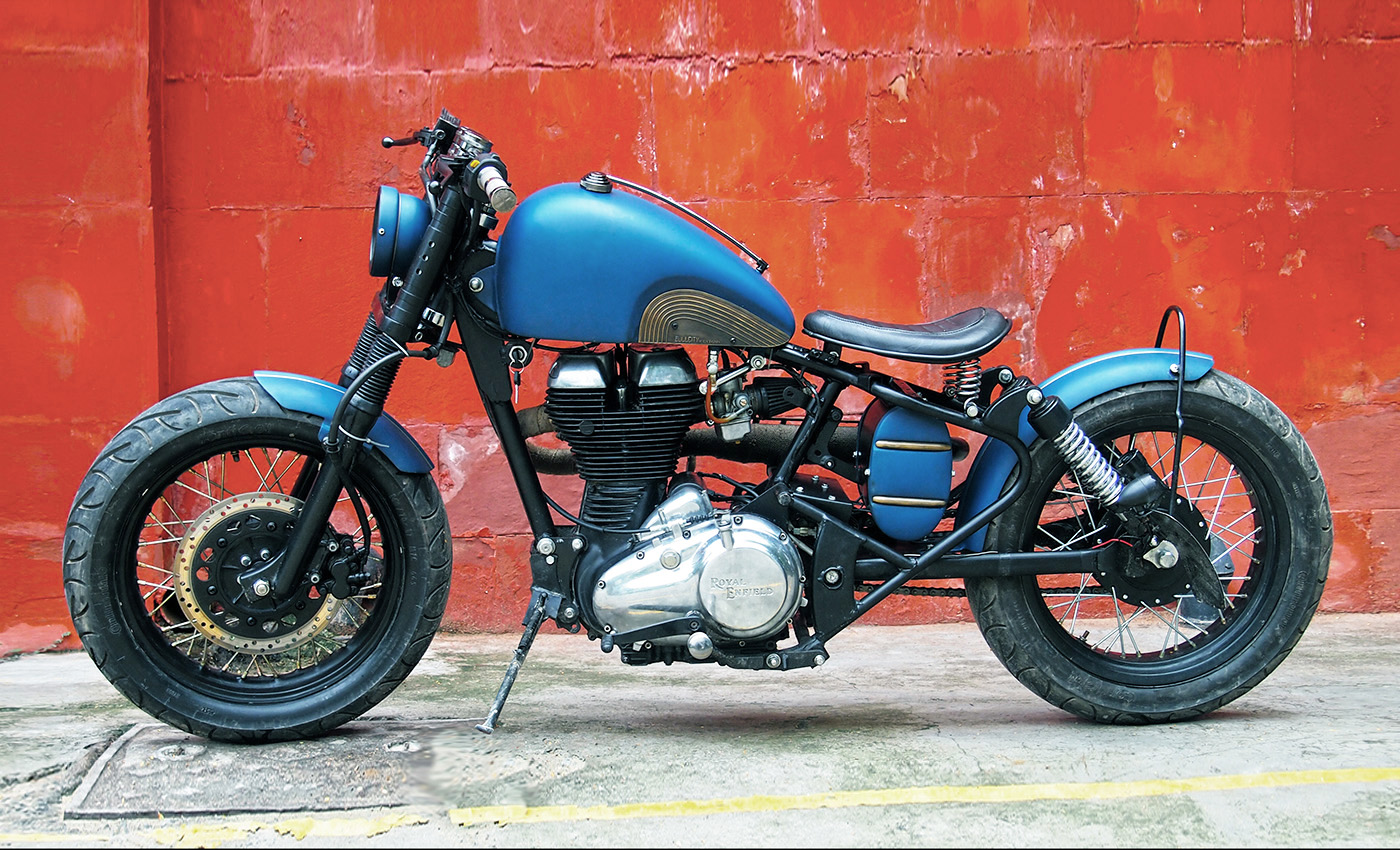 Reginald Hilt, who runs the show, is a fashion designer by profession and still consider himself a kid into this Motorcycle , customising bikes started as a hobby to sate his creative urge for a stylish two wheeler. "Over the years I've seen bikes like the RD350, Yezdi, Yamaha RX100, Rajdoot and even a Suzuki 125 roll in an out of our place every 6 to 7 months, depending on how long it took my Dad to get over his
current ride and crave for his next indulgence". From this Bull City Customs was born and this is their second build.
Most of the chassis cycle parts have been revised or replaced. The front 35mm forks have been shortened slightly and are held in wide 9-inch custom yokes, beefing up the stance of the bike. With the headlight centrally mounted, shrouds for the fork uppers were fabricated with more than a passing glance to the heatshield on gun barrel. Gas shocks at the rear with machined aluminium top caps give 80mm of travel, enough to offer comfort at the genteel pace the bike will be used at. Wheels are have rebuilt to 17 rims at either end but are considerably wider than standard. This allows the fitment of modern 140/70/17 Continental rubber, further enhancing the modern look asked for.
Contact Bull City Customs #
Phone # 9650840527
Email – bullcitycustoms@gmail.com
Address- bullcitycustoms workshop, near Ghitorni metro station, pillar no. 125, Ghitorni, New Delhi-110030
Photo and Info : Bull City Customs
Note : Please mention us (350CC.com) when you contact Bull City Customs.
Facebook Comments