Scramblers ~ Probably the latest hot cake addition in Indian moto-freaks. Scramblers are off-road sports motorcycles which are stripped down for racing as well as considered to be best all territory motorcycle, they were tearing up the dirt and jumping hills all over the UK n USA since 1920! The Scrambler features a unique look and feel all its very own. However with the growing up sense in Indian biking market there are plenty stock motorcycles available to cover those requirements. But, in a world before mass-produced dirt bikes, riders would have to convert their every day road bikes into grass churning, hill climbing beasts that could handle themselves on any surface – the rougher the better , which is probably the real peacockery of owning Scrambler, well…consider this option also if you want it within budget.
Check out the latest Scrambled Royal Enfield Machismo AVL from Bull City Customs. Reginald Hilt, who runs the show,  is a fashion designer by profession and still consider himself a kid into this Motorcycle block,  helped by his wife Naavika, who is also a designer, has designed a range of graphic tees for bikers and also handles the marketing of the biker merchandise they plan to introduce in about a month or so. A friend Henry, now helps us out with logo designing, branding, 3d sketches etc.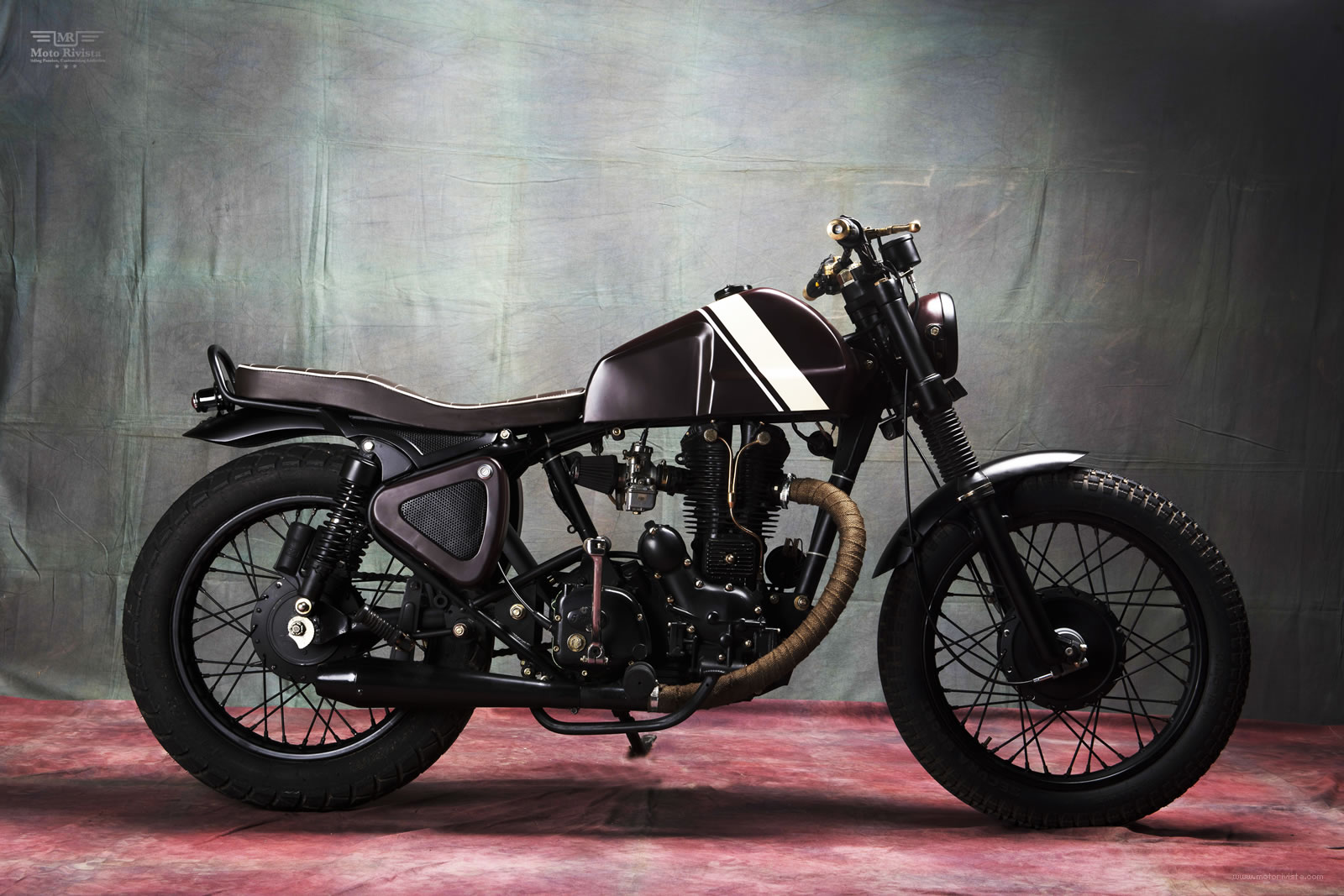 "This is a 350 cc Royal Enfield Machismo 2003 AVL Engine 5 speed. The bike went through a complete over haul. Outside a garage I used to visit for my bike work it used to be tied with chains to a lamppost on the ground with a bent chassis and a broken front suspension.
I built this bike for my wife as she was always complaining she couldn't sit with me on my bike because I had turned my bike into a single seated Bobber. About 4 months ago I picked up this bike and decided to build a Scrambler. Firstly I sketched a few options. After the design bit was over, it didn't take me much time to work on the modifications as I knew the scrambler would suit her profile and I felt the Royal Enfield had the perfect frame work for it as well .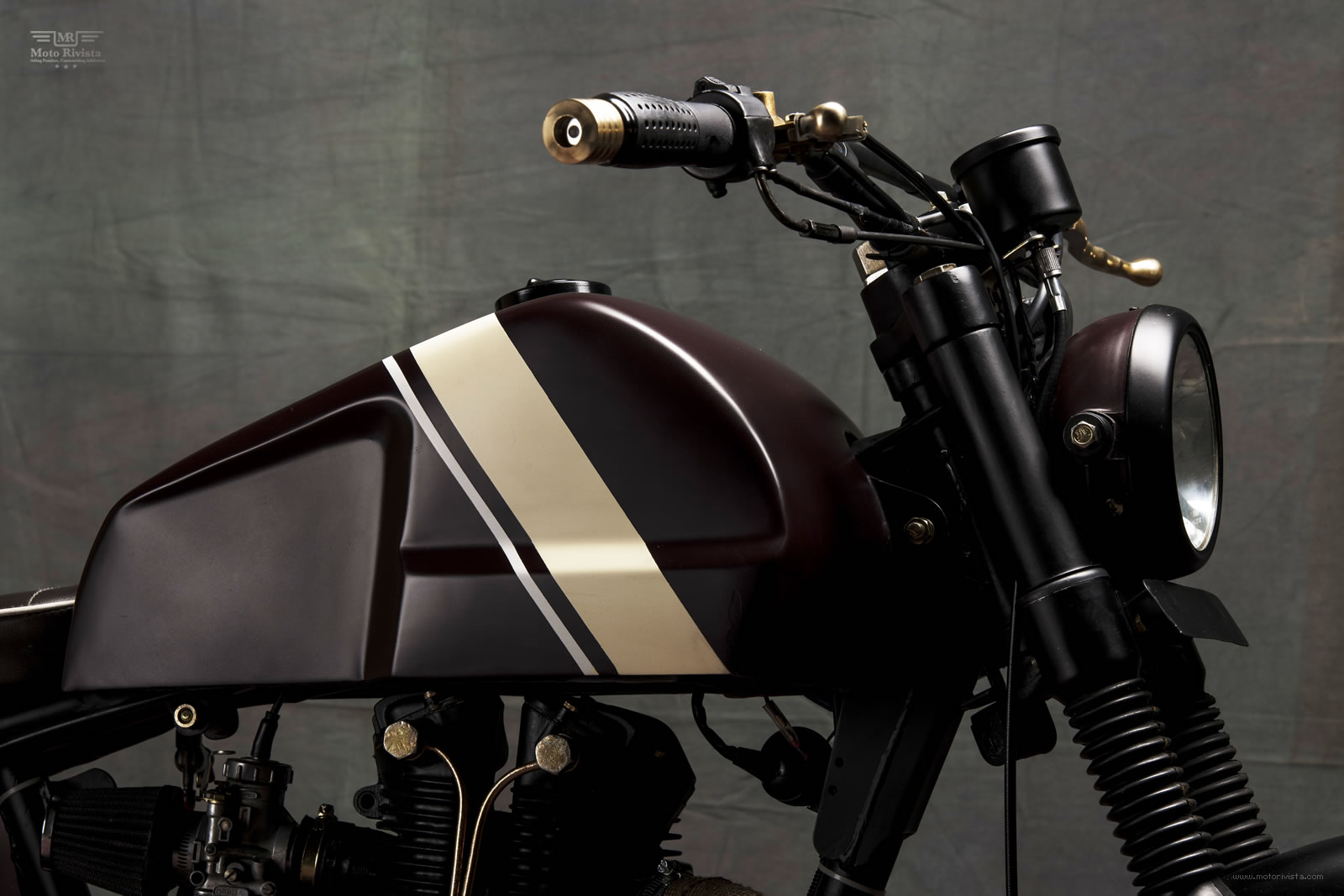 The most recent of Bull City's two-wheel custom work, manages to transform one of the world's most popular motorcycles into a custom dream machine worthy of any garage. The Royal Enfield has been toyed and tampered many times before. It's an old favorite to work with; being one of India's biggest selling motorcycles for over three decades. So you'd think that the platform might just have been exhausted. If so we have pushed the boundaries to create a classic thumper with a streamlined, modern edge.
The challenge we faced was achieving that comfortable scrambler posture of the chassis of a Royal Enfield. It was a good decision to use that filler above the tool box to achieve that horizontal position in line with the bottom line lines of the fuel tank.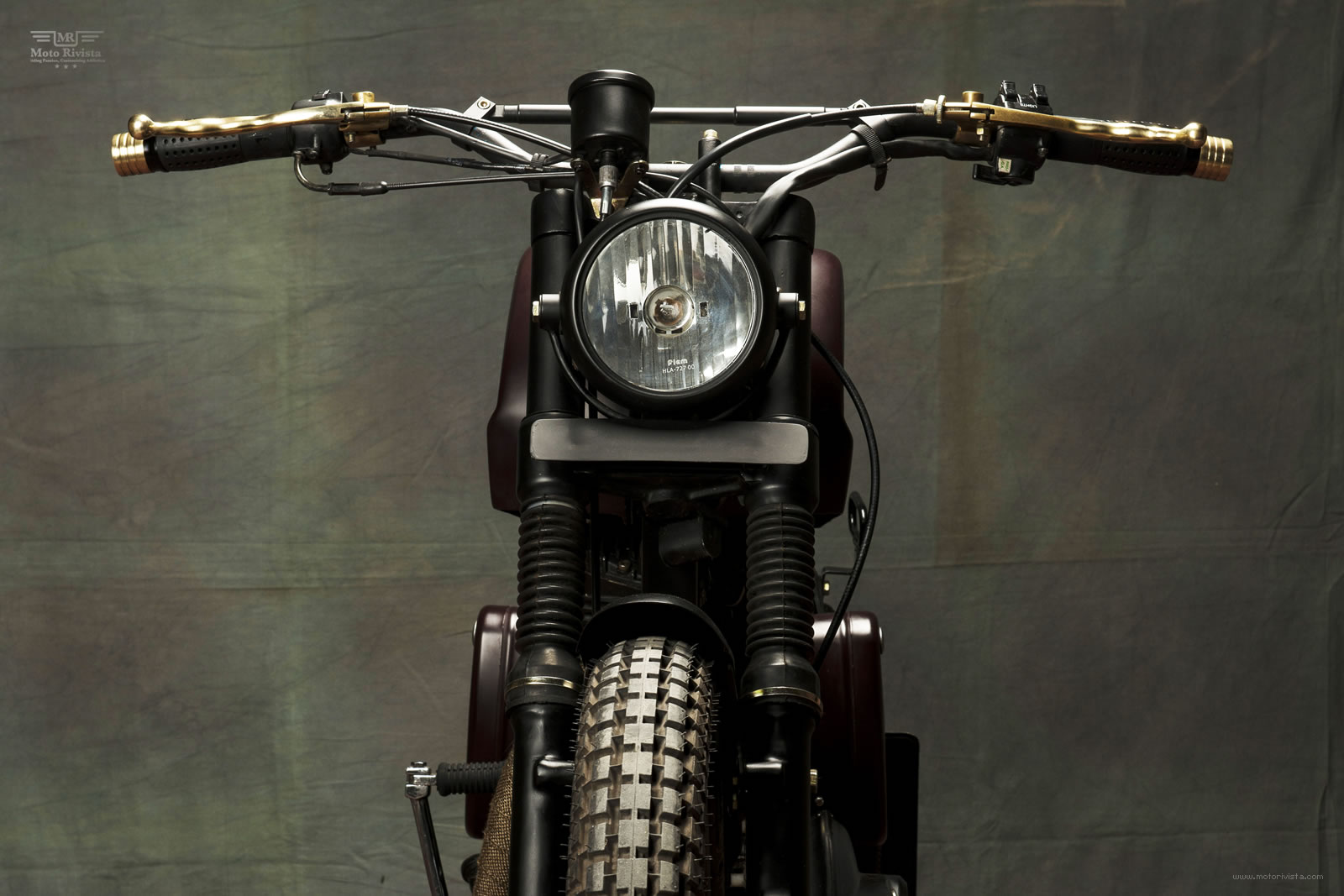 We love the way the tool box looks now with the mesh work, making it look really light and cool. Our favorite though is the way the tank turned out to be really boxy whilst still maintaining the consistency of the lines from the T at the front to the seat at the back.
The grips on the bars also turned out to be really cool, I managed to get a pair of old grips and blend them with these brass weight's at the end of the grips to match the clutch lever and the brake lever.
The paint job is fairly simple the tank, tool box and the head light is a wine brown matt finish and the black you see on the engine, wheels, handle bar and the mesh on the tool boxes are powder coated.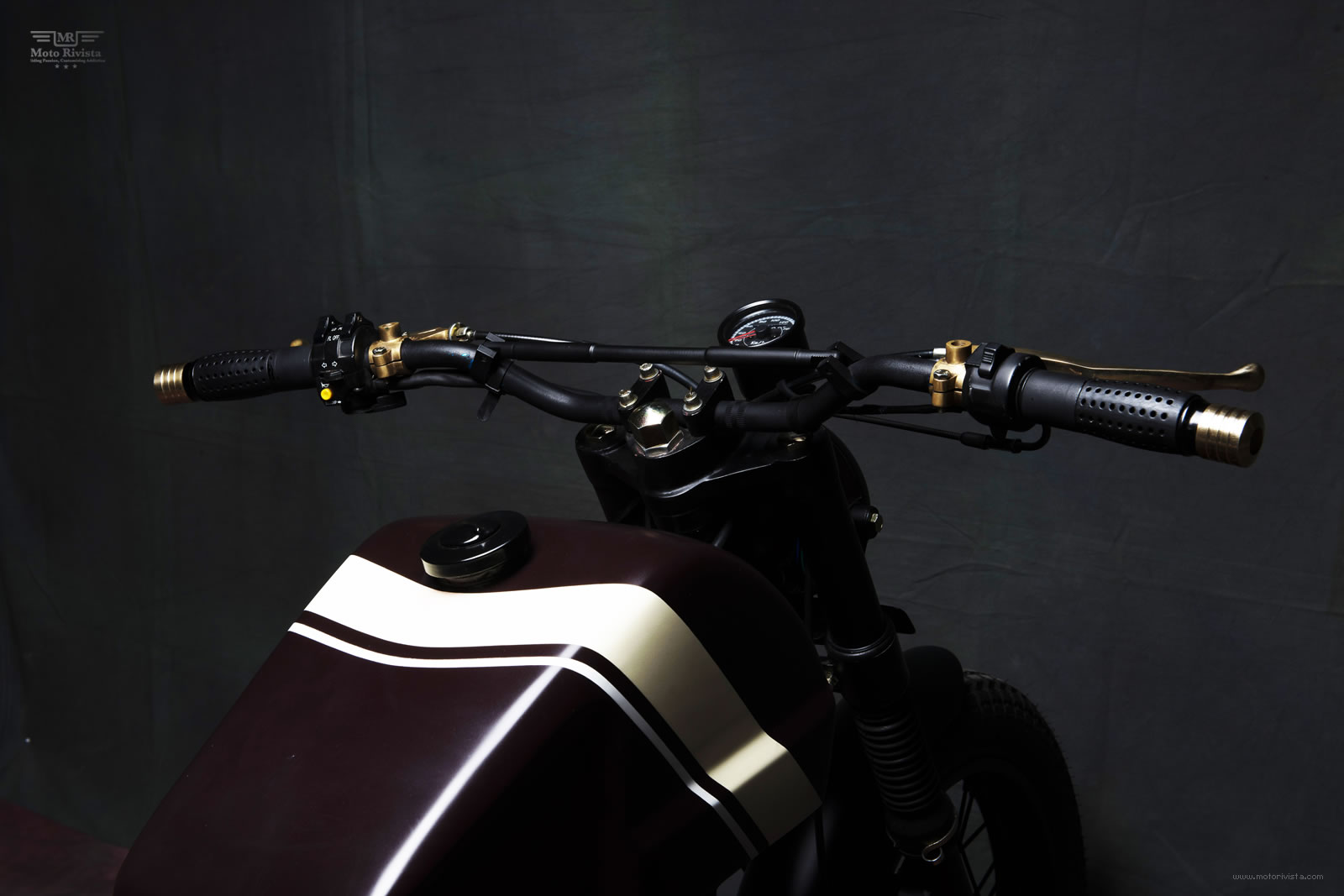 We would term this build to be a Street Scrambler. We have taken this bike out to the foothills of the Himalaya's recently and it handles pretty awesome.
We at Bull City feel there is tremendous scope with customization in India and are currently working on 4 other projects that we hope to be completing in a few months."
Tech Spec :
22 Litre Custom built Fuel Tank
Custom built T with Risers
Pro racer Handle Bars
Brass Customized Grips
Brass Customized Break & Clutch Leavers
Aluminium Old School Fog Lamp Head Light
Dunlop 120 mm \18 Inch\80 mm Wall
Honda CBZ with Dunlop Monster Tyres 130 mm \ 18 Inch \80mm Wall
Sheet metal Front & Back Tyre Hugging Fenders
Sheet metal Battery and Tool Box
Single Seat with Springer's
Telescopic35 mm Forks 130 mm Travel
Rear Gas Shock absorbers 80 mm Travel
32 Mm Mikuni Carburetor – 140 Main Jet \ 25 Pilot Jet
K&N Air Filter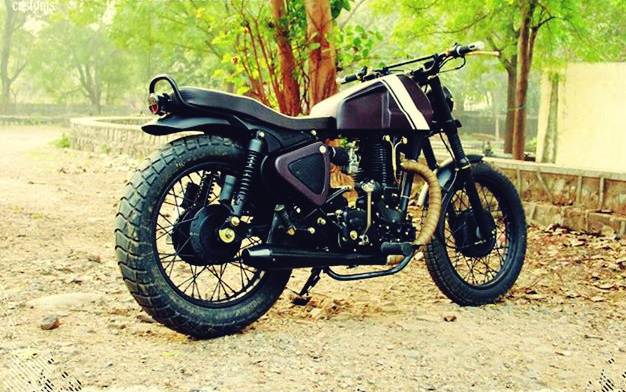 Contact Bull City Customs #
Phone # 9650840527
Email – bullcitycustoms@gmail.com
Address- bullcitycustoms workshop, near Ghitorni metro station, pillar no. 125, Ghitorni, New Delhi-110030
Photo and Info : Bull City Customs
Note : Please mention us (350CC.com) when you contact Bull City Customs.
Facebook Comments