Our beloved  Royal Enfield, now based in Chennai, originally a British marque from Redditch, sold a shade over 3 lakh bikes in 2014, overtaking Harley's global sales of 2.67 lakh units this business year and likely to bring three new models, based on two new engine platform including  a parallel twin.
It has been reported by the source the parallel twin engine is in advanced stage of development and possibly to be powered by 750cc, the another new platform could be a scrambler typed adventure touring, might get a name "Himalayan" Royal Enfield which possible to be powered by a new 410cc engine. However price of 410cc Royal Enfield Scrambler "Himalayan" and 750cc Royal Enfield or availability date is yet to confirm officially.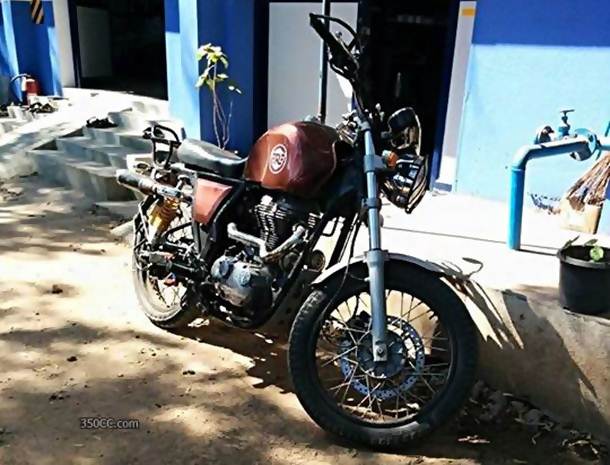 If you are still confused about Scrambler bikes, well this is not really for your daily purpose, Such bikes are usually made for adventure, closed off-road tracks with a variety of obstacles. Scramblers use to have a minimal accessories and bigger engine for lightness and compactness. Long-travel suspension allows riders to take jumps at high speed. Definitely after Cafe Racer (Continental GT) this one is a solid step, for why bike enthusiast would adore the brand more!!
Fans, who kept criticizing Royal Enfiend not for launching new models, FYI, Royal Enfield is already in the process for developing two new technology centers, one in Chennai and another in Leicestershire in UK. Both center shall be operational by the end of this year and we may see some new products in coming years.
*The photos shown here are Scrambler version of a Continental GT and not the Himalayan model. We do not source any prototype of new Royal Enfields. However the fuel tank might be a replica of upcoming scrambler.*
Facebook Comments