The extremely flat and smooth landscape is a magnet to racers, who can race their cars at insane speeds without worrying about the typical rules of the road. The massive lake of ice aged Bonneville Salt Flats, covering central Utah began drying up, leaving behind a vast expanse of salt. By the early 1900s, speed enthusiasts started trialing their vehicles on the hard wide-open surface, and over the years, highly durable faster vehicles were built and new records set. Being a region specific category, salt flat vehicles are grandiose and always have a dignity in own dominion. In our tiny blog, we have a custom Salt Flat Racer today, yes, I believe the very first in place… by Inline3 Custom Motorcycles.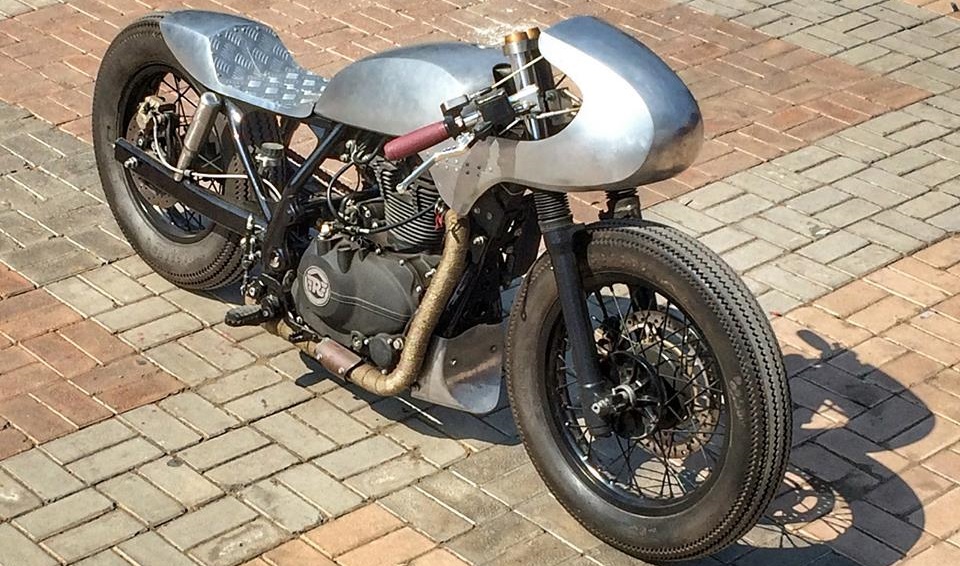 Aseem Singh Pawar, founder of Inline3 Custom Motorcycles shared his story behind the making with us, "Royal Enfield Himalayan cought my fancy the very first day I saw it. I was lucky enough to be invited to it's world exclusive launch. Little did I know that just after 6 months I will be presented with an opportunity to make the worlds first custom Himalayan. This salt racer style Himalayan has been built for the South Delhi Motorcycles. The largest RE dealership in delhi. This bike is the showstopper of their showroom. It's my 5th custom motorcycle project and the idea was to exploit the capability of a brand new platform for custom work. All the body work is done in aluminum. It has custom stainless triple tree with gun metal nuts for the extra oomph. The bike has shed more than 20kgs due to extensive use of aluminum. The bike is a proper hard tail with dummy stainless steel rear shock absorbers. Firestones tyres were used and the height was dropped to just 4 inches to achieve the perfect stance. The overall silhouette of bike resembles of a prancing predator. Checkered aluminum sheet was used instead of a leather seat to give it a more purpose oriented look. The exhaust is also aluminum, it's a under belly unit, which snugs perfectly without without disturbing the aerodynamics of the bike. All this weight savings and improved aerodynamics has certainly helped make this the fastest Himalayan of the world. And soon this claim will be put to test at the Samber salt lake.
Contact
Inline3 Custom Motorcycles
Aseem Singh Pawar
Call : 09888860556
Chandigarah/Delh
Email : aseempawar@gmail.com
Facebook | Instagram
Photo and Info : Inline3 Custom Motorcycles
Note : Please mention us (350CC.com) when you contact Inline3 Custom Motorcycles.
Facebook Comments