There has been a resurgence of the café racer movement over the past few years. It never really went away, but it did seem to go underground for a while. The café racer movement, which was started in England in the 1950's and has a long history that parallels the birth of the American hot rod movement and the introduction of rock and roll music, is becoming heartthrob of motorcycle enthusiasts! Royal Enfield doing excellent business with their Continental GT and we are witnessing Custom Cafe Racer boom from the bike builders as well! Young Kid Customs from Delhi, built their latest bike, transforming a 1988's Royal Enfield standard 350 into an enchanting Cafe racer!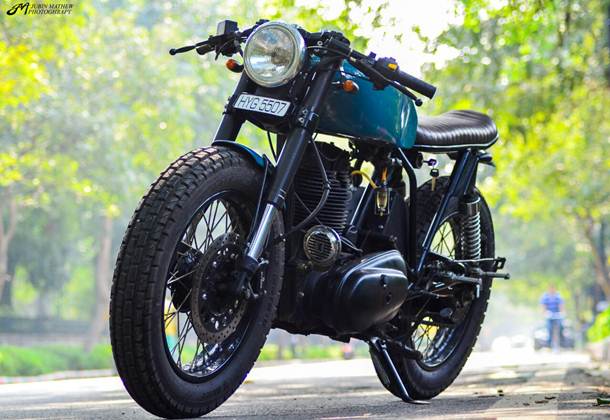 The team shared few words with 350CC.com on the blue Cafe Racer "So this is our third built, a custom café racer. We tried to keep the design minimal and kept the framework naked as this built is inspired from the old school café racers that used to roll down the streets of England ..this was our first attempt in this genre of motorcycle.."
The design includes a certain classic charm about the way the rider sits on the bike.The dark brown brat styled seat are to aid that majestical blue paint. You may reach out to the team if you were planning a rejuvenation to your bike!
Contact
Young Kid Custom
Melvin Sehgal # 9811302804
New Delhi, India
facebook.com/youngkidcustoms
Photo Courtesy : Young Kid Custom
Note : Please mention us (350CC.com) when you contact Young Kid Custom.
Facebook Comments
---