If all you want from your motorcycle is to race along with a fancy speed, then get yourself a plastic-clad missile. And if all you want is ride a classic motorcycle with a sober speed, you will have to negotiate tight city traffic on the way to work and back. If you are one who belongs to the second segment, you would probably go for a motorcycles brand that have mesmeric old charm, talking on that, Royal Enfield is one such brand that offers all those legacy blue blood and they are inherently beautiful. However alternation is another favorite anxiety for most of the motorcycle enthusiastic to be obliged. Few basic permutation may result an winsome output if you start with a inherently-beautiful-bike. Our today's bike is perfect example one of such bike, build on a 2003 Royal Enfield Classic 350cc by Bangalore based Gear Gear Motorcycles : the plan for this bike really was to keep it simple, and give it as much of a bobber look, without going on to a lot of fabrication or chassis mods.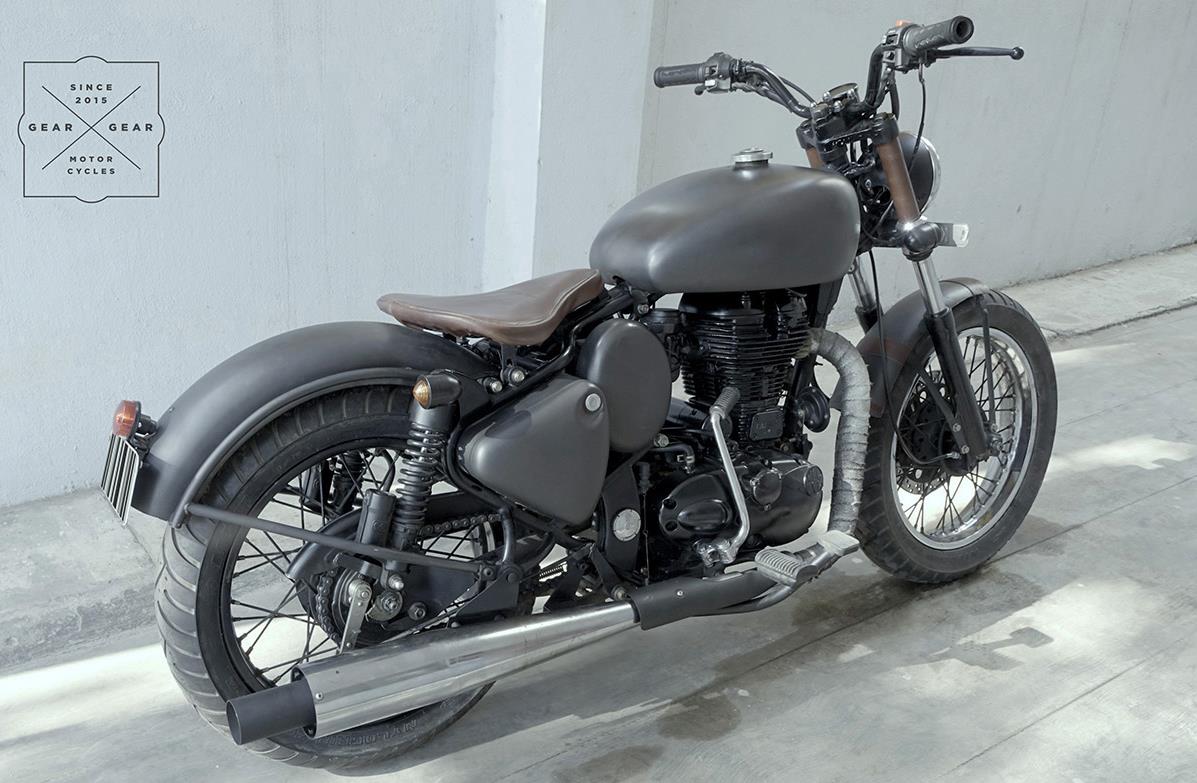 Rajaram Rajendran from Gear Gear Motorcycles shared his building experience with us, "We cleaned up the front end, new gauge, installed a slightly taller handlebar and relocated the ignition to the side. A fatter front tyre to change the stance of the bike and give the front end some weight. We did a custom 25 litre fuel tank, some leather detail, handmade leather seat, custom shock mounted blinkers, chopped fenders and a simple small tail lamp. A grainy matte grey paint job, and the simple build was done."
Contact
Gear Gear Motorcycles
149, 10th cross, 10th Cross Rd, Binnamangala, Stage 1, Indiranagar
Bengaluru, Karnataka 560038
Call : +91 98868 94644
Official website | Official Facebook page
Photo and Info : Gear Gear Motorcycles
Note : Please mention us (350CC.com) when you contact Gear Gear Motorcycles.
Facebook Comments