Rajputana Custom Price, Modified bullet by Rajputana Custom Motorcycle, Rajputana bikes, Jaipur Bike modification. Enfield Classic 350cc Rata Price
Let me confess ! Yes, this is damn frustrating to write articles on beautiful bikes when I don't get to ride them. Being highly appreciated by millions of worldwide motorcycle enthusiasts, Rajputana Customs never disappoints with their every new bike. Rata, which means Night, is the latest feather in their Crown.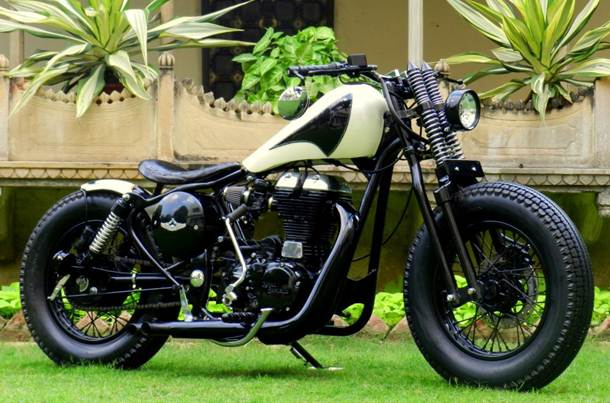 The Soorma, which was also completed this month, and the latest Rata, the two amazing bobbers were built using a donor bike or Royal Enfield 350cc Classic. On a talk with Vijay, the founder of Rajputana Custom Motorcycle, explained to 350cc.com why the name was chosen, "  Rata means night, we named here Rata cause of we had built her in 2 weeks working through the nights a lot of the time. She's painted black and white, so that name fit well"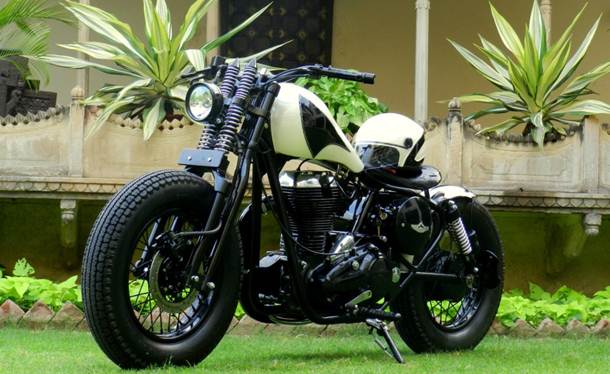 The donor bike was given to Rajputana boys by Aakriti Surana who wanted this bike built for her husband Prakash Surana, Vijay told us. Damn you over expensive phones or Armani suits I bet! A wife can't offer anything better than this one as a gift.
Like the Soorma, Rata can be described as quite similar apart from the Frame work of Soorma. Rest changes like  Springers forks, Avon tyres, frame changes, new rake and trail, the fuel tank, tool box etc are included in the metal fabrication.
Custom Royal Enfield by RCM : Rata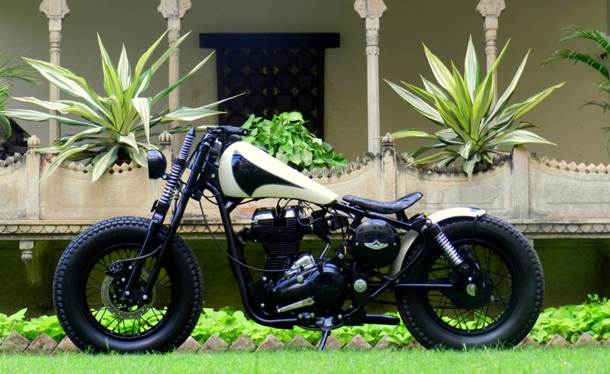 "Pint job detailing Nandu-ji and the koftgari & brass work have been done by our other karigars in Jaipur & Udaipur", Vijay shared with us.
Undoubtedly, Rata is one of the generically most beautiful customized Royal Enfield Bobber unlike some other fat custom bikes are being built now a days here and there with unpolished, unnecessary plastic covers or cheap multi colored stickers and useless exhaust and extra fat tyres. Rajputana makes their difference being very generic in Bike building from the very first. For any kind of inquiries, you can drop a mail to Vijay at rajputanacustoms@gmail.com.
Please mention us (350CC.com) when you contact Rajputana Custom Motorcycle.
Photo Courtesy : Rajputana Customs
Photographer : Saurabh Goyal
Facebook Comments