Shiva also known as Mahadeva is one of the principal deities of Hinduism. He is one of the supreme beings within Shaivism, one of the major traditions within contemporary Hinduism.
Shiva is known as "The Destroyer" within the Trimurti, the Hindu trinity that includes Brahma and Vishnu. In Shaivism tradition, Shiva is one of the supreme beings who creates, protects and transforms the universe. In the tradition of Hinduism called Shaktism, the Goddess, or Devi, is described as one of the supreme, yet Shiva is revered along with Vishnu and Brahma. A goddess is stated to be the energy and creative power (Shakti) of each, with Parvati (Sati) the equal complementary partner of Shiva. He is one of the five equivalent deities in Panchayatana puja of the Smarta tradition of Hinduism.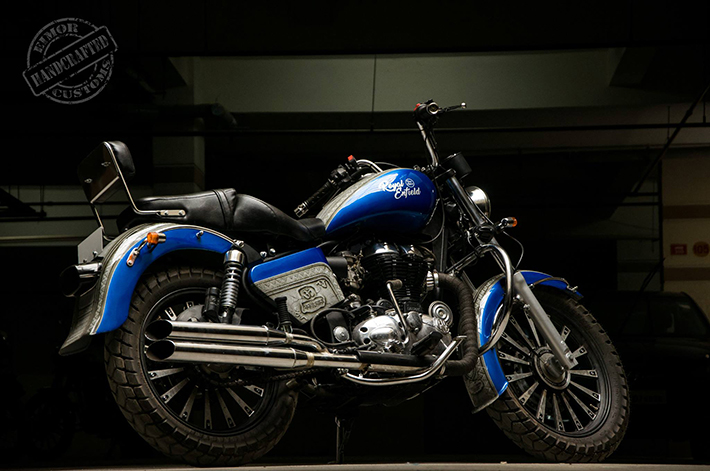 A name dedicated to Lord Shiva when he consumed Poison during sagar manthan This motorcycle is actually a Desert storm 500, which was sent to us for a new look and feel transformation. This motorcycle has been installed with rear disk brake, new tank, new big profile mudguards, sleek side panels with decorative fitting brackets made out of solid rods in chrome. The front forks are of NTB for a sturdy thick look and better shock absorbing capacity. The exhaust we have used is a Double barrel performance exhaust. The front gadget console comprises of a speedometer, a fuel gauge and ignition and tastefully covered using a cowl. The paint job includes a stone effect embossed effect with Metallic blue candy combination. The stone effect has inscriptions of Lord Shiva and his elements. The rear mudguard has an inscription of Maha Mrityunjaya Mantra. The seat is a comfortable cruising seat complementing the look of the motorcycle.
Facebook Comments