The true fact among countless bike enthusiasts is that they always applaud legacy motorcycle appearance regardless what they ride. However, the presence of a storied past doesn't mean that custom bike builders have shied away from the improved mechanism of the 21st century; in fact, the modern engineering are being highly applied on today's modified bikes. This includes motorcycle engine enhancement to chassis alternation and outer uplift mechanism like belt drive technology replacing existing stock chain drive, which offers less maintenance is equal to economy friendly in term of longer run. The bike we have today is the perfect example of such combination of modern engineering on a retro frame – Natraj – the Dragster, excellently customised over a Royal Enfield by Maratha Motorcycles of Mumbai, Maharashtra.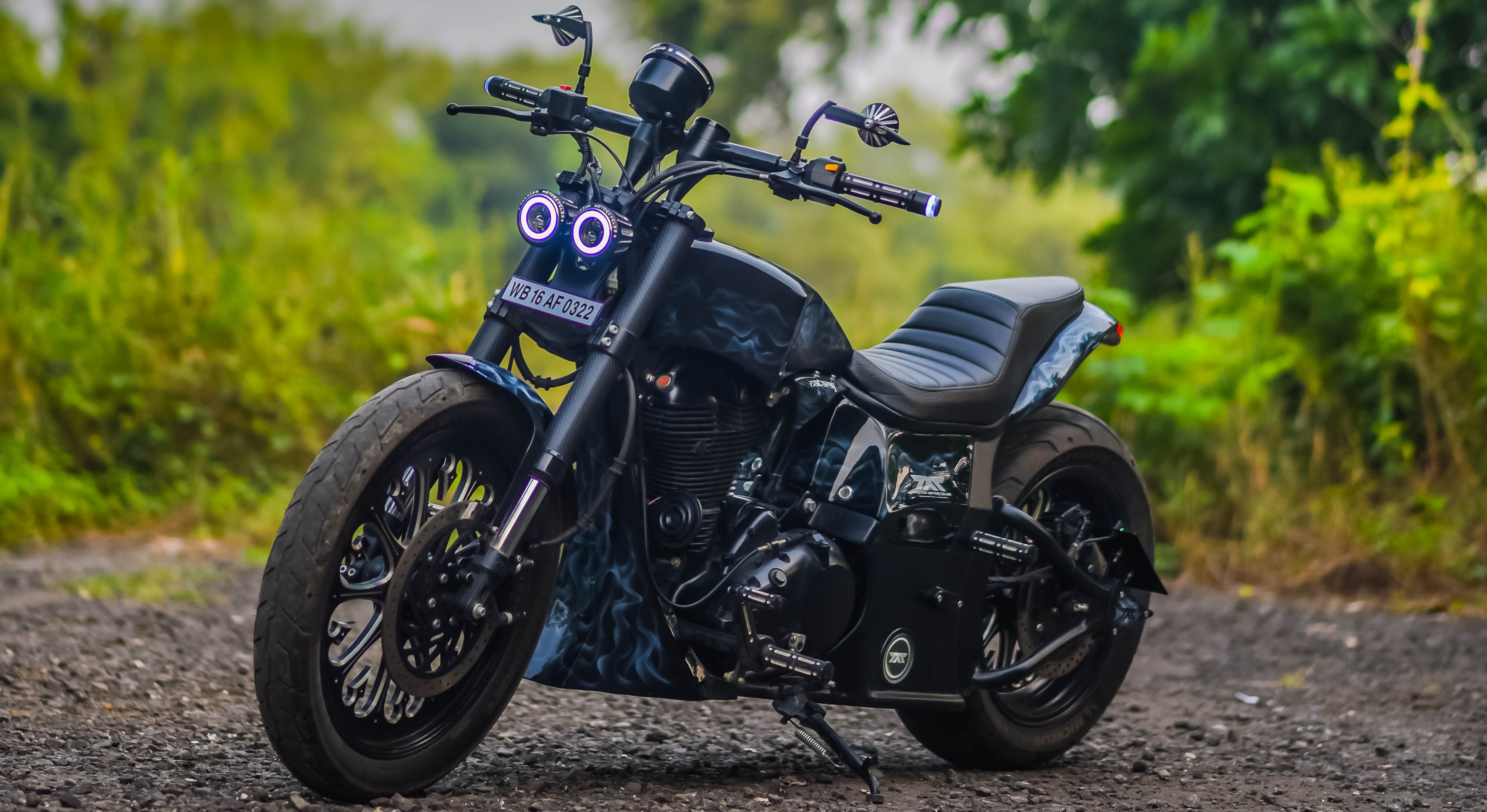 Shrikant Dalvi, from the house of Maratha Motorcycles, described the highly used technology in the custom made Royal Enfield, "The Abhay mudra crafted with matte black swing arm and soft tail frame which are inhouse custom built. Cosmic fire smoke prabha mandala paint job graffics signifies forces of creation & destruction. Also the flow of smoke over the body represents calmness of Goddess Ganga. The Art of trident customised upon alloy wheels. 15 Ltr Coffin shape fuel tank , front fender, cowl side panel structure represent the Tandav swaroop of Nataraj. The belt driven 200 mm rear broad wheel creating heaviness and unique touch whoes alloys are personified with chief weapon trident which represents the readyness to uphold above all state.
Inverted Suspensions and monoshockups creates long ride cruising comfort with concave adjustable mirrors for the past view of terrain.Drag handlebar maintains the energy for long rides,which is equipped with digital speedometer and advance disk brakes of 320 mm front and 280 mm rear for the better stopping Power. Tank cap personalized with Owners bio details. The iconography of our pride logo in chassis lights represents triune of shaivism. Uniquely finished side mounted triangular exhaust take the roar to the next level."
Contact
Martha Motorcycles
Shrikant N. Dalvi
Call : 086 5557 4430
marathamotorcycles@gmail.com
Navi Mumbai
Official Website | Facebook Page
Picture Courtesy : Maratha Motorcycles
Note : Please mention us (350CC.com) when you contact Maratha Motorcycles.
Facebook Comments