ModifiedYamaha RX100, Yamaha RX100 modification, customized Yamaha RX100,  Yamaha RX100 custom in Chennai, modified Yamaha bike in Chennai, Yamaha RX100 Cafe Racer, custom cafe racer in India.
For a certain kind of individual it provides an emotional high that perhaps equals the kick of a nicotine surge or other substances. The constant here we must add is the bike. This two wheel vehicle has inspired much prose and some poetry. This however is a look at another aspect of this culture that is developing strong roots in India.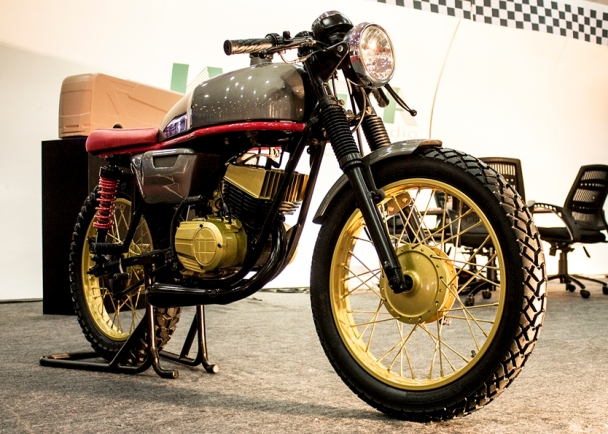 So far we have been noticing the trend of having an affection towards those old Yamaha bikes from our Bull fans time to time – well we, here too. Madras Cafe Racer  is the name given to this beautiful yamaha cafe racer powered by Yamaha RX100 Customized Parts – include One of a kind yamaha cafe racer tank, yamaha cafe racer seat, Custom fabricated Fenders, chassis and Megaphone muffler
NIZCITA  is a Chennai India based Automotive design firm, with a well balanced team of passionate designers who have sound knowledge in automotive styling, engineering, bodywork & fabrication.Through this team we are able to offer some of the most exciting, innovative, affordable and one-off styling components, designer interiors, custom audio, graphics & paint work solutions in the industry.
"If you are the kind of person who believes your ride should be as unique as you, bring it to us. Work closely with our team to create a unique automotive that has been crafted especially for you, An extension of your personality.We're passionate about the power of design and believe that it can make a difference." .. This is what they say, believe…!
Contact Nizcita
No 10/1, The ARK, 2nd Main Road,Kalaimagal Nagar, Ekkaduthangal, Chennai 600032, India.
Phone: +91 99625 99491, +91 98941 29888
Facebook : facebook.com/Nizcita
Website : www.nizcita.com
Photo & Info – Nizcita
Please mention us (350CC.com) when you contact Nizcita.
Facebook Comments
---