Scrambler, the oldest member in custom motorcycle history were to evoke the spirit of freedom and escape, carefree times when all you needed was a bike and ride till the immense rough terrain. But this is not the only reason Scramblers are conquering the odd 100 years of popularity, it's about hefty style and it's about a feeling of capturing the moment of nostalgia of flourishing history, bold style, loud appearance and topnotch performance. It is always a pleasure when we see some polished Scrambler are being built in current days by bike builders over manufactured stock motocross bikes. The latest addition is Maverick, a converted Royal Enfield Classic 350 by Dochaki Design from Pune – a blend of class and daintiness!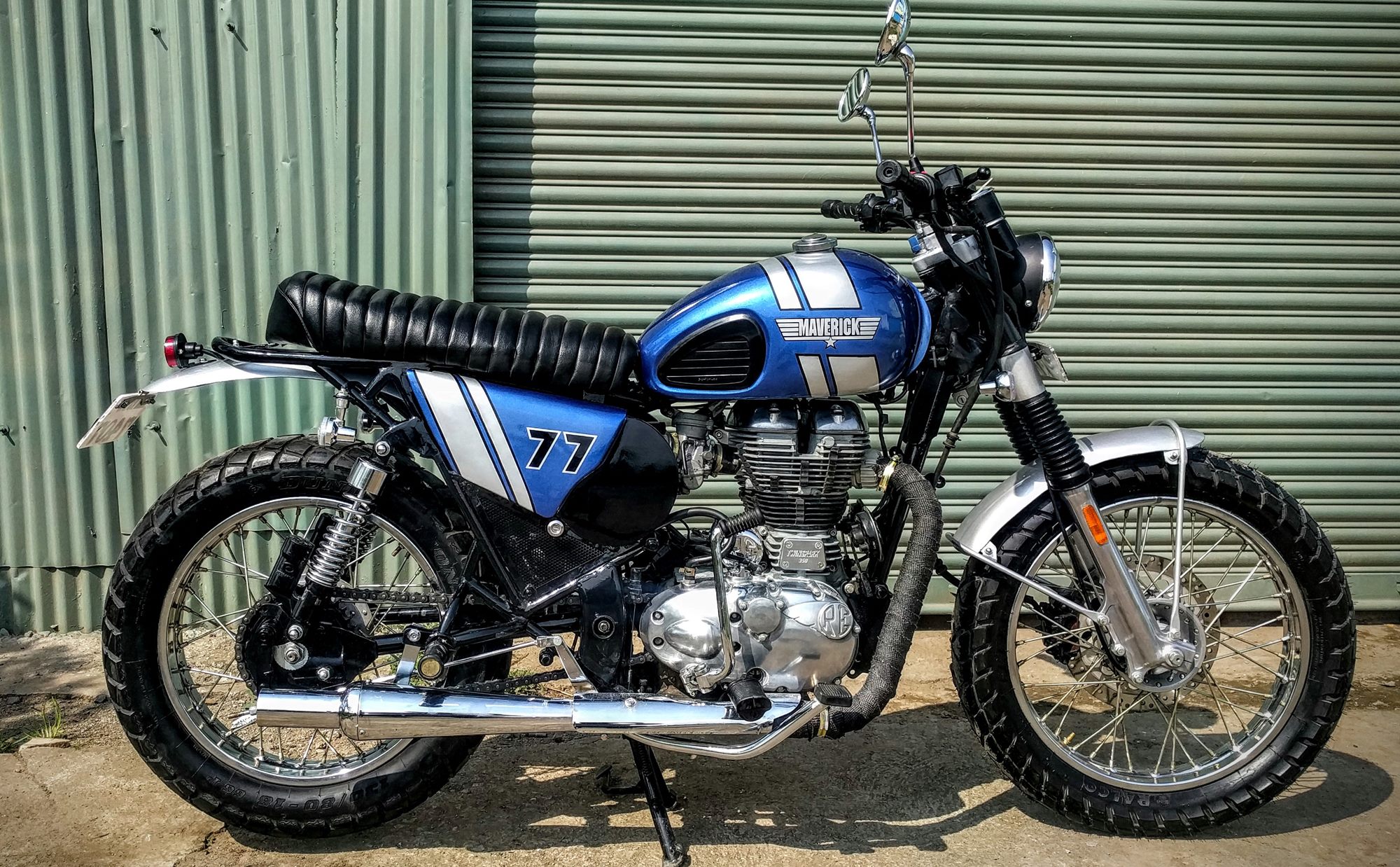 Anupam Singh Parihar, founder of Dochaki Design shared his journey of building with us, "We have just finished one of our bikes – its' called Maverick. Maverick is based on 350cc. Royal Enfield Classic. The Owner Nikhil wanted to have a scrambler which will have a charm of a classic bike, and as a big fan of TOP GUN, the motorcycle is called Maverick. He was so excited about the bike that he used to come to our shop on all his off days and sit for whole day with us, when we build the bike. it was great as he was involved in each and every detail of the art piece. so we started with, redesigning the sub frame of the Classic 350, to get the basic lines of the bike fixed. original tires were replaced by the knobbier, monster treys. new handcrafted tank, panels, mudguards, and all other related parts has been designed and fabricator in our shop."
Contact
Dochaki Designs
Founder/CEO : Anupam Singh Parihar
Kadam Wak Basti, Pune sholhapur highway
Pune, Mharashtra.
Call 08806795165
Email : info@dochaki.com.
Dochaki.com | Instagram | Facebook
Photo and Info : Dochaki Design
Note : Please mention us (350CC.com) when you contact Dochaki Design.
Facebook Comments