There you are, you've been Googling for hours gushing over motorcycles, specially cafe racers and brats. Thanks to technological innovation and a renewed emphasis on bad-ass aesthetics, the golden era for Cafe Racer seems back again. Those stripped-down two wheeled machines have changed the way we interact with motorcycles. We have one such finest Cafe racer today, build obligingly from a stock cafe racer Royal Enfield Continental GT, by KR Customs after completing their very first Bobber using a Desert Storm 500 ~ a build to gift his wife!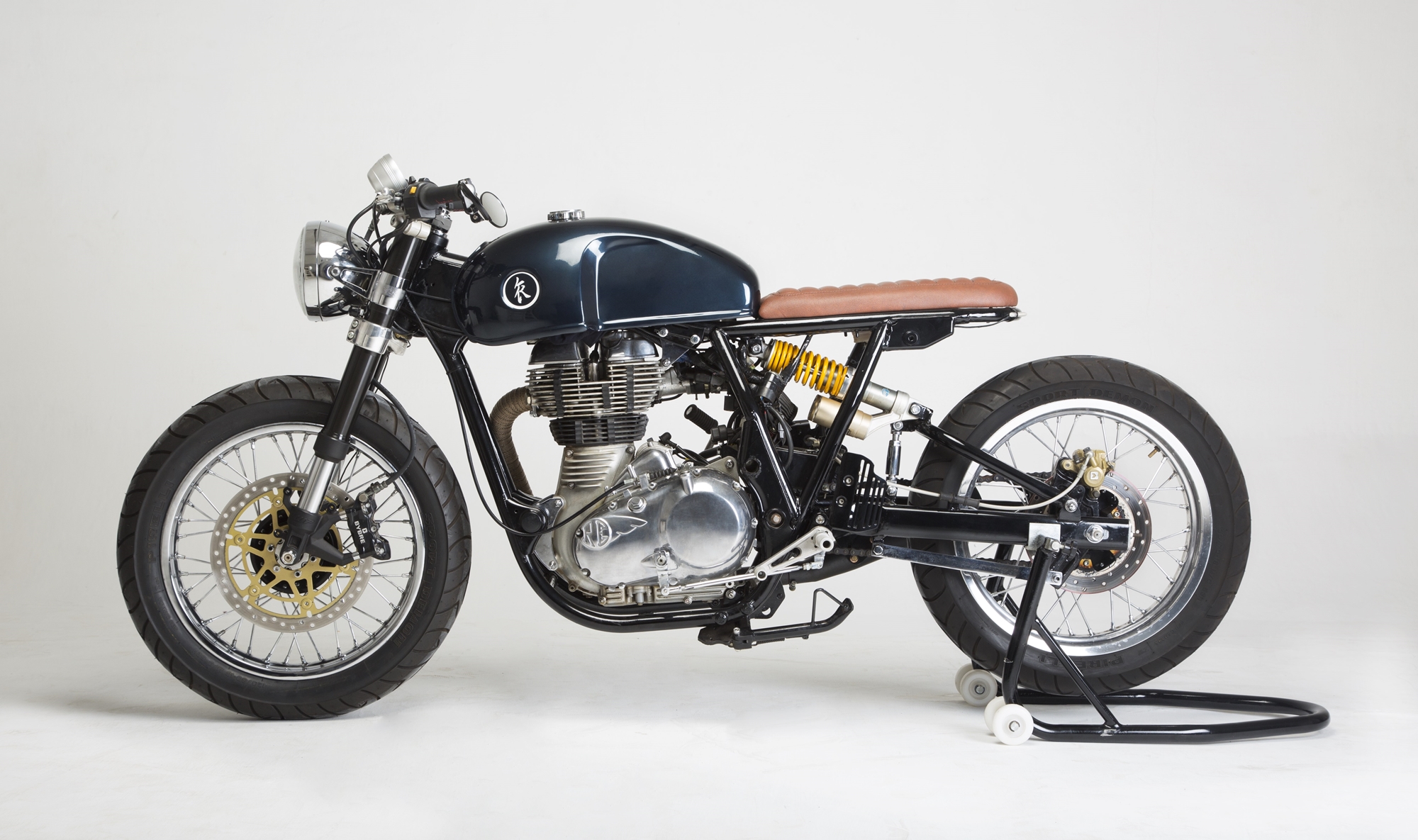 "After completing the first project we were looking for our next project bike. As with most things in my life the idea for this build also was a chance event the inspiration for which came from close to home. Having seen me go-thru my journey over the last several years my "Lady Love" nick-named "Loopy" was always very supportive but had a bit of a gripe for not making her a cool custom. More over her concept of bikes were little different than mine. In her words the bikes I build were 'these adrenaline filled tough, macho machines!". She wanted something more elegant and beautiful. Now I am all for indulging her fancies and god knows have done that in more than one occasion but how do you build a "hot & sexy" bike?? It was clear that this had to be a brand new "ground-up" build. A bobber was ruled out right away. The options were tilting towards either a scrambler or a café racer. Scrambler was also ruled out quickly for being too dirty looking (not sure what that means, go figure!). Thus the only option left was a café racer.
The search for a donor bike began; incidentally a cousin of mine had bought a Royal Enfield Continental GT and was looking to move to a different bike. I decided to snag it for our build. The bike looked in good nick and had less than 3k kilometers on it. A quick servicing of the engine and it was ready for the build.
I stripped the bike down to the frame and the engine. I was stuck again. The words "elegant and beautiful" kept haunting me. How do I do it? Anything conventional was not going to cut it. Every day I will go up to the shop and stare at the frame and the engine for hours hoping for some miracle. All kinds of thoughts kept creeping in my mind. I was looking to build a truly unique iteration of a Café Racer, which would be as comfortable being a modern artist's muse as it would be visceral to ride on the track. I was also over ambitious and wanted to do the Ton (i.e. 100 miles per hour on a race track!). what fun building a café racer if you can't ride it fast , right!
I needed a break badly. The break came from the most unlikely source (as always!). I was looking at some auto show pictures from Italy when I came across a modified bike based on an old Vincent Shadow. The bike looked unique but what caught my eye were the rear shocks. What a unique geometry! That's it I decided to do something similar!
The idea was to start from the back of the bike and move forward. First decision was to pick a pair of shocks. Should I go with classics like ducati or hagon or stick with stock? I realized that the stock Pioli shocks were pretty good functionally so why not use them! The next issue was they were too long for this application. I decided to reduce the length. Once the shocks were trimmed down we decided that the next thing was to create a loop that would hold the shocks. This also meant the swing arm length had to be extended by about 4 inches! Making it too long would also sacrifice performance especially on turns (remembering my goal to do the ton!). It took 6 different tries to get the loop right and another 3 tries to get the swing arm length right.
I also realized that a rigid loop was not going to cut it as I needed to pivot the system in different direction to find the optimal riding position and down force. After some trial and error I came up with a 3-point pivot system which would allow me to pivot at both the ends of the shock as well as allow me to adjust the height. The final result is on the bike!
The next issue was the tank and the seat. I wanted the seat to be simple and elegant. The back sub-frame was shortened and a simple straight loop was used. This also complemented the LED back lights which look elegant and neat! The seat is a hand stitched workmanship done by a local seat maker with locally available Hyde.
Next came the tank. The tank is a custom tank loosely based on the benelli mojave tank (a classic style). The tank is a little shorter in length (19") and is also shows a small bulge in the back. The bulge is to accommodate the EFI pump. We did not know what to call it as it's not a traditional mojave tank so decided to call it "Beluga" tank based on the odd looking beluga whale!
The extra length of the swing arm allowed me to hide a small battery box just above it. The battery is an 8-cell anti-gravity battery. Pretty sweet!
Next came the front end. The front is a KTM Duke 200 inverted telescopic front with polished brush mettle trees. Besides the modified frame and the engine the only other original part used was the stock headlight. I liked the size of the headlight so decided to keep it. We created a custom bracket for the headlight which complements the polished trees. Tarozzi clip-ons and rear sets, race inspired Domino Mx2 controls, classic Yamaha reproduction master cylinder controls, bar-end mirrors, Acewell Speedo completed the rest of the front end. For tires we used Pirelli sport demons 130's for the back and 120's for the front on 18" wheels. The exhaust is a classic café style shorty (12") pipe handmade by
us."
Contact
KR Customs
Call : 098 8405 9811
Email: rajankrish@gmail.com
59 & 60 CP Ramasamy Road, Alwarpet,
Chennai, India 600018
Facebook
Photo and Info : KR Customs.
Note : Please mention us (350CC.com) when you contact KR Customs.
Facebook Comments