Distinctive and unique, Custom bikes have bold aesthetics that set them apart from other motorcycles. And when you build your bike for nation's biggest bike building event… what's the better way to test your abilities than to build a bike for IBW – India Bike Week Bike building event (2015)!! Check out Kamaani, a transformed Royal Enfield by TNT Motorcycles, which not only would please your eyes, also a bike which improved bike performance a lot and able to speed up more than usual Royal Enfield bikes!
"Kamaani was designed and built for IBW 2015 biker build off championship and is our 5th build in total. It is a New-Old School bobber i.e. old school styling coupled with new school technology to create one of a kind bobber. The build again sports grey chassis with a red fuel tank to complement the dark brown wood. On one hand the front suspension sports a girder damping with a leaf spring (kamaani) arrangement yet it is coupled with a disc brake assembly.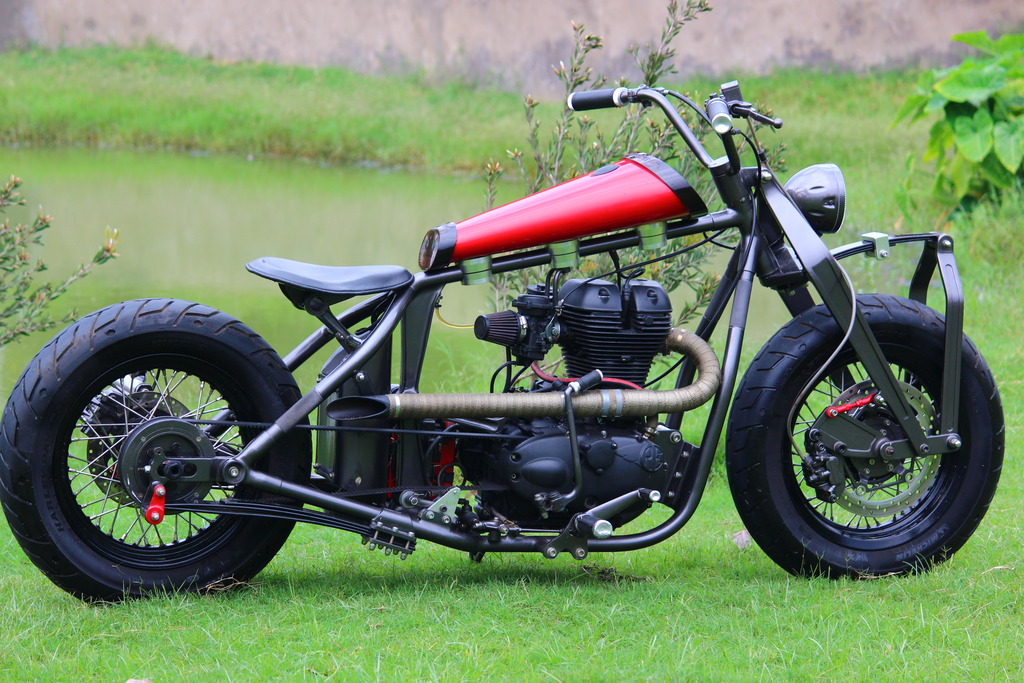 The 32o raked girder front end has been cut, milled and welded in-house with all pivot points housing Gun Metal bushes. The rear end looks like a hard tail but it again sports a leaf spring one of a kind of arrangement never executed nationally or internationally (patent applied for). The chassis is hand built and knurled on front and rear down tubes. Mono mounted Ape Handle bars provide a comfortable riding position. The prime feature of the build is its tank which has been built in 3 pieces, Hand crafted Rosewood grabs the reducing elliptical red fuel tank from front and Rear. The face of the tank has been hand engraved in-house with our logo.
The top is hand embossed with the build's name. Rear piece of wood also carries embossed illustrations. The fuel tank houses on 3 round clip on aluminium fittings with the chassis provided in order to create a slight gap between the wood and the chassis (as constant contact shall crack the wood due to vibrations). The electric box in the middle houses the trimmed wiring harness along with all switches, ignition and key slot. Foot and Hand controls have been turned and knurled out of aluminium and then wrapped with black leather. The rear light is mounted with a knurled aluminium cylindrical chopper fitting. Kamaani is loaded with Harley Davidson 48 rubber i.e. Michelin Front 130/90/16 and Rear 150/80/16. The engine is held in place by fastening it with Truck Piston Rods in the chassis. The saddle houses a 15 mm thick gel pad and is held in its place with Karizma Piston rods. Kamaani houses a 500cc UCE taken out of a Classic RE. The Engine head has been shaved and MPU fuel injection has been converted into carburettor. The drive has also been changed to belt drive (supported with a tensioner) from chain drive (so no greasing, oiling and rusting for the rest of the life) and while doing so the front and rear sprocket ratios were altered in order to achieve an increased top speed (we clocked 148k kmph on top gear)."
Contact TNT Motorcycles
https://www.facebook.com/tntmotorcycles
Dashrath Puri
New Delhi, India
Call : 098738 38370
http://www.tnt-motorcycles.com/
Call Nitin (9971614572) or Naveen (9873838370)
Photo Courtesy : TNT Motorcycles
Note : Please mention us (350CC.com) when you contact TNT Motorcycles.
Facebook Comments