A custom motorcycle, by definition, is one of a kind creation. whether its a chopper, bobber or Bagger, a custom motorcycle becomes a reflection of the rider personality and expression of own desire. From a custom seat and paint job to unique handlebar, add-on fairing or vintage accessories, the choices and possibilities are limitless. Talking on Baggers, mostly build off from Harley big bikes and are famous in US. however, likewise the name, they are not only the motorcycle with saddlebags, People who ride Baggers tend to be moto enthusiastic, long term riders who appreciate comfort and function in their motorcycles over simply making a fashion statement. In India, we don't get often chance to witness baggers or even the term is not very familiar in bike community. Therefore, it was very exciting to see this newly build bagger over a Harley Davidson SuperLow, by Dochaki Design of Pune, Maharashtra .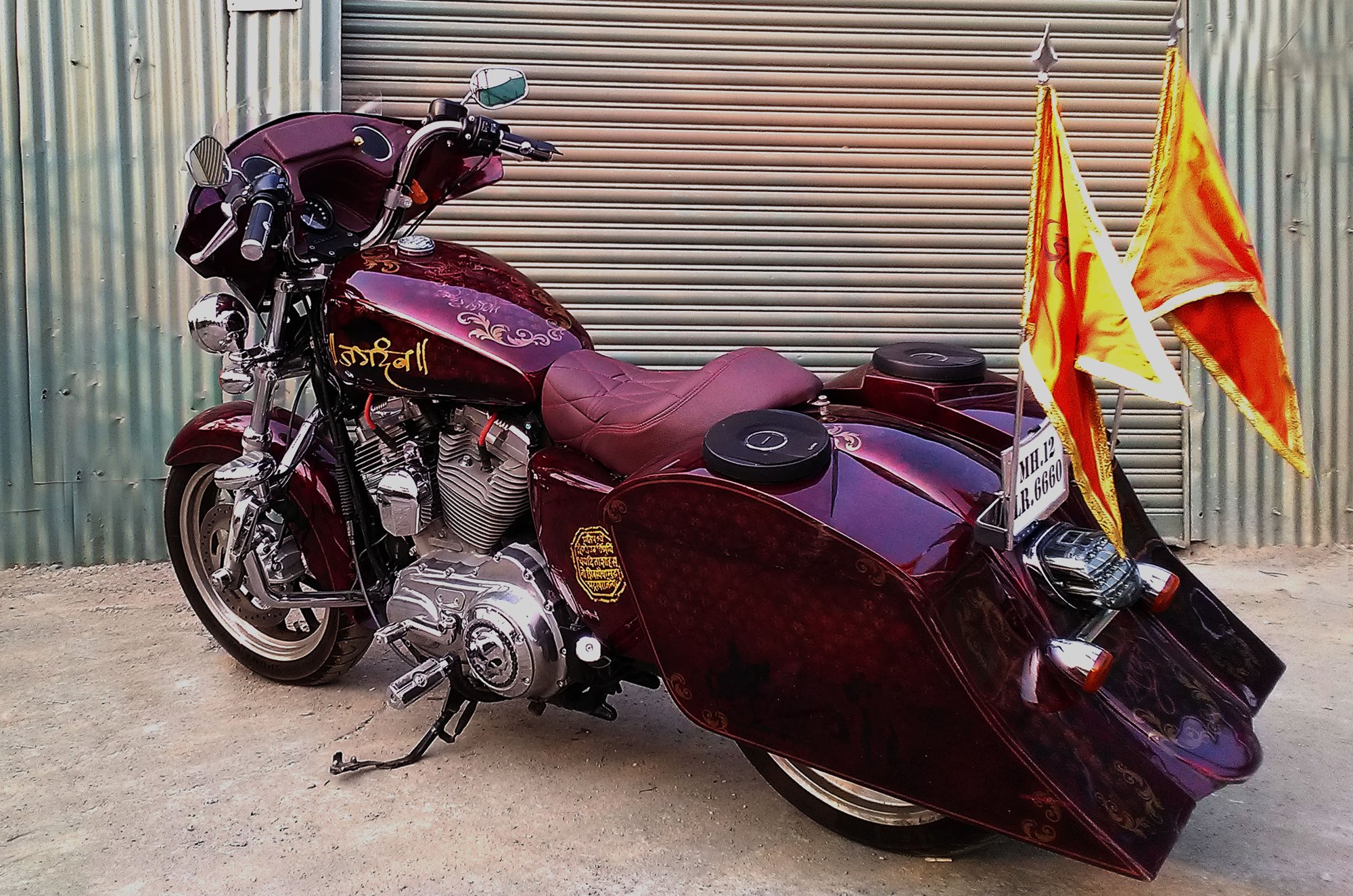 Anupam Singh Parihar, the key person of Dochaki Design shared his words for the build, "Baggers are pretty famous in America the land of Harley Davidson and Victory, for its close low riding and massive presence on road.
So lets start with the details, 'Jagdamb' is based on Harley-Davidson Superlow 883. our client is big Fan and admirer of Chatrapati Shivaji and the same theme was our brief while taking on the build. So we started with making space, by moving the original headlight and Blinkers and some wiring for New Fairing which is handcrafted by our team from metal. The new fairing houses a Music System and two Speakers with Aircraft Style Switch for controlling the light and music system. Dash board is covered in the artificial leather which is same as the leather of Seat which is wider and thicker than the original seat for long rides. then we moved towards back side of the bike to make those bags or pannier whatever we can call them, they are one of the trickiest thing to build considering clearance between rear suspension, swing arm, movement of all the parts, low riding stance, clearance from exhaust and that sweeping look. So we started with bigger and fluid and Rear mudguard once that shape was finalized the side bags were built, they are made out of metal mounted on both sides attached to the mudguard for that massive size of the motorcycle. Side Bags houses 6 inch speakers.
New LED Tail Light and CNC cut Number plate with the Shivaji spear for that extra feel. Tank shape has been kept same, but increased in size both horizontally and vertically, so now it can hold a lot more gas than usual. Once that was done, new side panels were fabricated to feel the negative space and give the bike a continuous fludic feel. Main Heighlight of the Bike is detailed Paint job which we have achieved with the help a well known Air-Brush Artist Mr. Amit Gauda. He has taken the build to the next level with his art. All the gold highlight on the bike is real gold leaf. Portrait of Shivaji, is there on the Fairing, and some murals on the side Bags, along with the detailed designs
overall."
Contact
Dochaki Designs
Founder/CEO : Anupam Singh Parihar
Kadam Wak Basti, Pune sholhapur highway
Pune, Mharashtra.
Call 08806795165
Email : info@dochaki.com.
Dochaki.com | Instagram | Facebook
Photo and Info : Dochaki Design
Note : Please mention us (350CC.com) when you contact Dochaki Design.
Facebook Comments