Perfection is not attainable, but if we chase perfection we can catch excellence (Vince Lombardi) – this could be the perfect tagline for the bike you are about to see today! North East India has its own stunning bio-diversity appearance, covered by velvety green hills abound in tea plantations, orchids and immense natural beauty…and if you are one like me, you will notice the class in Musics there (yes you might catch up with a local tea stall or road side Dhaba playing Bill Withers or John Denver)..and yes the Motorcycles. Today we have in our bucket another boober Bullet from Guwahati – Kundan's Hengdang!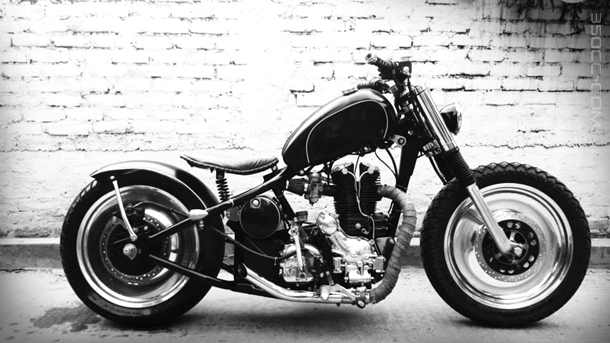 While sharing about Hengdang, Kundan described us his story "Built her in my own workshop. took some time, some hiccups…end of all it was all worth it." This is his first built, so you might consider him still an amateur, However this is not the end so far as he's on two more Bikes working presently and we are anxiously to see them.
Powered by a 500cc AVL Royal Enfield Engine, there a lot you may fall for! The exact spect details, we are yet to have to share, however we like the handlebar and the lowered seat, looks comfortable… the shorten exhaust is wrapped and looks nicer. Excluded the rear suspension and front mudguard to stand technically a Bobber, the bike surely  worth to watch….! We will come up with more as soon as we get some more from Kundan's workshop! Cheers!
Facebook Comments
---