Personalising your motorbike, making it unique to you, whether for extra comfort,  improved performance or simply for looks, is all part of the ride.
This includes everything from simple add-ons such as a different seat or  changed exhaust to chopping and altering the frame, changing the bodywork or  adding a huge, fat rear wheel or building some traditional generic bikes, known as Bobber, Chopper, Cafe Racer etc.
Gurgaon based Hellborn Kustoms is in niche business of turning your everyday commuter motorcycle into a dream ride at an affordable cost. "We also build custom motorcycles from scratch as per client's specifications." Here are the few bikes they have chopped categorizing them into different sections. Take a look (we would've appriceated more to have some quality photos, seurely we'll bring some better in future, till then take a look on the bikes not criticizing the photo quality):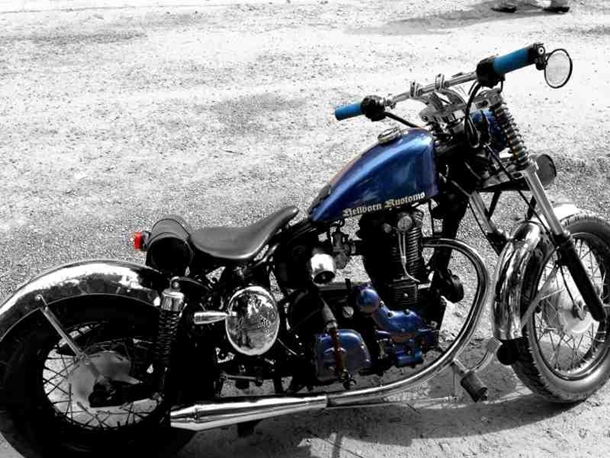 "This is a 2003 Machismo converted to an American Bobber with extensive engine upgrades like twinspark conversion, high-performance air filter, spark plugs, clutch and carburattor; custom made bobber tank, solo bobber seat, rear broad tyre (170/80/15), forward foot controls, custom made front T, imported handle risers, smith's speedometer, bar-end sideview mirrors, mega phone exhaust, custom saddle bags."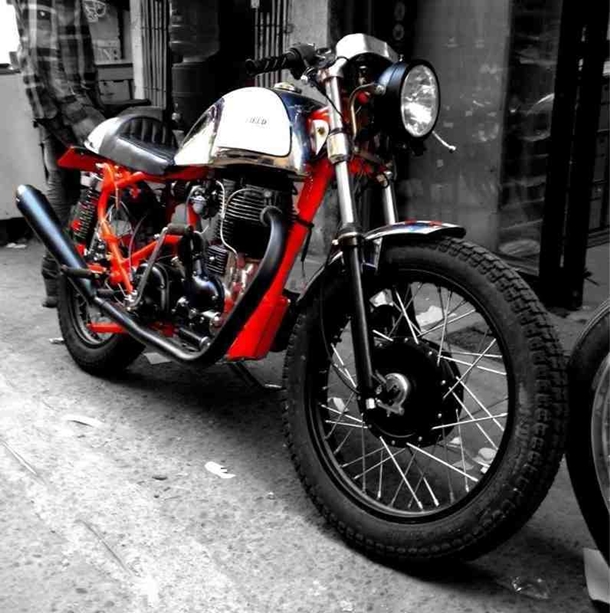 "This cafe racer was made for a client using a 5 speed Electra , it has a all alluminium cafe racer fuel tank with seat dome , smiths speedo, inverted Handel bar for that racing stance , custom paint job, custom exhaust & engine upgrades such as hi performance clutch , hi performance airfilter , twin spark conversion , dual core spark plug cables with iridium spark plugs . All the non essential items were removed to reduced the weight for a better engine to weight ratio"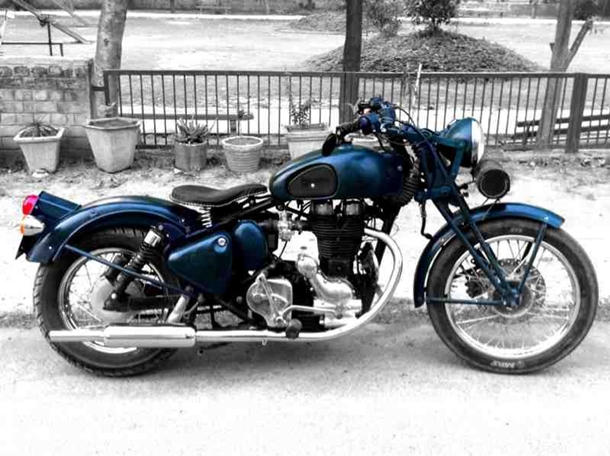 "For this model the doner bike was an 2006 Electra , VSD is the short form of the owners name ( Vikram Singh Dhaiya ) to get that retro look we have used grider fork in front with a vintage head light with the light controls in the head light dome itself . Has a smiths speedo & bar end mirrors, front disc brakes, broad rear tyre 150/15/80 , wide swingarm , classic tail light assembly with LED brake light , it also has a 25 ltr large fuel tank for those long rides . Single saddle seat , custom paint job ( army dark green with silver granules ) all the nuts & bolts were nikle polished before installing , hi performance clutch & airfilter , dual spark with iridium spark plugs & dual core plug wires "
Hellborn Kustoms is reachable for your query, contact below:
Capt Gagan Dhankhar
HELLBORN KUSTOMS
Main Palam Vihar Road
Near Spanish court
Palam Vihar
Gurgoan
Haryana
Call # 8750778877
Image Courtesy : Hellborn Kustoms
Please mention us (350CC.com) when you contact Hellborn Kustoms.
Facebook Comments