Modifying a motorcycle is a wonderful intrinsic experience and upon a successful execution that delivers an immense amount of pleasure and satisfaction. You see custom bikes TV shows, online biker blogs and you see yourself hammering down the street on it. However, there are a lot of soft and hard skills are required in order to modify a stock bike into head-turning topnotch two wheeler. Considering you got them all, there comes the most critical part, making up your mind for the bike you look for and a precise donor bike. It is almost impossible to deliver a right custom bike with a wrong donor bike. Yes, choosing the right bike plays the crucial role and we strongly believe this, atleast UNTIL we saw this converted hardtail bobber, which eventually build over a kinky bike, atleast for a bobber project I wouldn't chose a Bajaj Pulsar, which is completely a street bike with all those acute structure. We indeed bow the builder for this extreme classy job – BM Custom Works, a custom bike building workshop from Baroda, Gujarat did the magic!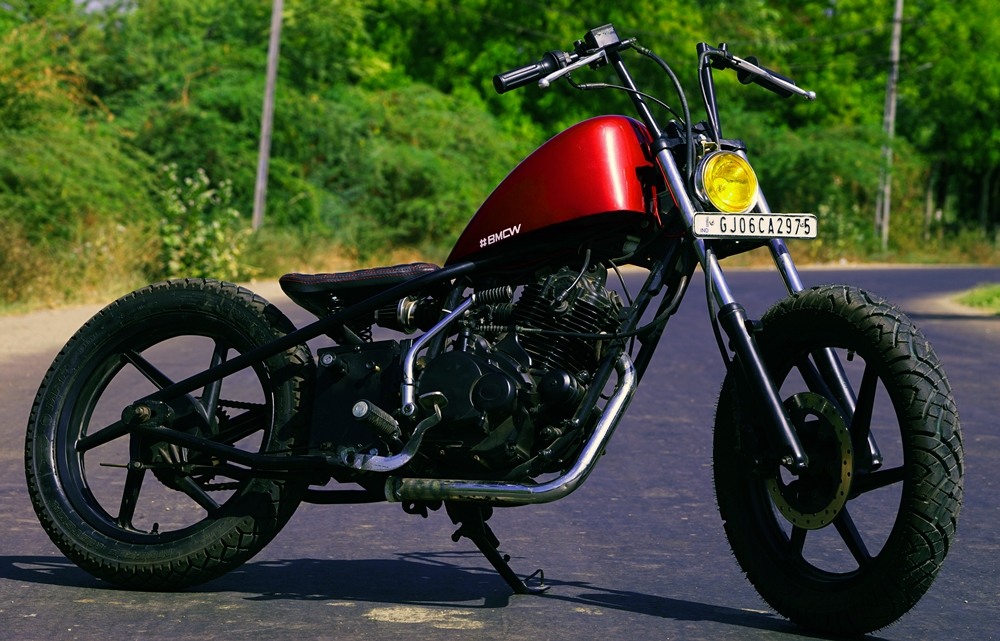 Bhaumik, a automobile BE student from Baroda, Gujarat tried his hands on this unique bobber project and eventually evolved this classic bobber with all the rich prominence like hardtail frame with Ape-hanger handlebar etc. This motorcycle is made on base frame of pulsar 150 model, the rear frame is made and customized to form into a basic hardtail bobber. The tank, battery box , handle bars and such is custom hand made by the builder.
Contact
BM Custom Works
223, 5th Ln, Indra Nagar, Makarpura
Vadodara, Gujarat 390010
Bhaumik @ 099 9833 1205
Facebook |
Photo Courtesy : BM Custom Works
Please mention us (350CC.com) when you contact BM Custom Works.
Facebook Comments