Every passionate business has a story of Grit, inspiration and motivation behind it. The same is with Forscher Customs. Bike Modification is for the thrill seekers and the adventure lovers. For those bohemian wanderlust souls who defy social norms and are not afraid to live their lives on the edge. This is the story of our founder and CEO, Mr. Mahesh Patel. Having a diehard passion for riding motorcycles since the age of 15, Mr. Mahesh had a love for bikes since he first got a grip of one. However, hailing from a business oriented family motorcycle riding was considered by his family solely as a source of convenience and not of passion or entrepreneurship. But as they say, where there is a will there is a way. Being a man of resilience, Mr. Patel never gave up and fulfilled his dream of modification by modifying his first bike Splendor by himself. He was appreciated for the innovative customization but owing to the desire of his family, had to leave his venture midway to pursue his MBA from Singapore.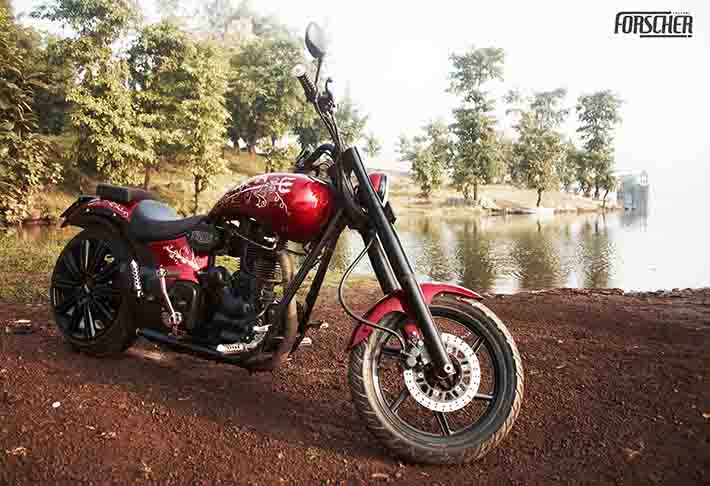 Destiny played its charm and it was in Singapore where he was further exposed to sports and high end cruisers. Motorcycle modification being embedded deeply in his soul, he persevered to learn more about it and detail scanning of the bikes. Post his brief stint in an IT company, he left his job to quench his wanderlust soul. Working relentlessly on weekends and Sundays as well, he finally started his own Custom house in the year 2010, today famously known as Forscher Customs. Forscher is German for 'Explore' and fits right to his vision and story of hardwork and determination. With no engineering background, he raised this business from scratch as a result of only technical and ground rule knowledge mixed with tremendous love for bike customization. Being a man of responsibility, he simultaneously juggles his family business keeping his primary focus on his passion, 'Forscher Customs'.
Here in Forscher Customs we Customise bikes or a unique piece as per the client's taste.
Contact
Mahesh
Forscher Customs
9819657456


Facebook Comments