There are people who build bikes in generic way, and there are who build them in very unconventional way. R & G Custom is one of them who create their existence with a Mediterranean flavour make for one hell of a beautiful rides. Earlier we have some mainstream generic Cafe racers and off-stream Board Track Racer along with traditional and here most wanted bullet Choppers.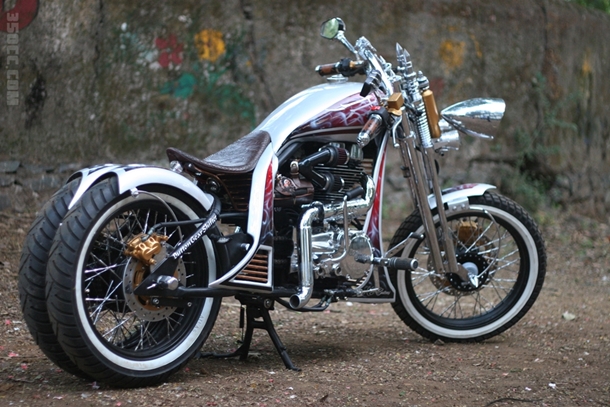 Flying Angel is one of the from the list of show stopper of 2013 had caught the attention in every show. Teh bike won the most Popular custom bike in Rider Mania 2013 and have the award from India Bike Week 2014 in their bucket lately.
However, knowing the fact you might want to bring your bike to them, we questioned them about some basic queries. Here they are.
350CC.com : Average cost of Custom job?
R & G Custom : Average cost of custom job depends upon the customers requirements we can build bike from 70k till 5 lacks
350CC.com :Do you work with only Royal Enfield engines?
R & G Custom : Yes
350CC.com : Do you provide a complete brand new custom (buy the bike then build it), or you only do the custom thing on the buyer's given Bike?
R & G Custom : Depends upon the situation
350CC.com : Average Time to build?
R & G Custom : 3 months
350CC.com : Anything special about you guys which makes the difference from others?
R & G Custom : We are into custom bikes of different style and shape which will be one of its kind. We provide a one-stop shop to all your customization needs by clearly understanding what you expect from your bike, providing optimum solutions to your specific needs, working passionately towards creating that ultimate design that will delight you and make the onlookers go weak on their knees, and then working
with you on making that design a reality.
Ganesh Kotian work as captain on offshore oil drilling rig, has done his ITI as mechanic and worked with Mahindra and Mahindra Jeep division earlier and his partner is a experienced mechanic in RE also worked as mechanic abroad.You might knock them via the contact details provided below :
Ganesh Kotian
Contact Persons
Raju: +91-9867502352
Ganesh: +91-9820460047
International: +62-82150529614
R & G Custom Bikes, Kanderpada, Dahisar, Mumbai, India
Emails: ganesh@rgcustombikes.com
bikes@rgcustombikes.com
http://rgcustombikes.com
https://www.facebook.com/pages/RG-Custom-Bikes/1415008218731847
Image Courtesy : R & G Custom
Please mention us (350CC.com) when you contact R & G Custom.
Facebook Comments