In old era, far from civilization and regular roads, highly customized and stripped down desert bikes fitted with high level exhausts, altered seat, dirt bike tyres and suspension were being used for hard recreational fun and competition on tough terrain. That's how Scrambler were born inspired by those crazy custom mods. Scramblers are unshrinkingly purpose bikes, they are leash of commanding riding position, sure handling and great accessibility and a host of powerful equipments. The enhanced modifications are tuned to deliver a neutral and predictable ride. These bikes, combined with confidence and high technical skill makes them a really accessible and fun bike for every type of rider, delivering maximum confidence and control. Scramblers are the new stream that enhances creativity, self-expression and the sharing of positive emotions. It is a universe of fun, joy and freedom made of motorcycles, accessories and apparel. The one we have to share is one of the most winsome transformation of a regular commuter to a unblemished Scrambler bike : Leo – A 500cc Royal Enfield converted by Maratha Motorcycles of Mumbai.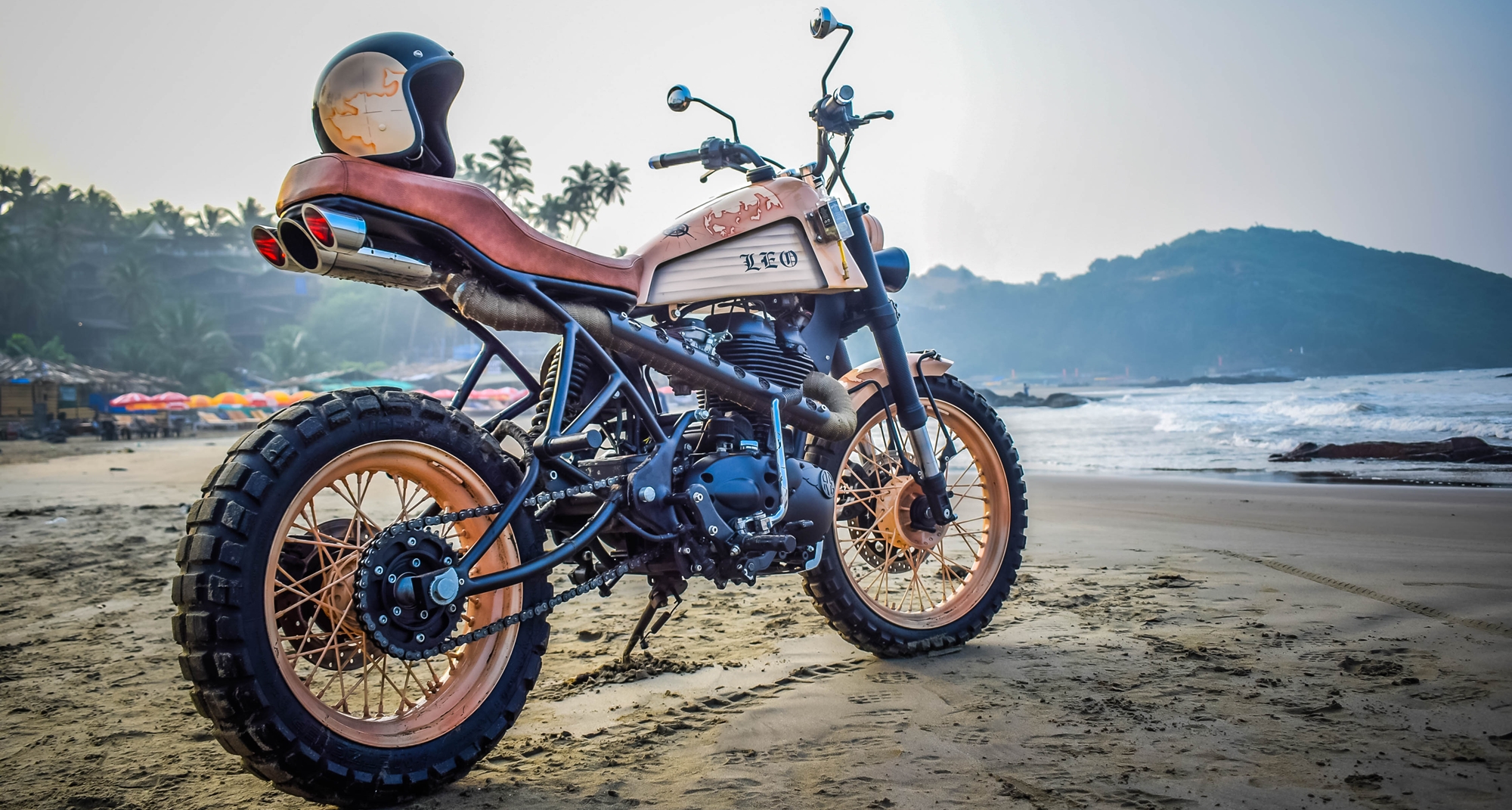 Shrikant Dalvi, the key person of Maratha Motorcycles, shared few tech spec with us, is the 170 km/hr performing beast personified for the proud Mariner. When a seafarer personality rides Leo on a Road he haves Naval map in front which is Airbrushed on Fuel tank and a Compass for a direction towards infinity. And yes to keep the favourite concoction of the old salts of the world's Navies and Merchant fleets of hundreds of years we have Jack Daniels miniature enclosed."
Contact
Martha Motorcycles
Shrikant N. Dalvi
Call : 086 5557 4430
marathamotorcycles@gmail.com
Navi Mumbai
Official Website | Facebook Page
Picture Courtesy : Maratha Motorcycles
Note : Please mention us (350CC.com) when you contact Maratha Motorcycles.
Facebook Comments