It's true, every motorcycle lover have their own vision of what a one-off bike should look like. Or they have their own preferences when it comes to factory built bikes, so they wants their bike to match their style and personality and there comes the role of a bike modifier, and surprisingly a bobber is one of the most popular choices among all the bike genre right after Cafe Racer worldwide. Nomad Motorcycles in Pune this time chose a Royal Enfield Thunderbird AVL to form a bobber ~ El Niño!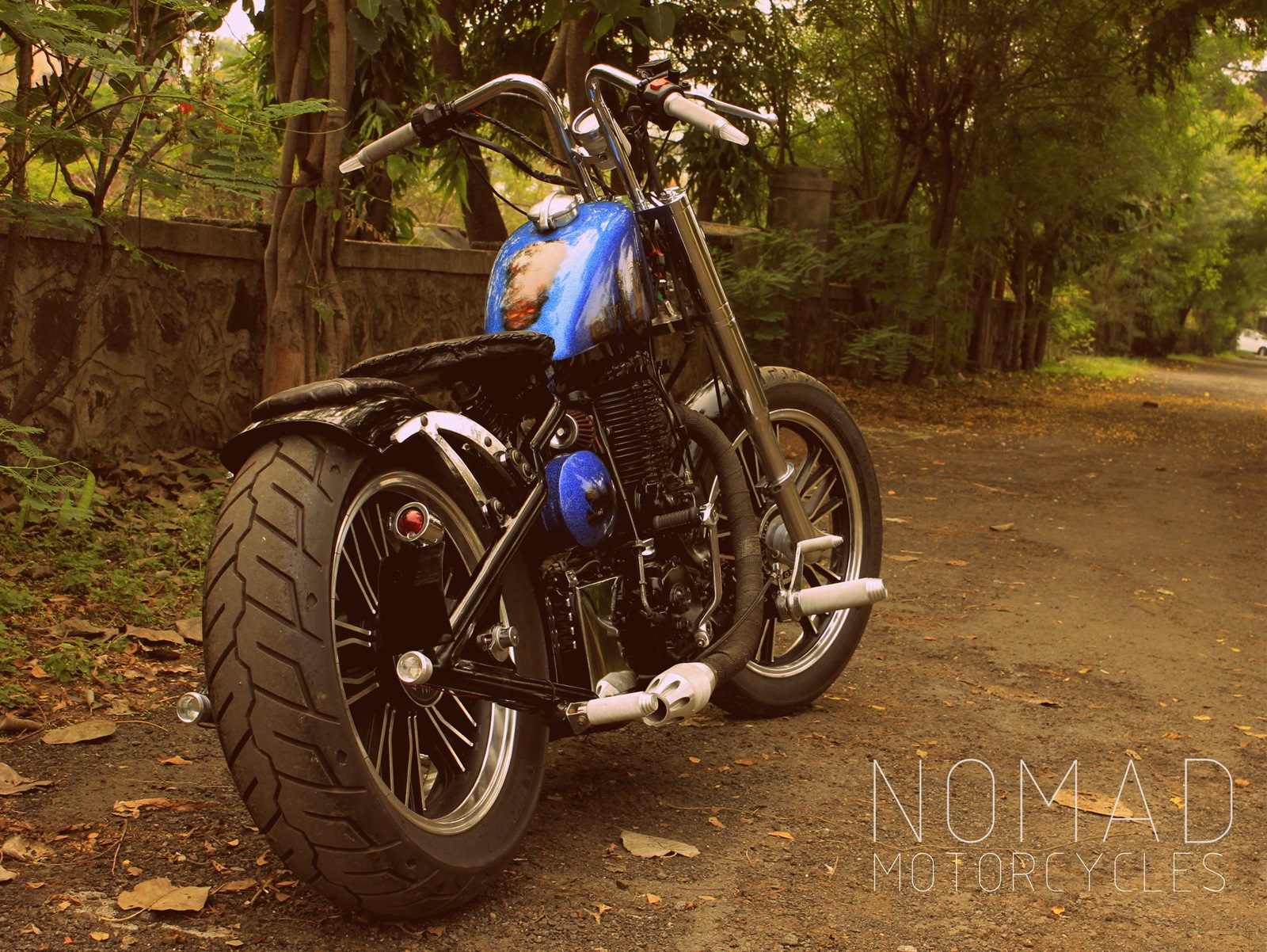 "El Niño is a retro hardtail bobber built from a Thunderbird AVL 350. It's a beach bobber inspired by the good times spent on holiday, preferably in Goa sipping a beer!
The build consisted of:
-A custom hardtail frame
– Custom fat front fork
-A 2 piece ape hanger
– Custom peanut tank
– Hand tooled leather seat (rider's seat with a monoshock)
– Custom knurled aluminium foot pegs and handle grips with built-in indicators
– Front set gear and break assembly
– A custom knurled aluminium speedometer
– Custom metal flake paint with Tiki themed airbrushed details
– A custom made knurled aluminium exhaust
– A Michelin 180 on the rear with a matching piece on the front, on after market alloys
– Powder coated engine and chassis
– After market LED headlight and tail lamp, with built in break lights on the hardtail frame.
The build required a transfer linkage for the primary chain.
The Nomad Motorcycle team has put a lot of effort into the bike, particularly paying attention to the details. As per client's request, there is a large amount of artwork visible on the bike- the hand tooled leather seats with a laced edge bouncing on it's own mono shock and the airbrushed Tiki masks and badges on the tank and side boxes are all laid down on a twinkling 9 layer paint job.
The bike belongs to Mr Kunal Gandhi from Pune."
Contact
Siddharth Dsouza (Project Manager/ Proprietor)
Nomad Motorcycles Pune
Ph.+918087543795
Facebook Page
Photo and Info : Nomad Motorcycles
Note : Please mention us (350CC.com) when you contact Nomad Motorcycles.
Facebook Comments