By : Anupam Singh Parihar of Dochaki Design
"When I was in Design College Stuyding Automobile Design, We were Regularly asked to make simple designs, Mind it simple but not boring.
It was a Yamaha RXZ 4 speed, Successor of RX Series Brand. Had a long and Powerful Riding time under its Fuel tank. But from past 6 years it was stationary, Kind of in Coma. So the client who happen to be a good friend of mine, told me that he wants to bring this beast out of the long sleep. He asked us to build a cafe racer, as he has car for his family now, so he can have a single seat motorcycle and nobody will say anything ;-).
So we hired a Tempo, brought this Beast to our shop, and started making some rough sketches.
As we said we wanted to keep it simple. with all the cafe racer features, like long sleek, straigh lines riding stance.
We started with hand sketching and moving on to Photoshop renderings, to create the bike in the virtual world before picking up the grinding wheel.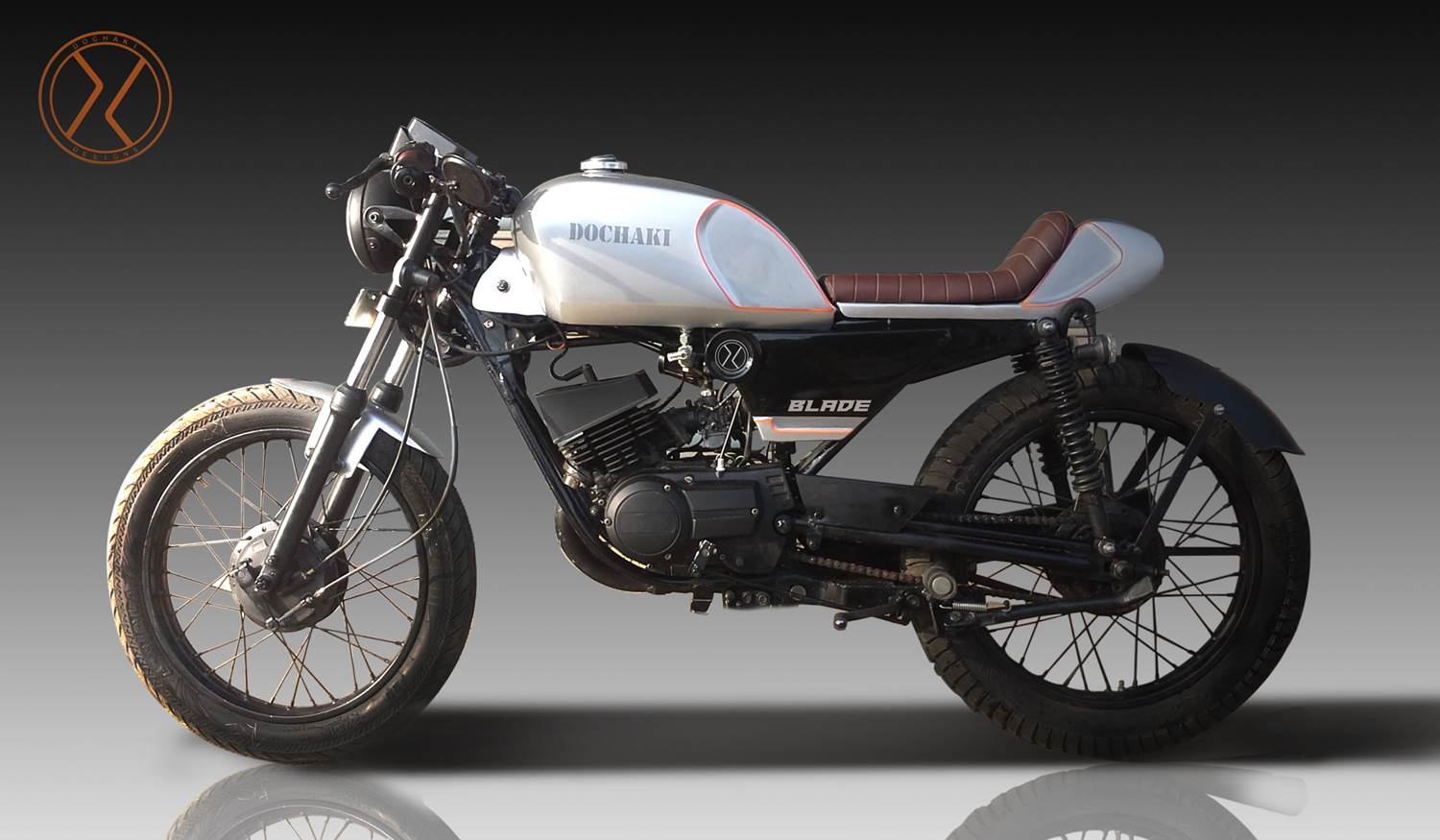 Once that was done we turned our focus on Panel Beating, all the panels including Patrol tank, Side Panel, Seat cowl, Mudguards, seat pan, is hand crafted.We spent a lot of time trying to balance clean graphics with highly complex surfacing, to achieve a clean yet interesting design.
The RXZ frame has been modified to create a strong top line that flows from headlight to rear cowl.
The forks have been overhauled and fitted with all black .
The engine of the RXZ was not working, so the engine has been fully rebuilt and we added some extra horses, by first stage porting, playing with chain sprockets, head, valves etc. Don't know in number how ahead we have gone but it definitely feels different.

As its a Yamaha RX Series, and everybody loves the sound of the exhaust note, we decided not to change it , so we kept the original exhaust intact, just changing its position a bit to fit the design lines of the bike.
The cowl houses the hidden tail light to give it a more cleaner look.
Instead of going for clip on handle bars, we opted for Clubman style Handle bars, to make the cafe little bit more comfortable. and make it sleeker look in front also.
Both front and rear 18″ tyres have been beefed up for better road control and more earthy feeling to the whole bike.
To highlight the sleek appearance of the panels , the complete bike is painted in silver with some orange pinstripes. When we finish the paint and assembled the bike, the client said it looks like a "Blade", with silver over the top line and and black shadowing the lower parts.
Lots of minor details has been worked out, like a rectangular speedo to go along with the overall rectangular shapes of the bike, rearward foot pegs and controls for leaned sitting posture, Brown Artificial leather hand made Seat and handle grips, Bar end mirrors, and lot many things.
LIVE YOUR PASSION, RIDE YOUR ATTITUDE"
Contact
Anupam Singh Parihar
Dochaki Designs
Kadam Wak Basti, Pune sholhapur highway
Pune, Mharashtra.
Call 08806795165
email:info@dochaki.com.
Website : www.dochaki.com
facebook.com/dochaki
Photo and Info : Dochaki Design
Note : Please mention us (350CC.com) when you contact Dochaki Design.
Facebook Comments