Back in old days, scramblers were designed to deliver purposeful goals, aimed to make off-roads more fun and drop off unnecessary body parts to minimize disruption chances on a robust route. Since the very past, adventurous bikers kept experimenting on their bikes to enhance performance as well as improvise outlook appearance. At present days there are option to go and buy company made stock Scramblers, however to grasp the essence of old era's scrambler charm, we often see enthusiasts are more into converting their regular bike into a efficient scrambler and we appreciate them more – our today's bike is a Royal Enfield's Classic 500 which is customized as a smug vissually aggressive Scrambler by renowned custom bike builder Bulleteer Customs, of Bangalore city.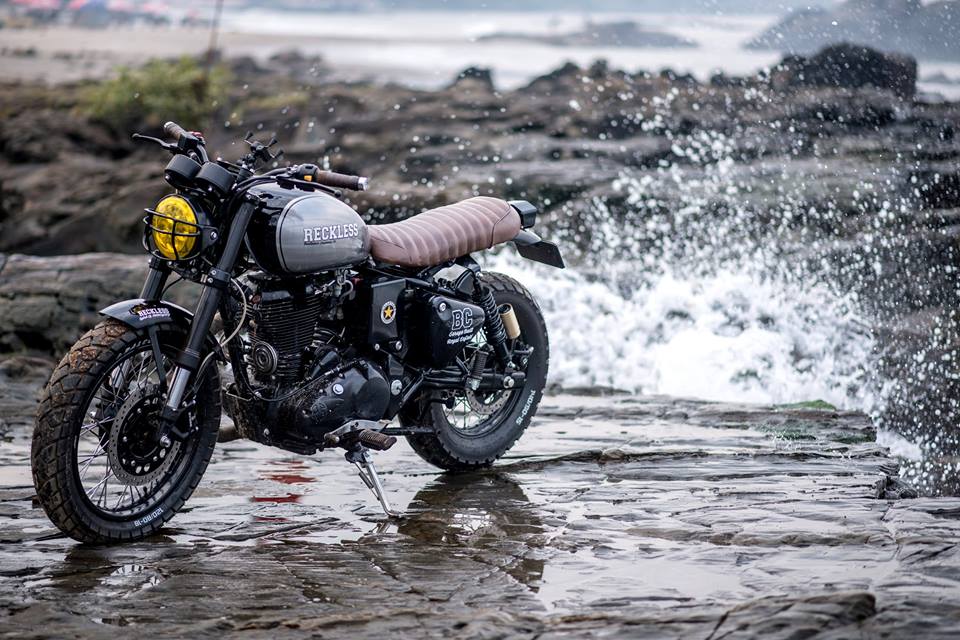 The bike entitled as Reckless, and here we have details from the builder himself, "Built for our Head Designer, this is Reckless and is a personal expression of his style. This top end Scrambler is based on a Classic 500 which started of with a power mod and an engine upgrade to 540 CC , with revised sprocketing, custom free-flow Stainless steel TIG welded exhaust and K&N filter with some exclusive power tuning on that vm 36 carb makes this machine the wildest we've built yet. It so so…so easy to loose that rear end in a drift ! Use front end with an on/off-road set of Ralco tyres , 120/18 front and a 140mm rear . Powder coated rims and engine , with a brushed steel paint finish on the tank , tanned leather bench seat and our personal favorite is the American Rugby Helmet style head light grill . It also has a Daymaker Headlight with a yellow tint and a twin pod speed/rpm unit . This was ridden to Goa for the Royal Enfield Rider Mania 2017 minutes after it was completed and an awesome ride it was, especially the crazy off road bits and drifting on the beach, we hope this ushers in a new breed of Custom motorcycle in India ………. Built for the the brave & Reckless !!"
Contact
Bulleteer Customs
Call : +91-9972862139, +91-9738075289
Bangalore
E-mail : bulleteercustom@gmail.com
Facebook : facebook.com/bulleteer.customs
Photography Courtesy : Bulleteer Customs
Note : Please mention us (350CC.com) when you contact Bulleteer Customs.
Facebook Comments