Well you know Bobber, Cafe Racers, Scramblers or old school Chopper, even you have witnessed Rat bikes or even Triton motorcycles, but hey hold…what the fuck a Brat styled bike is? You feel like a barbarian in your entire erudite bike sagacity….how come you missed the "Genre"! Clam down my friend…Once upon a time, I had the same fillings and I finally overcame this! First of all Brat Style is not any Style/Genre of Motorcycles, infact the term brat or brat style has its origins in one specific shop in Tokyo, Japan. Basically, they developed a distinct design language with their builds, and as their customs were imitated across the world, the proper name "Brat Style" became the generic, This is probably one of the highest achievements you could hope for as a builder/designer–to have a style so well-known, it's named after you.
Honestly I don't thin I have featured or heard any of them are being edified anywhere in India unless I see the latest from J&D Custom's house who chopped down a 220cc Bajaj Pulsar and did it extremely well!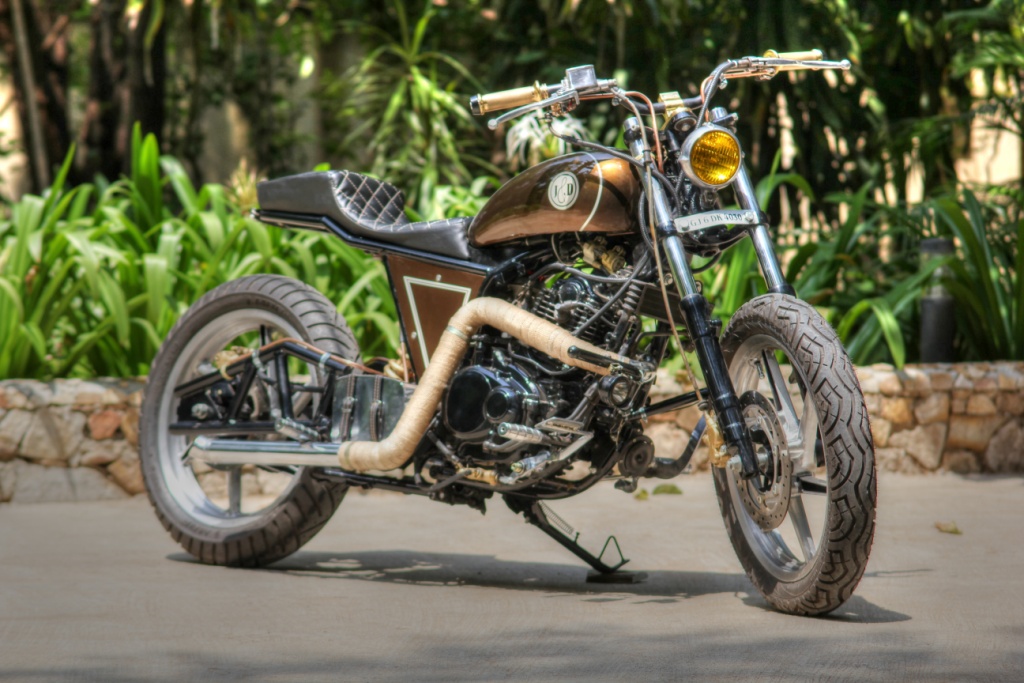 Over to them "This time we got a Bajaj pulsar 220 to work with but clients need was dual seater. So I start working on his design and end up with Brat style bobber. I think its only bratbob made from pulsar in India.
In this project we used Bajaj's 220cc block, Rims & front suspension otherwise everything is fabricated accordingly design.
We built an oval shape petrol tank with chrome cap, new frame & swing arm with mono-shock suspension which works excellent.
What excites me in this build is a handlebar. This time we handcrafted handlebar with great detailing work. We removed all the plastic swithces and made a handlbar which have all metal switches, which gives you a great feeling & thrill too! Handlebar was most challenging part of this whole build, because we got digital 2013 model pulsars which have all digital systems in it. So we can't put metal switches with those digital systems, because every switch is connected with some sensors. So it was very difficult to customize that digital wiring & make a unique & simple thing. I went to many mechanics & wiremen's & even to some of Bajaj guys too, but all are repeating same thing that you can't do it. But later on I understood that they are saying this coz they can't do it, But I can do it. And with many hours of work & some effort I did it. I turned wiring into simplest way and put all metal switches, & I think its most eye-catching part of the bike.
We also made some pure crafted Brass grips, handle mounts which added some more charm on handlebar.
We fitted a vintage yellow 5inch headlamp with 2 white led fog lamps. Talking about rear light, this time I handcrafted that rear led light. Which looks beautiful when it's on. It shines like that rear red light of formula one car. We also fitted led side blinkers in the both rear & back side.
I wanted to give some creative touch to Bajaj Pulsar's alloy wheels this time, it's a mirror polished wheels with black painted strips. It looks badass in real & while running.
As our client wants 2 seater bike with good comfort, we ended up with this Black leather seat with more cushioning for the pillion rider.
We also fitted one tool box as per client's need, which is chromed box with leather belts.
We also gave exhaust some nice bends this time & wrap it up with exhaust wrap.
We relocated rear disc brake pump mechanism for better positions. Which works good. You'll find its mechanism under the engine block.
Foot pegs & levers are our in-house products.
We hided all the wiring (as much as we can) with the copper pipes. Which also give some more charm to bike.
Now coming to the paintjob, frame is painted with black color, while tank & side panels are painted with metallic bronze paint & airbrushed off-white strips & our J&D logo on it."
Contact
J&D Custom Co.
Near loksatta press, Nagarwada, Vadodara 390001
Gujarat, India.
Contact Number – +91 8758737707
Email – janddcustomco@gmail.com
Pictures Courtesy: J& D Custom Co
Note : Please mention us (350CC.com) when you contact J& D Custom Co.
Facebook Comments