Since ages, Custom Motorcycles have been part of a lifestyle or we can say a style statement, and continued being a mainstream in bike communities, Custom motorcycles are always very kinky in style which are carving and altered from the mass produced stock machines. Over and over, motorcycles have been accompanied with riders personality and glamour, they are sometime aggressive – it's the emblem of rebellion, freedom and protest. Bobber was the very first style into custom motorcycle and brat, however is a shop in Japan who customized somewhat unique kind of Bober, the build style of this shop has been copied enough times that the term brat is starting to become something like a genre. To illustrate a brat style bobber bike, today's bike is a evident insignia, a Royal Enfield Classic 350 by GRID7 Customs, based in Thrissur, Kerala.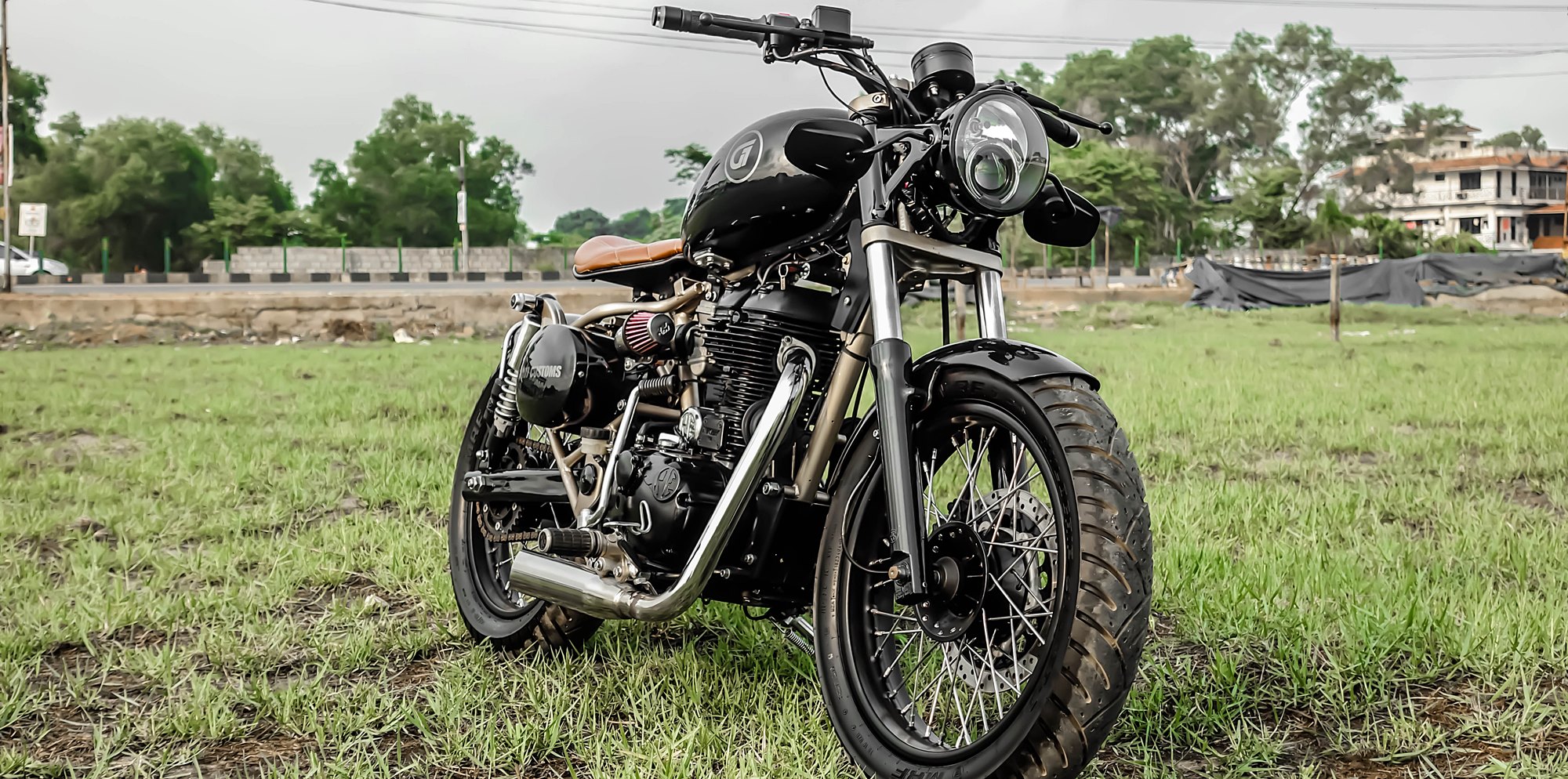 Sharing on the building experience and bike specification, Vikram Gour from GRID7 Customs shared few words with us, "We wanted to make it unique, so we just disassembled the vehicle completely. Started the work from the engine by increasing crank weight and painted it black. Custom made short-exhaust system with maximum performance. Made some alterations on the frame and painted the frame in taupe-lighter shade.Extended the swing arm by 2.5 inches.Added rear disc brake system for better braking. Changer the front shock absorber and stem to reposition the height. Changed the size and width of both wheels.Front tyre with 110 mm width and rear tyre with 140 mm width. Removed the stock mudguards, and made new ones with reduced weight and different shape.Small tail lamp is added on top of the end part of the rear mudguard.Petrol tank is also changed with a new one with more height and low width.Headlamp is also changed.The meter cluster is changed. Indication lamps are added to the end of the handle on front and on to the fitment section of the shocks at rear. Custom lighting is given on these lamps so it would act as DRL. The stock seats are removed and custom seat is made in brown leather. The side boxes are custom made. Replaced the stock air intake with K&N air filter and custom piping. Painted the vehicle in black with our logo on the tank."
Contact
GRID7 Customs
NH-47 By-pass, Marathakkara, Service Road , Opp. Federal Bank, Thrissur
Thrissur, Kerala
Phone – 090727 19588
Facebook | Instagram
Photography Courtesy : GRID7 Customs
Note : Please mention us (350CC.com) when you contact GRID7 Customs.
Facebook Comments